Mobile Ed: Ian Jones Biblical Counseling Bundle (2 courses)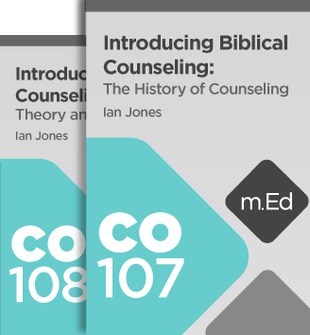 Mobile Ed: Ian Jones Biblical Counseling Bundle (2 courses)
•
Runs on Windows, Mac and mobile.
Overview
Ian Jones offers over two decades of Christian counseling knowledge as he leads you in examining human nature, particularly in its modern and postmodern forms, and as he demonstrates how this view is different from a biblical understanding. Learn what Scripture says about human nature, and explore the biblical psychologies—Scriptural views of human nature and the soul. Explore the history of caregiving and develop counseling skills needed to become an effective minister. In addition, apply models of pastoral care and counseling while reviewing counseling issues that you are likely to face in your church or any counseling ministry you may have. These issues include anxiety, depression, and suicide.
Individual Courses

Explore how to develop a biblical theory of personality by first looking at some of the fatal flaws in the secular models as they relate to caregiving and Scripture. Gain knowledge of God and His Word, and of yourself in relation to God.
Contents:
Introduction
Introducing the Speaker and the Course
Unit 1: Psychology through a Historical Lens
A Changing Understanding of the Human Condition
The Changing Definition of Psychology
The Changing Landscape of Psychology
The Benefits and Limitations of Studying Secular Theories of Counseling
Unit 2: Psychology through a Biblical Lens
Understanding God's View of the Human Condition
Identity, Direction, and Purpose within a Biblical View of History
The Search for Meaning
An Example in Scripture: Romans 14
The Tension between Greek Philosophy and Christianity
Using the Secular as a Bridge
The Example of Jesus in the Care of Souls
The Care of Souls: Characterized and Modeled
Defining Soul Care
Unit 3: Caregiving in the Ante-Nicene Church
Polycarp
Tertullian
Clement of Alexandria
Perpetua
Cyprian
Unit 4: Caregiving in the Post-Nicene Church
Ambrose and Gregory of Nyssa
Chrysostom
Augustine
Gregory the Great
Hildegard of Bingen
Unit 5: Caregiving in the Reformation
Martin Luther, Advice for the Mind
Martin Luther, Advice on Responding
Calvin, Bucer, Herbert, and Taylor
Richard Baxter
Unit 6: Caregiving in the Post-Reformation
Count Zinzendorf
John Wesley
Jonathan Edwards
Alexander Gerard
Ian Maclaren (John Watson)
A Summary of Counseling Principles Found in the Historical Church
Unit 7: Historical Biblical Psychologies
Introduction to Historical Biblical Psychologies
The Myth of Objectivity in Behavioral Sciences
Historical Christian Roots of Modern Science
The Impact of Our Views of Human Nature
The Landscape of Premodern Psychology
Biblical Psychology: The Importance of Our View of the Soul
The Shifting Views of Psychology
Unit 8: Developing a Biblical Theory of Personality
Identity: The Core of a Biblical Theory of Personality
Developmental Psychology: The Importance of Critical Thinking
Developmental Psychology: The Absence of Purpose
The Problem with Developmental Theories: Distortion of Identity
The Influence of the Enlightenment on Modern Developmental Theories
Christian Developmental Theory: A Journey of Pilgrimage
The Characteristics of Christian Personality Theory
Mapping the Spiritual Journey
Conclusion
This course is designed to help you care for others by developing an effective pastoral care and counseling ministry. Consider the biblical foundation of counseling as it's expressed in the book of Genesis, as God first engages Adam and Eve after the fall. Observe how God performs crisis counseling intervention. Discover how the Messiah, Jesus, was perfectly equipped to bring salvation to mankind. Explore how Jesus provides a model for the biblical christian counselor and apply biblical models to counseling.
Contents:
Introduction
Introducing the Speaker and the Course
Unit 1: Definitions and Biblical Foundations
Defining Pastoral Counseling
The Uniqueness of Christian Counseling
The Impact of Calling
The Role of Theology in Christian Counseling
The Importance of Being Prepared
Unit 2: The Influence of Worldviews
The Importance of Recognizing Worldviews
Contrasting Naturalistic and Christian Worldviews
Worldview Awareness
Responding to the Influence of the Secular Worldview
Contrasting Secular and Christian Definitions of Spirituality
Unit 3: The Biblical and Historical Basis for Care
The Language of Care in the Old Testament
The Language of Care in the New Testament
Salvation, Love, Grace, and the Problem of Sin
New Testament Themes of Care
The Character and Skills of a Christian Counselor
Historical Foundations of Caregiving in the Church
Unit 4: Developing a Biblical Model of Counseling
The Foundation for Developing a Biblical Approach to Counseling
Responding Biblically
Shaping Perspectives
Developing a Godly Attitude and Orientation
Assessing Location within the Five Stages of Change
Responding with Location in Mind
Qualities of an Effective Counselor
A Messianic Model of Counseling: The Spirit of Wisdom and Understanding
A Messianic Model of Counseling: The Spirit of Knowledge and Power
A Messianic Model of Counseling: The Spirit of the Knowledge of God
A Messianic Model of Counseling: The Spirit of the Fear of God
The Therapeutic Ministry of Jesus
Unit 5: Principles and Skills for Effective Biblical Counseling
Locating with Love, Grace, and Empathy
Stages of Growth
Listen, Locate, and Value
Observe Holistically
Adjust, Allow Silence, and Bring Hope
Questioning and Active Listening
Attending to the Counselee
Redirecting Focus and Influencing
Spiritual Interventions
Maintaining a Ministry of Acceptance
Ethics and Healthy Boundaries
Unit 6: Brief Counseling Models
The Single-Session Counseling Model
Determining the Proper Approach and Setting Expectations
Preparing for Single-Session Counseling
Insights into a Single-Session Counseling Scenario
Following Up after Single-Session Counseling
The Basic Principles of Reconciliation-Focused Counseling
The Role of Grace within Reconciliation-Focused Counseling
Preparation and Engagement of Reconciliation-Focused Counseling
Making the Decision to Refer
Unit 7: Issues in Counseling
Sexual Misconduct in Ministry
Pornography and Infidelity in Ministry
Addressing Sexual Misconduct
Coping with Stress and Temptation
Mental Illness, Anxiety, and the Church
Handling Stress and Anxiety
Resolving Anxiety
Addressing Depression
Suicide Intervention
Conclusion
Product Details
Title: Ian Jones Biblical Counseling Bundle
Instructor: Ian Jones
Publisher: Lexham Press
Publication Date: 2016
Product Type: Logos Mobile Education
Resource Type: Courseware, including transcripts, audio, and video resources
Courses: 2
Video Hours: 12
About Ian Jones
Dr. Ian F. Jones is professor of psychology and counseling at New Orleans Baptist Theological Seminary, where he is chairman of the Division of Church and Community Ministries and holds the Baptist Community Ministries' Chair of Pastoral Counseling. Dr. Jones has taught, counseled, and conducted family conferences in the USA, Mexico, Costa Rica, Malaysia, Taiwan, Korea, and Australia. He is a licensed professional counselor and a licensed marriage and family therapist, and his areas of teaching specialization include counseling theory, cross-cultural counseling, historical pastoral counseling, and counseling and ethics.
Getting the most out of Mobile Ed
Logos Mobile Education is a highly effective cross-platform learning environment that integrates world class teaching with the powerful study tools and theological libraries available in Logos Bible Software. Every course provides links to additional resources and suggested readings that supplement the lecture material at the end of every transcript segment.
All courses in this bundle come with an Activities resource that functions as a type of "workbook" for the courses. This resource includes learning activities such as: places for you to respond to reflection questions, exercises that will challenge and show you how deepen your understanding of this course by using specific Logos tools and resources, tutorial videos on different features of Logos Bible Software, and links to relevant Logos guides and tools. A link to open the Activities resource is conveniently placed at the end of every segment.