Mobile Ed: BI131 Introducing Literary Interpretation (5 hour course)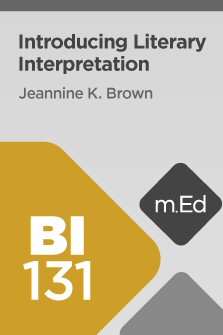 Mobile Ed: BI131 Introducing Literary Interpretation (5 hour course)
•
Runs on Windows, Mac and mobile.
Overview
Many of us read the Bible a passage or verse at a time. In this course, Dr. Jeannine Brown shows the importance of understanding biblical books as a whole. With her clear and simple approach, Dr. Brown demonstrates three methods to help you grasp the specific messages intended by Old Testament and New Testament authors. Learn about the different literary genres in Scripture and see how authors used certain genres to communicate their message. Discover how to read a passage in its literary context, and understand the importance of the Bible's historical setting.
Dr. Brown is passionate about helping people understand Scripture and provides the knowledge and practical tools to equip you in this task.
Contents
Introduction
Introducing the Speaker and the Course
Unit 1: Terms and Goals of Interpretation
Exegesis and Contextualization
Hermeneutics
Using Logos Dictionaries to Define Key Terms
Views of the Bible
Finding Points of Application for Habakkuk
Listening for the Author
Biblical Authors and Their Voices
The Communication Model for Interpretation
Communicative Intention
Unit 2: Key Values for Exegesis
Three Ways of Hearing the Author
Taking Genre, Literary Context, and Historical Setting Together
Definition and Examples
Genre as Communication
Locating Specific Types of Proverbial Sayings
Contemporary Examples
Biblical Examples
Unit 3: A Closer Look at Genre
Narrative
Plot and Theme in Biblical Narrative
Authors in Biblical Narrative
The Purposes of Biblical Narrative
Poetry
Parallelism
Discovering Parallelism in the Psalms with the Psalms Explorer
Imagery
Finding Similes in the Book of Psalms
The Purposes of Biblical Poetry
Epistle or Letter
The Form of First-Century Letters
Studying New Testament Letter Introductions with Literary Type Searches
The Occasion of Letters
Researching the Purpose of Paul's Letter to the Romans
The Rhetorical Flow of a Letter
Following the Rhetorical Flow of a Letter
Discovering the Purpose of Key Clauses in 1 Thessalonians 4:1–6
The Purposes of Letters
Other Genres: Law
Other Genres: Apocalyptic
Unit 4: A Closer Look at Literary Context
Historic Practices of the Church and the Academy
The Value of Reading Books as Wholes
How to Read Biblical Books as Wholes
Exploring Outlines of Ruth with the Bible Outline Browser
An Example from John
An Example from Matthew
An Example from 1 Peter
Unit 5: A Closer Look at Historical Setting
Context
The Original Audience
Old Testament: The Ancient Near East
New Testament: The Graeco-Roman World
New Testament: The Jewish Context
Discovering Ancient Sources that Discuss Temple
Study Tools for Historical Setting
Old Testament Example: Jonah and Assyria
New Testament Example: 1 Peter and the Graeco-Roman World
Unit 6: Putting It All Together
Genre, Literary Context, and Historical Setting
The Genre of Ruth 1:16–17
The Literary Context and Historical Setting of Ruth 1:16–17
The Genre of Philippians
The Literary Context of Philippians
The Historical Setting of Philippians
Study Tools
Unit 7: Presuppositions in Biblical Interpretation
Points of Reference
Assumptions
Getting a Sense of Our Own Presuppositions
Engaging the Text
Conclusion
Awareness of What We Bring
Product Details
Title: BI131 Introducing Literary Interpretation
Instructor: Jeannine K. Brown
Publisher: Lexham Press
Publication Date: 2015
Product Type: Logos Mobile Education
Resource Type: Courseware, including transcripts, audio, and video resources
Courses: 1
Video Hours: 5
About Jeannine K. Brown

Dr. Jeannine K. Brown has taught at Bethel Seminary for nearly two decades in the areas of New Testament, hermeneutics, and integration. Her books include Scripture as Communication: Introducing Biblical Hermeneutics, Becoming Whole and Holy: An Integrative Conversation about Christian Formation, and the forthcoming volume on Matthew in the Teach the Text Commentary series. She's also associate editor of the Dictionary of Jesus and the Gospels, 2nd ed..
Getting the most out of Mobile Ed
Logos Mobile Education is a highly effective cross-platform learning environment that integrates world class teaching with the powerful study tools and theological libraries available in Logos Bible Software. Every course provides links to additional resources and suggested readings that supplement the lecture material at the end of every transcript segment.
This course was produced with screencast videos. These videos provide tutorials showing you how to use Logos Bible Software in ways that are tied directly into the content of the course. We are now producing Activities resources as a replacement for screencast videos. We plan on updating this course to include this additional Activities resource in the future for no extra charge.
More details about these resources