Mobile Ed: Studies in Biblical Interpretation Bundle, S (2 courses)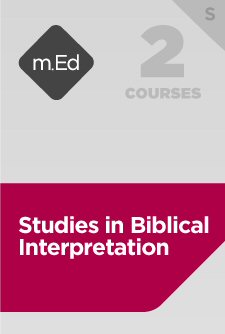 Mobile Ed: Studies in Biblical Interpretation Bundle, S (2 courses)
•
Runs on Windows, Mac and mobile.
Overview
The Bible is a complex mix of literary genres that spans several centuries. Understanding how to properly read and interpret it is challenging. In these courses some of the brightest minds in biblical interpretation will teach you their methods. You'll learn how to understand scripture in its original historical and literary contexts and grasp the messages the Old Testament and New Testament authors intended.
Join Dr. Craig Keener, a foremost expert in biblical backgrounds, as he provides principles for interpretation along with excellent examples. See the parable of the Prodigal Son through the eyes of a Pharisee, learn the dangers involved in using allegory rather than analogy, and appreciate the contrast between Emperor Augustus and Jesus in the story of the first Christmas. Dr. Keener draws from his meticulous research of the ancient world to show you how to interpret the Bible by understanding its cultural contexts, genres, and more.
Contents:
Reading the Bible in Context
Understanding the Background of the Bible
Interpreting Different Genres in the Bible
Dr. Craig S. Keener is professor of New Testament at Asbury Theological Seminary, and is the author of 17 books, four of which have won book awards in Christianity Today. One, IVP Bible Background Commentary: New Testament, has sold more than half a million copies. He has authored scholarly commentaries on Matthew, John (two volumes), Acts (four volumes), and more briefly on Romans, 1 and 2 Corinthians, and Revelation.
Many of us read the Bible a passage or verse at a time. In this course, Dr. Jeannine Brown shows the importance of understanding biblical books as a whole. With her clear and simple approach, Dr. Brown demonstrates three methods to help you grasp the specific messages intended by Old Testament and New Testament authors. Learn about the different literary genres in Scripture and see how authors used certain genres to communicate their message. Discover how to read a passage in its literary context, and understand the importance of the Bible's historical setting.
Dr. Brown is passionate about helping people understand Scripture and provides the knowledge and practical tools to equip you in this task.
Contents:
Important Terms: Exegesis, Contextualization, and Hermeneutics
The Goals of Biblical Interpretation
Key Values for Exegesis
A Closer Look at Genre
Three Primary Genres in the Bible
A Closer Look at Literary Context
A Closer Look at Historical Setting
Bringing All Three Together
Presuppositions in Biblical Interpretation
Getting the most out of Mobile Ed
Logos Mobile Education is a highly effective cross-platform learning environment that integrates world class teaching with the powerful study tools and theological libraries available in Logos Bible Software. Every course provides links to additional resources and suggested readings that supplement the lecture material at the end of every transcript segment.
More details about these resources