Mobile Ed: CO102 Introducing Pastoral Counseling II: Examples in Application (5 hour course)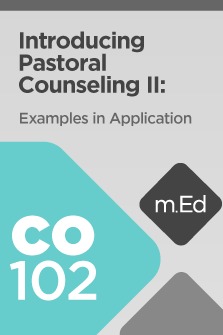 Mobile Ed: CO102 Introducing Pastoral Counseling II: Examples in Application (5 hour course)
•
Runs on Windows, Mac and mobile.
Overview
In this course, Dr. Eric Johnson provides examples of how to help those going through common struggles or major crises. He dissects the four dimensions of human beings—biological, psychosocial, ethical, and spiritual—and describes how the Christian counselor should approach problems of each kind. Dr. Johnson provides a counseling model that promotes healing and always keeps Christ at the center of treatment.
Learning Objectives
Upon successful completion you should be able to:
Identify four dimensions of human nature and describe appropriate ways to address their psychopathologies
Discuss the role of Christ's redemption in healing and restoring mental and emotional health Identify three main parts of the human brain and describe the contributions of each to psychopathologies
Discuss the interrelationship of attachment experiences and social development
Summarize effective ways to use the Bible in the counseling process
Describe Christian counseling approaches to the more common presenting problems of people seeking to be counseled: depression, addictions, marriage issues, and crises
Discuss appropriate interaction between pastoral counseling, psychiatry, and psychotherapy including considerations for referral and the use of psychoactive medication
Course Outline
Introduction
Introducing the Speaker and the Course
Unit 1: A Multi-Order, Multi-Perspective Approach to Soul Care
Humans Are Complex Beings
Four Dimensions of Human Nature: The Two Basic Dimensions
Four Dimensions of Human Nature: The Two Higher Dimensions
Hindrances to Multi-Level Thinking
Using Topical Analysis Resources to Find Encouraging Bible Passages
A Triangular Perspective on Christian Psychopathology
Sin as an Aspect of Psychopathology
Biopsychosocial Elements as Components of Psychopathology
Exploring the Concept of Weakness with the Sermon Starter Guide
Suffering as an Aspect of Psychopathology
Unit 2: The Neuropsychology of Love
Restoration by Redemption
Three Main Parts of the Human Brain
Using Proximity Searching to Explore the Concept of Human Uniqueness
The Microscopic Structure of Memory
Memory of Emotions
Types of Memory
Attachment
Insecure Attachment
Finding Information on Individual Responsibility with the Topic Guide
Residual Adult Effects of the Four Attachment Experiences
Other Factors Influencing Social Development
Searching for Characteristics of God with Basic and Clause Searches
The Neuropsychology of Christian Soul Healing through Love
Studying the Greek Word for "Flesh"
Unit 3: Christian Categories of Psychopathology
The DSM-V and Diagnosis
DSM-V Mood Disorders
Schizophrenia, Substance-Related, and Somatoform Disorders
Dissociative, Sexual, and Gender Identity Disorders
Eating, Sleeping, Relational, and Personality Disorders
Ethical Disorders
Summarizing a Christian's Understanding of Psychopathology
Unit 4: Uses for the Bible in Counseling
The Bible Provides Paradigm and Context
Using the Bible during Counseling Sessions
Using Reading Plans to Read a New Testament Introduction
Using the Bible for Counselee Homework
Using the Bible for Counselee Devotions and Helping the Congregation
Finding Emotions in the Book of Psalms
Unit 5: Counseling Approaches
A Model of Christ-Centered Counseling
Counseling Approaches: Depression
The Relevance of the Gospel to Depression
Using a Christ-Centered Model When Counseling People with Depression
Creating a Personal Book File for the Five-Step Model
Additional Strategies for Counseling People with Depression, Part 1
Additional Strategies for Counseling People with Depression, Part 2
Counseling Approaches: Pornography
Additional Strategies for Counseling People Who Struggle with an Addiction to Pornography
Counseling Approaches: Marriage
Common Problems in Marriage
Resources for Marriage
Using the Topic and Sermon Starter Guides to Find Passages on Forgiveness
Bringing Good out of Difficult Times and Struggles
Counseling Approaches: Crisis Intervention
Short-Term Stabilization
Moving toward Long-Term Treatment
What about the Possibility of Suicide?
Unit 6: Counseling Considerations
What about Medication?
Considerations for the Use of Medication
What about Psychiatry and Psychotherapy?
Knowing When to Refer
To Whom to Refer?
Conclusion
What's Wrong with the Human Soul and How to Repair It
Product Details
Title: CO102 Introducing Pastoral Counseling II: Examples in Application
Instructor: Dr. Eric L. Johnson
Publisher: Lexham Press
Publication Date: 2016
Product Type: Logos Mobile Education
Resource Type: Courseware, including transcripts, audio, and video resources
Courses: 1
Video Hours: 5
About Eric L. Johnson
Dr. Eric L. Johnson, professor of pastoral care at The Southern Baptist Theological Seminary in Louisville, Kentucky, taught courses in psychology, theology, and Christian worldview at Northwestern College in Minnesota for nine years. He has contributed to numerous articles in the field of Christian psychology, arguing for the necessity of theology in both counseling and psychological research.
He is an associate editor of the Journal of Psychology and Theology, and in 1998 he was editor for a special issue of the Journal of Psychology and Christianity titled "Psychology within the Christian Tradition." He authored articles for the Baker Encyclopedia of Psychology and Counseling and has coedited and contributed to two books: Christianity and Psychology: Four Views and God Under Fire: Modern Scholarship Reinvents God. Dr. Johnson also wrote Foundations for Soul Care: A Christian Psychology Proposal.
Getting the most out of Mobile Ed
Logos Mobile Education is a highly effective cross-platform learning environment that integrates world class teaching with the powerful study tools and theological libraries available in Logos Bible Software. Every course provides links to additional resources and suggested readings that supplement the lecture material at the end of every transcript segment.
This course was produced with screencast videos. These videos provide tutorials showing you how to use Logos Bible Software in ways that are tied directly into the content of the course. We are now producing Activities resources as a replacement for screencast videos. We plan on updating this course to include this additional Activities resource in the future for no extra charge.
More details about these resources