Kärkkäinen's Global Introductions to Systematic Theology (3 vols.)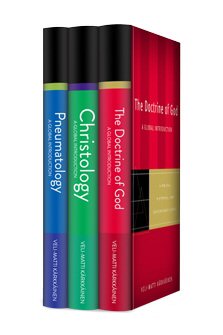 Kärkkäinen's Global Introductions to Systematic Theology (3 vols.)
•
Runs on Windows, Mac and mobile.
Overview
Veli-Matti Kärkkäinen's ecumenical, international, and contextual introductions in contemporary systematic theology are lauded as the top of its class, both in the West and in regions of developing national and spiritual identity. Offering differing perspectives in Christology, Pneumatology, and theology proper, Kärkkäinen develops a groundbreaking synthesis of classical and contextual work in theology from the history of Christianity to its present developments. These works are vital to anyone studying contemporary international and ecumenical theology.
Essential for students, scholars, pastors, and laypeople, these key systematics bring fresh perspectives on theological matters. With the Logos Bible Software edition, searching by topic or Scripture references will further help your understanding—you'll compare, for example, the systematic theologies of various scholars or denominations.
Key Features
Provides global and ecumenical viewpoints on aspects of systematic theology
Examines recent trends and developments in systematic theology
Introduces important issues in ecumenical and interdisciplinary theology
Product Details
Individual Titles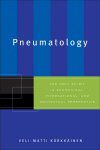 One of the most exciting recent developments in theology has been an unprecedented interest in the person and work of the Holy Spirit. In fact, Veli-Matti Kärkkäinen describes this phenomenon as a "pneumatological renaissance." But such discussion should be informed, he contends, by two overarching principles. First, we must acknowledge the variety of approaches to the experience of the Holy Spirit ecumenically: "No church can claim a monopoly on the Spirit, and no tradition is specifically 'spirited.'" Second, talk about the Spirit must always be contextual and therefore culture-specific: "The Spirit of God . . . indwells believers and creation in specific and tangible ways."
Working from this perspective, the book introduces readers to pneumatology, the theology and spirituality of the Holy Spirit, in current international theology. As such, the work offers a biblical, historical, and theological assessment of the Third Person of the Trinity. However, unlike most textbooks on pneumatology, Kärkkäinen takes a fresh, innovative approach. Rather than focusing on any single topic, his aim is to chart the various territories of contemporary writings and reflections on pneumatology.
Consequently, the volume examines various theological and denominational understandings of the Spirit (all major Christian traditions are reviewed), assesses key contemporary theologians of the Spirit (e.g., Pannenberg, Moltmann, and Pinnock), and inquires into several contextual approaches (e.g., liberation, feminist, and green). These distinctives and the emphasis on the contemporary global scene make this a unique volume.
An up-to-date survey of the most noteworthy and theologically pregnant orientations to the Spirit in the worldwide ecumenical and intercultural scene, this work will guide readers in discerning the Holy Spirit's activity at the beginning of the third millennium.
Veli-Matti Kärkkäinen's Pneumatology is the most comprehensive yet succinct introductory text to the doctrine of the Holy Spirit on the market today. It covers a tremendous amount of ground and does not miss much of importance in reflection on the Holy Spirit in the last two generations. Readers will come away with their appetite whetted for more in-depth study on this topic. Even seasoned theologians would be well-advised to look at Kärkkäinen's text to ensure that they do not overlook important resources for reflection and engagement. Here is evangelical theologizing on pneumatology at its best: ecumenical, engaged, aware, and alert.
—Amos Yong, J. Rodman Williams Professor of Theology, Regent University
Kärkkäinen brings to the study of pneumatology an unusual breadth, namely a deep knowledge of the classical Pentecostal tradition at the international level and an understanding of Lutheran systematics and Eastern Orthodoxy pneumatology, as well as a more than passing acquaintance with the Roman Catholic tradition. Few young scholars can boast as much. To his scholarly concerns he adds his experience as a missionary in the Far East. His review of theologians working in the field of pneumatology is especially helpful.
—Kilian McDonnell, founder and president, Collegeville Institute for Ecumenical and Cultural Research
Veli-Matti Kärkkäinen's book provides an excellent introduction to the study of contemporary pneumatology. It offers the reader a number of entry points to the subject by looking at pneumatology from various perspectives. Kärkkäinen summarizes an impressive array of positions and viewpoints accurately and succinctly without losing sight of the main issues, themes, and theologians. Pentecostals and charismatics will find it particularly helpful, as Kärkkäinen keeps many of their distinctive concerns in view. I highly recommend it as an introductory text.
—Simon Chan, lecturer, Trinity Theological College
Kärkkäinen's book will help scholars and students alike appreciate recent efforts at reflection on the Spirit in the light of their ecumenical and historical past. Kärkkäinen successfully takes readers through the maze of contemporary pneumatology. He is attentive to the complexity of thought involved in pneumatologies past and present but utilizes a lucid style that will make his work valuable for the classroom. This up-to-date treatment makes an important addition to the histories of pneumatology written in the past.
—Frank D. Macchia, professor of theology, Vanguard University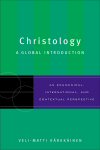 Christology provides an ecumenical, international, and contextual introduction to the person of Christ in contemporary theology, both in the Western academy and in two-thirds world theologies. It offers three main perspectives on Christology (biblical, historical, and contemporary) and combines classical and contextual work done in Christology over the course of church history.
Veli-Matti Kärkkäinen begins with a survey of the various approaches to studying New Testament Christology on the basis of contemporary biblical studies. He compares and contrasts the Gospels' testimonies to Christ as well as the outline of Pauline Christology.
Next, Kärkkäinen explores Christology from a historical perspective. He outlines the early Christological debates, including those at Nicea (325) and Chalcedon (451), and describes their relevance to later history and contemporary theology. Kärkkäinen then describes the search for the historical Jesus and its relevance to Christology, as well as the reasons for its ultimate failure.
An extended discussion of 10 major Western Christologies forms the next section and provides the primary focus of the book. Included is an introduction to the work of ecumenically and theologically representative theologians, such as Karl Barth, Jurgen Moltmann, Wolfhart Pannenberg, and Karl Rahner, as well as Norman Kraus, Stanley Grenz, and John Hick.
Finally, Christology delves into contextualized interpretations of Christ in various parts of the world. North American, feminist, process, black, and postmodern Christologies are discussed and evaluated. Asian ("Christ as universal Savior"), African ("Christ as Ancestor"), and Latin American ("Christ as Liberator") Christologies round out the discussion.
Christology should fit textbook needs in a variety of traditional and contemporary theology classes. The book will be a natural complement to a standard doctrine of Christ textbook in that it provides in one place materials that normally can be found only in several scattered sources. Additionally, it offers valuable insight for scholars, pastors, and readers interested in contemporary Christology.
Christology is profound and insightful in taking issue with various approaches and understandings of Jesus Christ. It is an original and creative masterpiece that introduces Christological issues with intellectual clarity and theological quality. After reading this work, I have no hesitation in recommending it to all students at seminaries and anyone interested in Christianity and theology.
—Paul Chung, associate professor of mission and world Christianity, Luther Seminary
No other book so comprehensively and helpfully surveys contemporary options in Christian thinking about Christ, including Christologies arising out of the two-thirds world. It is a reliable guide to cutting-edge reflection on the history, development, and contemporary contextualization of the doctrine of Jesus Christ.
—Roger E. Olson, professor of theology, George W. Truett Theological Seminary, Baylor University
Veli-Matti Kärkkäinen's Christology is breathtaking in scope and pace. This introduction is unique in breadth and clarity. Every reader can learn from it.
—Colin Brown, senior professor of systematic theology, Fuller Theological Seminary
Kärkkäinen shows the vast richness of Christological reflection. . . . The breadth of views is remarkable.
—Living Church
Kärkkäinen does a commendable job of presenting the foundations of the various Christological approaches without offering diatribe against the subjects under discussion. Given the range of theologians . . . this discipline shows Kärkkäinen's professionalism and contributes to the overall effectiveness of the book as a text for students.
—Review and Expositor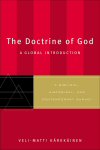 With the closing of the twentieth century, the doctrine of God has once again become a central focus of theological discussion and debate. In The Doctrine of God, Veli-Matti Kärkkäinen provides an ecumenical, international, and contextual introduction to the doctrine of God in contemporary theology. He brings three primary perspectives to the topic (biblical, historical, and contemporary), offers equal treatment to both Western and non-Western theological contributions, and includes discussions of unique contextualized interpretations.
While introducing readers to the relevant biblical and historical developments of the classic theistic tradition, the primary focus of the work is its introduction to major contemporary theological movements and the writings of representative theologians. Kärkkäinen begins with the doctrine of God in the Old and New Testaments, then moves through Patristic and Medieval understandings of God and into the views of Luther and Calvin. He examines the doctrine of God in the thought of Barth, Tillich, Rahner, Kung, Pannenberg, and other European theologians. The heart of the book is an extensive discussion of the doctrine of God in modern movements such as process theology, ecological theology, African and Caribbean theology, Asian theology, and Latin American theology.
This comprehensive textbook will serve courses in the doctrine of God, systematic theology, and contextual theology.
In his fine series of handbooks, Kärkkäinen meets a felt need of many theology students—to be given an introduction in global perspective to great themes like this one: the doctrine of God. The book reveals what theologians around the world are saying about this primary and all-important subject and will stimulate readers to imagine God in more relevant and transforming ways.
—Clark Pinnock (1937–2010), professor emeritus of systematic theology, McMaster Divinity College
This astonishingly wide-ranging and well-informed book will serve as an introduction to the doctrine of God for scholars of all kinds and for many generations of students. The story of the numerous theologians and thinkers within the long, rich, and varied Christian tradition is freshly told with great insight and intelligence. In addition to providing a systematic treatment of the historical development of a Christian doctrine of God, this book addresses those parts of the world that, as the twenty-first century develops, are likely to become crucial to Christian scholarship—Africa, Latin America, and Asia. I warmly recommend this book for its thoroughness, scope, clarity, and fairness.
—William K. Kay, professor of theology, Glyndwr University
I know of no better introduction to the essential elements of the contemporary discussion of the doctrine of God than this. The author surveys the biblical and historical materials, recounts recent European and North American responses to classical theism, and then draws African, Asian, and Latin American theologians into the conversation. An impressive accomplishment, this text is very useful to teachers and scholars alike.
—D. Lyle Dabney, associate professor, Marquette University
[A] fascinating historical and global overview of theology.
—International Bulletin of Missionary Research
Kärkkäinen's brief end-of-chapter summaries, which note the significance of each period and its primary figures, are particularly helpful in such a textbook. . . . The work is a good descriptive 'global introduction.' Kärkkäinen's snapshots of movements, periods, and theologians would be useful in courses on Trinitarian theology.
—Toronto Journal of Theology
About Veli-Matti Kärkkäinen
Veli-Matti Kärkkäinen received his DTheol from the University of Helsinki. He is a professor of systematic theology at Fuller Theological Seminary and also holds teaching posts at the University of Helsinki and Iso Kirja College in Finland. He is the author of Pneumatology: The Holy Spirit in Ecumenical, International, and Contextual Perspective.
More details about these resources