Teach the Text Commentary Upgrade II (2 vols.)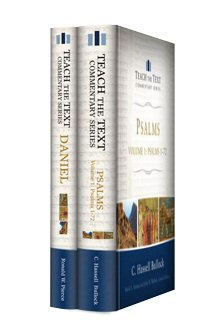 Teach the Text Commentary Upgrade II (2 vols.)
•
Baker 2015
For an updated version of this collection, see here.
Overview
The Teach the Text Commentary Series gives pastors the best of biblical scholarship and presents the information needed to move seamlessly from the meaning of the text to its effective communication. In this series' second upgrade, Ronald W. Pierce examines God's sovereignty in Daniel and C. Hassell Bullock focuses on Psalms 1–72. Each volume in this series keeps the discussion in each carefully selected preaching unit to six pages of focused commentary, which allows pastors to quickly grasp the most important information. Each unit of the commentary includes the big idea and key themes of the passage, with sections dedicated to understanding, teaching, and illustrating the text. Also included in this series are full-color illustrations, maps, and photos.
In the Logos editions, these volumes are enhanced by amazing functionality. Important terms link to dictionaries, encyclopedias, and a wealth of other resources in your digital library. Perform powerful searches to find exactly what you're looking for. Take the discussion with you using tablet and mobile apps. With Logos Bible Software, the most efficient and comprehensive research tools are in one place, so you get the most out of your study.
Key Features
Identifies the primary theme that drives both the passage and the commentary
Focuses on the exegesis of the text
Sparks creative thinking for preachers and teachers to bring the passage alive
Includes full-color illustrations, maps, and photos
Praise for the Print Edition
Few commentaries help the reader move beyond study to thoughtful application, and fewer still move beyond application to teaching. That's why I am thrilled with the Teach the Text Commentary Series.
—George H. Guthrie, Benjamin W. Perry Professor of Bible, Union University
Most commentaries are either too technical or too light to be of much help, leaving us to wander through the text on our own. Accurately balanced between good scholarship and solid preaching perspectives, these commentaries provide an unusually deep and relevant approach to the text. If you take preaching and teaching the Word seriously you must take this series seriously as well.
—Joe Stowell, President, Cornerstone University
Teach the Text is the kind of commentary I have wanted for a long time.
—Haddon Robinson, Harold John Ockenga Distinguished Professor of Preaching, Gordon-Conwell Theological Seminary
Individual Titles

Teaching from Daniel can easily veer in two equally unhelpful directions: moralism and speculative intrigue. Ronald Pierce steers us away from the distractions and moves us toward the main point of Daniel: God's sovereign control over people, rulers, and history, even while his people endure suffering. God does not abandon his faithful servants. He holds the wicked accountable, and his kingdom will prevail. From these timeless truths come encouragement for today's believers to trust God more deeply and to live more faithfully, regardless of current events.
Ronald W. Pierce is professor of biblical and theological studies at Talbot School of Theology in La Mirada, California. He has led numerous academic study tours to Israel and Palestine. He has written articles and books including Partners in Marriage and Ministry. He is the editor of Discovering Biblical Equality.

Throughout the centuries, the Psalms have held a beloved place in Judaism and Christianity, and in the lives of individual believers. They express in profound ways the thoughts and emotions of the soul, from the highest experiences of joy and praise to the lowest valleys of lament. C. Hassell Bullock has been deeply shaped by the Psalms, and this commentary is born out of a lifetime of loving study—as a Christian, a professor, and a pastor, and he bears these three perspectives into this volume. He skillfully leads the reader through each psalm, with attention paid to genre, structure, theology, and practical application. Here is wise guidance for preachers and teachers who wish to bring the timeless messages of the Psalms to today's believers.
This well-designed series fills a niche and will be welcomed by busy expositors of Scripture, and Hassell Bullock is a master guide into the riches of the book of Psalms. Bringing a lifetime of academic study and teaching of the Psalms to the task, Bullock communicates the meaning of each psalm clearly, providing insight after insight in every passage and highlighting the main theological points of each psalm.
—David Howard, professor of Old Testament, Bethel University
About the Editors
Mark L. Strauss is professor of New Testament at Bethel Seminary San Diego. He is the author or editor of many books and articles, including How to Read the Bible in Changing Times, Four Portraits, One Jesus, How to Choose a Translation for All Its Worth, and commentaries on Mark and Luke.
John H. Walton is professor of Old Testament at Wheaton College. He is the author or editor of numerous books, including A Survey of the Old Testament, Old Testament Today, Ancient Near Eastern Thought and the Old Testament, The IVP Bible Background Commentary: Old Testament, and commentaries on Genesis and Job.
More details about these resources