Mobile Ed: MI102 Current Issues in Missions (6 hour course)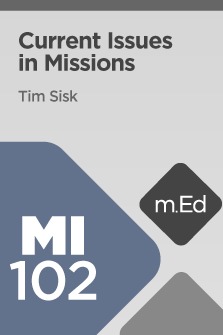 Mobile Ed: MI102 Current Issues in Missions (6 hour course)
•
Runs on Windows, Mac and mobile.
Overview
In Current Issues in Missions (MI102), Dr. Tim Sisk discusses the changing world situation since the beginning of the modern missions movement in the mid-19th century and introduces new mission opportunities and approaches these changes have created. He explores the impact and implications of globalization and the shift of the "Christian center" from Europe and European-derivative cultures to the southern hemisphere. Dr. Sisk also introduces the contemporary debates regarding appropriate contextualization and the relationship between evangelism, humanitarian relief, and issues of justice.
Learning Objectives
Upon successful completion you should be able to:
Identify major changes in global Christianity over the past 150 years and describe how these changes have impacted assumptions regarding missions and approaches to missions by Western missionaries and mission agencies
Discuss the importance of theologies that have emerged from the global South and from other non-Western cultures
Summarize missions tactics that hamper the independence of indigenous churches
Identify examples of subtle residual attitudes of paternalism, racism, and colonialism that may linger in Western missionaries and mission organizations
Describe the opportunities presented by business as mission (BAM)
Evaluate the resource consumption and overall effectiveness of short-term missions
Discuss the impact of spiritual conflict on the effectiveness of missionaries and describe various approaches to engagement in the conflict
Identify theological matters that are currently being debated as the world moves toward cultural and religious pluralism
Analyze approaches to contextualization and consider the matter of potential syncretism
Present the leading positions in the debate over the roles of evangelism and social justice in missions
Course Outline
Introduction
Introducing the Speaker and the Course
Unit 1: Transforming and Transitioning World Missions
The Changing World
The Difference a Hundred Years Makes
From Edinburgh to Cape Town
Growth in Global Christianity
A Snapshot of Global Christianity
20th-Century Changes in Global Christianity
Whose Religion Is Christianity?
Previewing Global Theology Resources
The Impact of Globalization
The Changing Global Context
The Changing Missionary Movement
Emerging Leaders in Global Missions
Changing Roles for Western Missionaries
21st-Century Paternalism
Listening to the Global Church, Part 1
Listening to the Global Church, Part 2
Transforming Missionary Training
Search for Articles on Missional Scripture Reading
The North American Church's Future Role in World Missions
Unit 2: Tent Making and Business as Mission
Introduction to Business as Mission (BAM)
Exploring Trends behind Tent Making and Business as Mission
Reasons for and Models of Tent Making and Business as Mission
Biblical and Historical Examples of Tent Making and Business as Mission
Understanding the "T" Scale
Positive Aspects of Tent Making and Business as Mission
Negative Aspects of Tent Making and Business as Mission
Basic Search on Protestant Clergy-Laity Dualism
The Effect of Affluence on Mission
Attitudes toward Affluence
Barriers to Mission Created by Affluence
Living in Intentional Simplicity
Unit 3: National Missionaries and Short-Term Missions
National Missionaries from Indigenous Churches
Positive Characteristics of National Missionaries
Cautions regarding Use of National Missionaries
Evaluating Support of National Missionaries
Short-Term Missions
Challenging Some Short-Term-Missions Presuppositions
Listening to the Hosts
Cautions regarding Short-Term Missions
Potential Benefits of Short-Term Missions
Your Role in Short-Term Missions
Unit 4: Ethics in Missions
Run, Walk, Limp, Fall, or Finish Well
Ethical Guidelines and Guard Rails
Areas for Ethical Consideration
Unit 5: Theological Issues in Missions
Theological Drift?
Starting a Study on "Hell" Using the Bible Word Study
Views Held on Hell and Salvation
Defining "Hell" from Scripture
Performing a Morphology Search on Jesus' Use of "Gehenna"
Do Theological Views Diminish a Passion for Evangelism?
Is the Problem Solely Theological?
Unit 6: Spiritual Conflict and Missions
Models for Spiritual Conflict
The Mass Marketing of Spiritual Warfare
A Warning and Some Observations
Animism and Secularism
Territorial Spirits
Evaluating Strategic-Level Spiritual Warfare
Demonization and Deliverance
Using the Bible Sense Lexicon to Study Demons
Encounters with Demons in the New Testament
Avoiding Demonic Influence
Unit 7: Dreams and Missions
The Underappreciated Importance of Dreams
Dreams in the Bible
Using the Bible Sense Lexicon to Find Dreams in the Bible
How Dreams and Visions Are Used by God
Current Research on Dreams Leading to Conversion
Unit 8: Contextualization
Contextualized Mission to Muslims
Defining Contextualization
Contextualization or Syncretism?
Contextualization in Scripture
Researching Contextualization in the Lexham Bible Dictionary
Guidelines for Contextualization
Creating a Faithlife Group for Missionaries
Contemporary Evangelism and Contextualization
Searching Themelios for "Insider Movement"
Cautions regarding the Insider Movement
Unit 9: Words and Deeds
Finding the Balance
Three Approaches to Words and Deeds
A Brief History of the Debate
An Evangelical Debate
The Primacy of Evangelism
Unit 10: The Local Church in Mission
Can "Small" Succeed where "Big" Fails?
Christ, Church, and Kingdom
Changing World, Changing Missions
Product Details
Title: MI102 Current Issues in Missions
Instructor: Timothy Sisk
Publisher: Lexham Press
Publication Date: 2014
Product Type: Logos Mobile Education
Resource Type: Courseware, including transcripts, audio, and video resources
Courses: 1
Video Hours: 6
Timothy Sisk
Dr. Timothy Sisk, professor and chair of world missions and evangelism at Moody Bible Institute in Chicago, Illinois, has been in vocational ministry for nearly 30 years. He specializes in church planting, history of missions, and global theology.
Dr. Sisk and his wife, Donna, served as missionaries for 14 years in Japan and Bolivia. He also coauthored The Third Wave Movement and Missions Today and coedited Reflections on Urban Mission for the Twenty-First Century.
Getting the most out of Mobile Ed
Logos Mobile Education is a highly effective cross-platform learning environment that integrates world class teaching with the powerful study tools and theological libraries available in Logos Bible Software. Every course provides links to additional resources and suggested readings that supplement the lecture material at the end of every transcript segment.
This course was produced with screencast videos. These videos provide tutorials showing you how to use Logos Bible Software in ways that are tied directly into the content of the course. We are now producing Activities resources as a replacement for screencast videos. We plan on updating this course to include this additional Activities resource in the future for no extra charge.
More details about these resources