Select Works of Peter J. Leithart (3 vols.)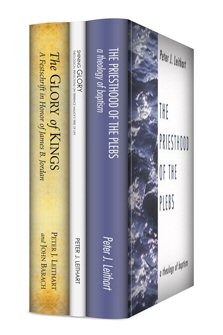 Overview
In his diverse body of writings, Presbyterian pastor and professor Peter J. Leithart creatively engages Scripture, theology, and culture. His fresh voice continues ancient discussions for twenty-first-century minds. This collection pulls together three volumes that highlight the varied facets of Leithart's writing.
First, the festschrift The Glory of Kings gathers a variety of essays honoring the Reformed theologian and biblical scholar James Jordan. In Shining Glory, Leithart examines the biblical and theological motifs of the 2011 film The Tree of Life, sharing insights for understanding its complexities. And finally in The Priesthood of the Plebs, Leithart offers a theology of baptism, arguing that the coming of the New Creation in Jesus Christ has profound and revolutionary implications for social order—implications symbolized and effected in the ritual of baptism.
In the Logos edition, the Select Works of Peter J. Leithart are enhanced by amazing functionality. Scripture citations link directly to English translations, and important terms link to dictionaries, encyclopedias, and a wealth of other resources in your digital library. Perform powerful searches to find exactly what you're looking for. Take the discussion with you using tablet and mobile apps. With Logos Bible Software, the most efficient and comprehensive research tools are in one place, so you get the most out of your study.
Key Features
Provides an exegetical defense of the typological connections between Old Testament priestly ordination and Christian baptism
Discusses the film The Tree of Life from a theological standpoint
Gathers essays in honor of James B. Jordan
Individual Titles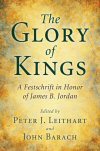 Over the past several decades, Reformed theologian and biblical scholar James B. Jordan has produced a unique body of work. His electrifying commentaries and essays on Scripture, along with his penetrating writings on Trinitarian theology, liturgics, music, and culture have inspired a growing number of pastors and theologians. In this festschrift, Jordan's friends and associates celebrate his contributions by applying his methods and insights to a range of biblical, theological, liturgical, and cultural questions. The Glory of Kings brings Jordan's work to the attention of a wider audience and introduces the work of a scholar that R.R. Reno has called "one of the most important Christian intellectuals of our day."
This festschrift ably honors Jim Jordan and his brilliant body of work, which has illumined the glories of biblical structure, symbolism, and typology like few others in our day. Perhaps his greatest legacy, however, will be how he inspired a new generation to see the Scriptures and God's world through new, more perceptive eyes. Some of today's most insightful Reformed pastors and teachers influenced by Jim have penned this excellent collection of essays in his honor—a masterful tribute befitting a master scholar-teacher.
—Roy Atwood, president, New St. Andrews College
John Barach is pastor of Covenant Presbyterian Church in Sulphur, Louisiana and teaches Old and New Testament theology at the Bucer Institute.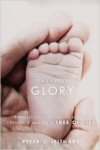 Terrence Malick's stunning film The Tree of Life is a modern Job story, an exploration of suffering and glory, an honest look at strife within a Texas family in the 1950s. In Shining Glory, Peter J. Leithart examines the biblical and theological motifs of the film and illuminates how Malick exploited the visual poetry of film to produce one of the most spiritually challenging and theologically sophisticated films ever made.
A very helpful, meditative guide and exploration of the complexity, wonders, and depths of Malick's remarkable Tree of Life.
—Roy Anker, professor of English, Calvin College
Peter Leithart has provided a great service by approaching this film of Terrence Malick—America's greatest filmmaker, and perhaps the greatest of his time—with the seriousness it merits, and by considering it in light of the religious and metaphysical themes it so beautifully and so mysteriously explores. I hope this book is the first of many such treatments.
—David Bentley Hart, author, The Experience of God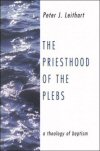 In this seminal treatise, Peter J. Leithart argues that the coming of the New Creation in Jesus Christ has profound and revolutionary implications for social order—implications symbolized and effected in the ritual of baptism. In Christ and Christian baptism, the ancient distinctions between priest and non-priest, between patrician and plebian, are dissolved, giving rise to a new humanity in which there is no Jew nor Greek, slave nor free, male nor female. Yet, Leithart argues, beginning in the medieval period, the church has blunted the revolutionary force of baptism, reintroducing antique distinctions whose destruction was announced by the gospel. In this volume he calls the church to renew her commitment to the gospel that offers "priesthood to the plebs."
In this book . . . neglected parts of the Old Testament are made to yield striking insights into the nature of the Christian community. The author reveals himself to be a true scribe of the kingdom, revealing a vision of the Church in relation to the world that is radical in the fundamental sense of the word: digging down into the roots of the Christian tradition, and bringing out of his treasure things new and old.
—Andrew Louth, emeritus professor of patristic and Byzantine studies, University of Durham
This erudite book constitutes a bold and wide-ranging attempt to argue for a typological relationship between Old Testament ideas of priestly ordination and Christian conceptions of baptism. In the process the author raises a number of fascinating historical and theological questions, many of which have potentially intriguing implications for Christian understandings of community and church order. A book which should stimulate and challenge people working in a variety of theological disciplines, whether biblical studies, church history, or Christian doctrine.
—James Carleton Paget, senior lecturer of New Testament studies, University of Cambridge
Leithart argues that Christian baptism, rightly understood, is the inception point of a new kind of social order, one that has yet to find full expression in Christendom and in the wider world. Anyone interested in Christian sacraments, in ecclesiology narrowly conceived, or in social order, needs to study this work with care.
—James B. Jordan, director, Biblical Horizons
More details about these resources