Peter J. Leithart Collection (6 vols.)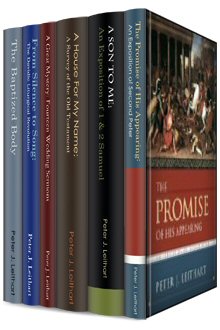 Overview
Peter Leithart is a theologian, pastor, and professor. The Peter J. Leithart Collection offers a range of titles reflective of the breadth of the author himself. Whether expositing scripture, surveying the Old Testament, discussing the efficacy of baptism, or offering sermons for weddings, Leithart has something to offer everyone.
For those who already enjoy the writings of Peter Leithart, are wanting an excellent introduction to his writing, or just want to add some breadth to your Logos library, this is an excellent collection.
Key Features
Expositions of 1 & 2 Samuel and 2 Peter
Old Testament Survey
Sermons for Weddings
Discussion on topics of liturgy and baptism
Product Details
Title: Peter J. Leithart Collection (6 vols.)
Author: Peter J. Leithart
Publisher: Canon Press
Volumes: 6
Pages: 1,142
About Peter J. Leithart
Peter J. Leithart received an A.B. in English and History from Hillsdale College in 1981, and a Master of Arts in Religion and a Master of Theology from Westminster Theological Seminary in Philadelphia in 1986 and 1987, respectively. In 1998 he received his Ph.D. at the University of Cambridge in England. He has served as editor and writer for American Vision in Atlanta, Georgia (1987-1989), and as a pastor of Reformed Heritage Presbyterian Church (now Trinity Presbyterian Church), Birmingham, Alabama from 1989-1995. He has taught Theology and Literature at New Saint Andrews College since 1998, and since 2003 has served as pastor of Trinity Reformed Church in Moscow.