Paul's use of the Prophetic Tradition in 2 Corinthians (2 vols.)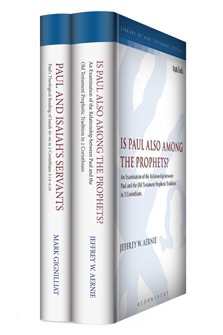 Paul's use of the Prophetic Tradition in 2 Corinthians (2 vols.)
•
Runs on Windows, Mac and mobile.
Overview
From Isaiah's divine call to Ezekiel's wheel, the prophetic tradition of the Old Testament provides some of the most enigmatic, disturbing, and vivid literature that has ever been produced. The Apostle Paul, thoroughly educated in that literature, made lengthy use of it in his writings both in direct quotes and through allusion, commonly referred to as intertextuality. This collection zooms in on Paul's use of the prophetic witness in his Corinthian correspondence, especially in 2 Corinthians, to establish his divine calling over the Corinthians and to reinforce his rightful condemnation of that church's sin. Providing intensive exegetical analysis, the authors demonstrate how Paul uses prophetic language and grammatical structures in order to communicate the full message of the gospel to the Corinthian church.
In the Logos editions, these volumes are enhanced by amazing functionality. Important terms link to dictionaries, encyclopedias, and a wealth of other resources in your digital library. Perform powerful searches to find exactly what you're looking for. Take the discussion with you using tablet and mobile apps. With Logos Bible Software, the most efficient and comprehensive research tools are in one place, so you get the most out of your study.
Key Features
Examines how Paul uses specific Old Testament passages in 1 and 2 Corinthians
Shows how Paul appropriates the Hebrew prophetic tradition for the Christian message
Provides detailed exegesis of 2 Corinthians 2:14–16, 4:1–6, 5:14–6:10, 6:14–7:1, and 12:1–10
Product Details
Title: Paul's Use of the Prophetic Tradition in 2 Corinthians
Series: The Library of New Testament Studies (JSNTS)
Publisher: T&T Clark
Volumes: 2
Pages: 532
Resource Type: Monographs
Topic: 2 Corinthians
Individual Titles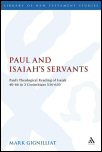 Paul and Isaiah's Servants: Paul's Theological Reading of Isaiah 40–66 in 2 Corinthians 5:14–6:10
Author: Mark Gignilliat
Series: The Library of New Testament Studies (JSNTS)
Publisher: T&T Clark
Publication Date: 2007
Pages: 212
Paul's reading of the Old Testament witnesses to the significance of the Old Testament from a specifically Christian way. This study argues that a theological approach to understanding Paul's appeal to and reading of the Old Testament, especially Isaiah, offers important insights into the ways in which Christians should read the Old Testament and a two-testament canon today. By way of example, this study explores the ways in which Isaiah 40–66's canonical form presents the gospel in miniature with its movement from Israel to Servant to servants.
Paul follows this literary movement in his own theological reflection in 2 Corinthians 5:14–6:10. Jesus takes on the unique role and identity of the Servant of Isaiah 40–55, and Paul takes on the role of the servants of the Servant in Isaiah 53–66. Based on this exegetical exploration, Gignilliat asks if Paul the sensus plenior of Scripture. Does Paul's reading of the Old Testament look anything like a plain sense reading? Gignilliat concludes that Paul is reading the Old Testament in such a way that the literal sense and its figural potential and capacity are not divorced but are actually organically linked in what can be termed a "plain sense" reading.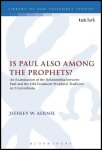 Is Paul also among the Prophets?: An Examination of the Relationship between Paul and the Old Testament Prophetic Tradition in 2 Corinthians
Author: Jeffrey W. Aernie
Series: The Library of New Testament Studies (JSNTS)
Publisher: T&T Clark
Publication Date: 2012
Pages: 320
Learn how the apostle Paul used the prophetic tradition of the Hebrew Bible to instruct and correct his most troublesome church—the Corinthians. Drawing on the divine call narratives of Isaiah and Jeremiah, Jeffrey W. Aernie shows how Paul asserted his legitimacy as an apostle, authority as a teacher over the Corinthians, and based his corrective commands within the prophetic voice to summon the Corinthians to a true expression Jesus' understanding of discipleship.
Through detailed exegetical analysis of selected texts in 1 and 2 Corinthians, Aernie shows Paul's profound commitment to his prophetic heritage and demonstrates the ongoing significance of both the Old Testament and its prophets to the Christian life, message, and ethical teaching.
Jeffrey W. Aernie received his PhD from the University of Aberdeen and is lecturer in New Testament at United Theological College at Charles Sturt University in Australia.