Don Garlington New Perspective on Paul Collection (3 vols.)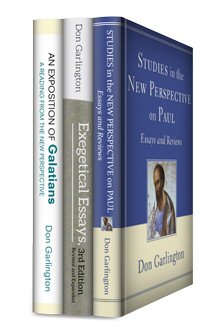 Don Garlington New Perspective on Paul Collection (3 vols.)
•
Runs on Windows, Mac and mobile.
Overview
For decades, scholars such as E.P. Sanders, James D.G. Dunn, and N.T. Wright have presented a new way of viewing Paul in the light of his historical and theological context. This "New Perspective on Paul" (NPP) posits that the Judaism of Paul's day and the accompanying debates concerning justification had less to do with individual salvation, and more to do with Jewish-Gentile issues.
NPP is not without its detractors—stalwart defenders of the traditional Protestant understanding John Piper and D.A. Carson among them. However, New Testament scholar Donald Garlington offers a mediating position that, he says, upholds the cherished doctrines of the Reformation—such as the imputed righteousness of Christ—while embracing many of the profound insights of NPP.
This selection of Garlington's work on Paul includes his Exposition of Galatians. In this commentary, see Garlington's approach in action as he interprets the letter in light of NPP. In Exegetical Essays, Garlington deals directly with specific issues concerning NPP—such as justification—and responds to the criticisms of John Piper. In Studies in the New Perspective on Paul, he takes on even more critics, directly responding to the work of D.A. Carson, Piper, and S.M. Baugh.
In the Logos editions, these volumes are enhanced by amazing functionality. Important terms link to dictionaries, encyclopedias, and a wealth of other resources in your digital library. Perform powerful searches to find exactly what you're looking for. Take the discussion with you using tablet and mobile apps. With Logos Bible Software, the most efficient and comprehensive research tools are in one place, so you get the most out of your study.
Key Features
Offers a mediating position between critics and proponents of the New Perspective on Paul
Includes a commentary on the book of Galatians and two volumes of essays by Don Garlington
Addresses major issues surrounding the New Perspective on Paul
Features responses to critiques of the New Perspective on Paul
Individual Titles

Featuring the in-depth analysis of a technical commentary, and the accessibility of a popular treament, this exposition by Don Garlinton focuses on the salvation-historical argument of Galatians. Writing for pastors, students, and Pauline scholars, Garlington holds to a variation of the New Perspective on Paul. Garlington emphasizes the historical context of Second Temple Judaism and the Greco-Roman environment.
However, far from challenging the foundational concerns of the Reformation, this reading of the Galatian letter is fully supportive of the great doctrines of the Reformers. In this revised edition, Garlington relies on recent scholarship by James D.G. Dunn, N.T. Wright, and numerous others.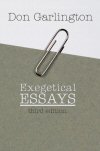 In this collection of 13 biblical studies, New Testament scholar Don Garlington fills the gaps in New Testament research, offering alternate understandings of familiar passages. Following the order of the canonical biblical text, Garlington examines the biblical-theological method, followed by an Old Testament essay, and then proceeds through the Gospels, Paul and Revelation, and concludes with review articles of two recent notable books.
Contents
"The Biblical-Theological Method"
"Kingship in the Period of the United Monarchy: A Prelude to Christology"
"Oath-taking in the Community of the New Age (Matthew 5:33–37)"
"Jesus, the Unique Son of God, Tested and Faithful"
"Who Did Jesus Think He Was?"
"'ΙΕΡΟΣΓΑΕΙΝ and the Idolatry of Israel (Romans 2:22)"
"Romans 7:14–25 and the Creation Theology of Paul"
"Role Reversal and Paul's Use of Scripture in Galatians 3:10–13"
"Burden Bearing and the Recovery of Offending Christians (Galatians 6:1–5)"
"A Study of Justification by Faith"
"Reigning with Christ: Revelation 20:1–6 in its Salvation-Historical Setting"
"A Review Article: Justification and Variegated Nomism"
"Imputation or Union with Christ? A Response to John Piper"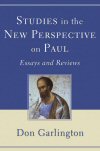 It's been called the New Perspective on Paul (NPP), but New Testament scholar Don Garlington says that it actually represents a return to the original context in which Paul proclaimed the gospel of Christ. These essays and reviews address challenges made against the NPP and presents a positive case for a view of justification, union with Christ, and other core Pauline doctrines in light of Second Temple Judaism and the Greco-Roman context.
Contents
"The New Perspective on Paul: Two Decades On"
"Faith's Obedience and Israel's Triumphant King: Romans 1:5 against Its Old Testament Backdrop"
"'Even We Have Believed:' Galatians 2:15–16 Revisited"
"Role-Reversal and Paul's Use of Scripture in Galatians 3:10–13"
"Imputation or Union with Christ? A Response to John Piper"
Review of John Piper, The Future of Justification
Review of D.A. Carson, et. al., Justification and Variegated Nomism I
Review of Simon Gathercole, Where is Boasting? Early Jewish Soteriology and Paul's Response in Romans 1–5
"The New Perspective, Mediation, and Justification: A Reply to S.M. Baugh"
"Covenantal Nomism and the Exile: A Reply to I.M. Duguid
Review of Gordon Whenham, Story as Truth
About Don Garlington
Don Garlington is a celebrated New Testament scholar noted for his support of the "New Perspective" on Paul. He holds an MDiv and ThM from Westminster Theological Seminary and PhD from the University of Durham. He has been a professor at Toronto Baptist Seminary and Tyndale Seminary. He is the author of The Obedience of Faith: A Pauline Phrase in Historical Context and Faith, Obedience, and Perseverance: Aspects of Paul's Letter to the Romans.
More details about these resources