Matt Waymeyer Collection (2 vols.)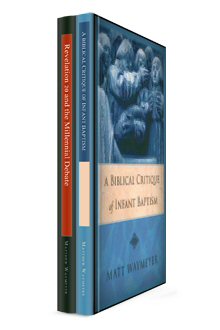 Overview
What does the book of Revelation say about the end times? What is the Bible's stance on believer baptism? Few authors possess a keen skill and pastoral heart for investigating what Scripture says about these controversial topics, and Matthew Waymeyer is among them. History testifies to heated debate, church splits, and doctrinal controversy over these issues. Matt Waymeyer rises above the fray to outline and explain the Bible's teaching for the modern church.
The Matt Waymeyer Collection (2 vols.) contains two books for which he is well known: Revelation 20 and the Millennial Debate and A Biblical Critique of Infant Baptism. Unafraid to tackle controversial theological topics, Waymeyer constructs arguments clearly and skillfully, and explains complex interpretive issues in a way that makes sense for the modern church. In his Biblical Critique of Infant Baptism, Waymeyer embarks on an exhaustive biblical survey of the topic, setting forth a clear case for believer baptism. In Revelation 20 and the Millennial Debate offers a comprehensive overview of prophetic, eschatological, and interpretive issues for modern readers.
What's more, with the Logos edition, these volumes give you instant access to Scripture texts, and give you all the tools you need to dig deep into Scripture. Hovering over Scripture references displays the texts instantly, and with passage guides, word studies, and a wealth of resources in your digital library, you can get into God's word like never before! These volumes are perfectly suited for pastors, students, and laypersons seeking to explore the Bible on a deeper level.
Key Features
Complete bibliography for each book
Appendixes on the key themes in each book
Detailed outline of Revelation 20
Individual Titles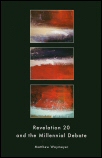 Often quoting the proponents of each view regarding premillennialism, amillennialism, and postmillennialism, this book summarizes and contrasts the arguments of the three positions as they relate to Revelation 20. Though premillennial in its conclusions, it provides a valuable and clear resource as to how each school of prophecy deals with this watershed passage.
If you want to know how the theological views of premillennialism, amillennialism, and postmillennialism interpret Revelation 20 in different ways, then this is the book for you. Clear, precise and well documented, Waymeyer has skillfully contrasted these opposing viewpoints. A valuable resource for all students of Bible prophecy. Highly recommended.
—Dr. Robert Gromacki, Distinguished Professor, Emeritus of Bible and Greek, Cedarville University
Matt Waymeyer has done a great service to the Bible-believing community with the production of Revelation 20 and the Millennial Debate. He has summarized the arguments of the three millennial views on the major issues related to Revelation 20, usually in their own words, and provided an outstanding defense of the premillennial understanding. This is a book that I hope will gain wide distribution.
—Dr. Thomas Ice, Executive Director, Pre-Trib Research Center
This volume proves informative, insightful, and compelling in the case that it makes for interpreting Revelation 20.
—Dr. Richard Mayhue, Senior Vice President and Dean, The Master's Seminary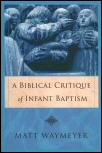 In this concise volume, Matt Waymeyer sets forth the six reasons which led him to reject infant baptism. Part theological, part biographical, A Biblical Critique of Infant Baptism describes Waymeyer's own theological journey. This volume offers an opportunity to eavesdrop on the author's own theological conversations. He writes this volume not out of antagonism, but to further theological exploration.
It is amazing to think that, without a biblical foundation, infant baptism is as widespread as it is. In this compelling, convincing work, Waymeyer upholds the model of biblical believer's baptism. Though it's unusual for a book to be written on what is not in the Bible, this one needed to be written.
—John MacArthur, Pastor-Teacher, Grace Community Church
. . . I found Waymeyer's book to be a rich resource of new insights into the discussion . . . . Of particular note is his careful attention to the grammar, syntax, context, and original languages of the typical pericope cited by paedobaptists . . . . I highly recommend this volume to any pastor, seminary student, or interested layman who is studying this subject.
—Dr. Greg Welty, Assistant Dean, Division of Ethics and Philosophical Studies, Southwestern Baptist Theological Seminary
Product Details
Title: Matt Waymeyer Collection
Author: Matt Waymeyer
Publisher: Kress Christian Publications
Volumes: 2
Pages: 270
About Matt Waymeyer
Matthew Waymeyer is a graduate of The Master's Seminary in Sun Valley, California (M.Div., Th.M.). He serves as pastor of Community Bible Church in Vista, California, where he lives with his wife, Julie, and their five children.
More details about these resources