Audiobook Christian Living and Spirituality Collection (11 vols.)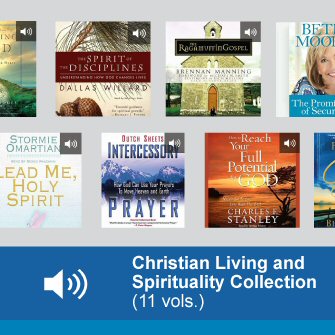 Audiobook Christian Living and Spirituality Collection (11 vols.)
•
Runs on Windows, Mac and mobile.
Overview
Discover hours of audio resources for enriching your Christian walk with the Christian Living and Spirituality Audiobook Collection. Trusted Christian counselors such as Jerry Bridges, Beth Moore, and Charles Stanley apply the timeless wisdom of Scripture to issues of suffering, apathy, and living a life abandoned to God's purpose in the twenty-first century. Featuring contemporary authors who have impacted millions of Christians around the globe, these audiobooks add spiritual significance to your commute, time at the gym, and work around the house.
Audiobooks add a new dimension to your digital library. When you listen in Logos, your audiobooks sync across devices—pause a book anytime on your home computer, then pick up where you left off in your car or on your laptop. Listen on your lunch breaks, as a family, or as part of your personal devotional time. Tap into the power of Logos Bible Software in a whole new way.
Key Features
Provides audio versions of works from today's most beloved Christian voices
Addresses issues such as suffering, prayer, spiritual discipline, and God's sovereignty
Adds spiritual significance to commutes, work around the house, and time at the gym
Individual Titles

A Praying Life: Connecting with God in a Distracting World (audio)
Author: Paul Miller
Narrator: Arthur Morey
Edition: Unabridged
Publisher: christianaudio Hovel
Print Publisher: NavPress
Runtime: 9 hours
Author Paul Miller shares his insights and conclusions about how to connect the broken pieces of your life and allow prayer to fill the gaps with meaning and substance. Miller's down-to-earth approach and practical nature will help you see that your relationship with God can grow and your communication with him can get better. Parents will find Miller's family-life experiences especially helpful.
Paul Miller, after graduating from college, taught at inner-city Christian schools in Philadelphia for 10 years. With a group of parents, he started Spruce Hill Christian School, an inner-city, multiracial school where he was principal and teacher. In 1983, he helped his father found World Harvest Mission, serving as associate director from 1983 until 1996. During his time at World Harvest, Paul wrote several discipleship courses, including a course on grace called Sonship. He is the author of several books, including The Love Course and A Praying Life.

Abba's Child (audio)
Author: Brennan Manning
Narrator: Dan Cashman
Edition: Unabridged
Publisher: christianaudio Hovel
Print Publisher: NavPress
Runtime: 6.1 hours
Many Christians have bought into the lie that we are worthy of God's love only when our lives are going well. If our families are happy or our jobs are meaningful, life is a success. Yet when life begins to fall apart and embarrassing sins threaten to reveal our less-than-perfect identity, we scramble to keep up a good front to present to the world—and to God. We cower and hide until we can rearrange the mask of perfection and look good again. Sadly, it is then that we wonder why we lack intimate relationships and a passionate faith.
All the while, according to Brennan Manning, God is calling us to take our masks off and come openly to him. God longs for us to know in the depths of our beings that he loves us and accepts us as we are. When we are our true selves, we can finally claim our identity as God's children and experience his pure pleasure in who we are. Manning encourages us to let go of the impostor lifestyle and freely accept the love of our heavenly father. In him there is life, our passion is rekindled, and our union with him is his greatest pleasure.
Brennan Manning (1934–2013) spent the past 40 years helping others experience the reality of God's love and grace. It was at the heart of everything he wrote and did. A recovering alcoholic and former Franciscan priest, his spiritual journey took him down a variety of paths. He taught seminarians, spoke to packed arenas, lived in a cave and labored with the poor in Spain, and ministered to shrimpers in Alabama. Brennan is best known as the author of the contemporary classics The Ragamuffin Gospel, Abba's Child, Ruthless Trust, and The Importance of Being Foolish.

Enemies of the Heart: Breaking Free from the Four Emotions That Control You (audio)
Author: Andy Stanley
Narrator: Lloyd James
Edition: Unabridged
Publisher: christianaudio
Print Publisher: Multnomah
Runtime: 6 hours
In this compelling and helpful book, previously published as It Came from Within!, pastor and author Andy Stanley wrestles with what he calls "four invaders of the heart"—guilt, anger, greed, and jealousy.
One or another of these caustic emotions sabotages lives on a daily basis and destroys relationships. But Stanley assures readers that there is hope. In his trademark style—smart and straightforward—he examines where these powerful forces come from and reveals effective strategies for overcoming them and moving toward healing and maturity.
Andy Stanley is a graduate of Dallas Theological Seminary and the founding pastor of North Point Community Church in Atlanta, Georgia, with a youthful congregation of more than 12,000. Andy is the author of the 1998 Foreword Book of the Year finalist Visioneering, the bestsellers Like a Rock and The Next Generation Leader, and the recent How Good Is Good Enough.

Face to Face with God: The Ultimate Quest to Experience His Presence (audio)
Author: Bill Johnson
Narrator: Arthur Morey
Edition: Unabridged
Publisher: christianaudio
Print Publisher: Charisma House
Runtime: 6 hours
In his unique teaching style, Pastor Bill Johnson delivers a message to help readers pursue God for greater measures of his presence than they have ever known before. In Face to Face with God, readers will learn:
How to "set up an ambush" to apprehend God rather than just waiting on God
What it means to enter "the favor of his face," and how it changes history
How to deal with invading thoughts that enter the mind during prayer or meditation time
The reward of keeping one's eyes on the "blesser" instead of reaching for the blessing
What happens when God speaks directly as a result of obedience
How to move beyond the spiritual plateaus to ride the coming wave of revival
Bill Johnson is the senior pastor of Bethel Church in Redding, California. He is the bestselling author of When Heaven Invades Earth. Bill and his wife, Beni, serve a growing number of churches through an apostolic network that has crossed denominational lines, partnering for revival.

How to Reach Your Full Potential for God: Never Settle for Less than His Best! (audio)
Author: Charles F. Stanley
Narrator: Arthur Morey
Edition: Unabridged
Publisher: christianaudio
Print Publisher: Thomas Nelson
Runtime: 8 hours
Christians frequently believe damaging lies about themselves, their situations, and their walk—thinking things can never change or they will never conquer their sin. But Dr. Stanley shares the real truth as God sees it.
In this powerful and inspiring message, readers reconnect with the grand vision God had when he uniquely created them. They learn that regardless of setbacks, failures, and frustrations, there is a better path based in the Bible—one that's full of freedom and purpose. This book takes them to their specifically designed path to become exactly who the father made them to be and achieve exactly what he designed them for.
Charles Stanley is often called "America's Pastor." He earned his bachelor of divinity at Southwestern Baptist Theological Seminary and his master's and doctorate at Luther Rice Seminary. Stanley has been senior pastor of the First Baptist Church Atlanta since 1971. He is the founder and president of In Touch Ministries and has served two terms as president of the Southern Baptist Convention. The radio and television broadcast In Touch with Dr. Charles Stanley airs around the world in more than 50 languages, and covers an array of topics—from finances to parenting.

Intercessory Prayer (audio)
Author: Dutch Sheets
Narrator: Robertson Dean
Edition: Unabridged
Publisher: Regal Baker Publishing Group / christianaudio
Runtime: 8.3 hours
If God is all-powerful, why does he need us to pray? If we pray and nothing happens, does this mean that God isn't listening? If you've ever felt that your prayers don't count, Intercessory Prayer will show you just how vital your prayers are.
In this book, pastor and teacher Dutch Sheets explains the nuts and bolts of prayer with wisdom, gentleness, and humor. This book will inspire you, give you the courage to pray boldly, and help you find the persistence and discernment to see your prayers to completion.
Dutch Sheets is an internationally-known conference speaker and author. He has written many bestselling books. For 18 years he pastored Freedom Congregation in Colorado Springs, Colorado. He travels extensively throughout the United States, empowering believers for passionate prayer and world-changing revival.

Lead Me, Holy Spirit: Longing to Hear the Voice of God (audio)
Author: Stormie Omartian
Narrator: Renee Raudman
Edition: Unabridged
Publisher: christianaudio
Print Publisher: Harvest House
Runtime: 8.9 hours
From bestselling author Stormie Omartian comes a brand-new look at one of God's most amazing gifts to those who believe in him: the Holy Spirit.
Readers can walk in the power and presence of the Holy Spirit in every area of life. With a sure hand, Stormie helps readers to see that the Holy Spirit wants those who know him to hear his gentle leading when he speaks to their heart, soul, and spirit. He wants to help believers enter into the relationship with God they yearn for, the wholeness and freedom God has for them, and the fulfillment of God's promises to them. He wants to lead them.
As readers trust in the Holy Spirit and his great love for them, they will be filled with his mind, knowledge, wisdom, understand their special calling, and sense his guidance in the way they should go.
Stormie Omartian is the bestselling author (more than 28 million books sold) of The Power of a Praying series, which includes The Power of a Praying Wife Devotional and The Power of a Praying Woman. Her many other books include Just Enough Light for the Step I'm On, The Prayer That Changes Everything, and Praying the Bible into Your Life.

The Promise of Security (audio)
Author: Beth Moore
Narrator: Beth Moore
Edition: Unabridged
Publisher: christianaudio
Print Publisher: Tyndale House
Runtime: 0.7 hours
Based on her New York Times best-selling book, So Long, Insecurity, Beth Moore introduces The Promise of Security audiobook. This audiobook will prompt women to find their soul-deep security in God. Divided topically by common insecurities women face, The Promise of Security provides a boost of hope and confidence that will encourage women to continue on in their quest for soul-deep security.
Beth Moore is an evangelist, teacher, and best-selling author. Moore has written several books including Get out of That Pit, So Long, Insecurity, A Woman and Her God, and several others, as well as Bible studies that are used by groups all over the world.
In 1994, Moore founded Living Proof Ministries, an organization dedicated to encouraging women to know Christ through his Word. Living Proof Ministries hosts a conference, Living Proof Live, where Moore teaches hundreds of thousands of women who attend the conferences all over the United States.

The Ragamuffin Gospel (audio)
Author: Brennan Manning
Narrator: Scott Brick
Edition: Enhanced, Unabridged
Publisher: christianaudio Hovel
Print Publisher: Multnomah Books
Runtime: 6.7 hours
Many believers feel stunted in their Christian growth. We beat ourselves up over our failures and, in the process, pull away from God because we subconsciously believe he tallies our defects and hangs his head in disappointment. In this newly repackaged edition—now with full appendix, study questions, and the author's own epilogue, "Ragamuffin 10 Years Later," Brennan Manning reminds us that nothing could be further from the truth. The father beckons us to himself with a "furious love" that burns brightly and constantly. Only when we truly embrace God's grace can we bask in the joy of a gospel that enfolds the most needy of his flock—the ragamuffins.
Brennan Manning is often on the road, speaking of God's unconditional love at church retreats and conferences. A popular author, his other books include The Signature of Jesus and Abba's Child.

The Spirit of the Disciplines (audio)
Author: Dallas Willard
Narrator: Robertson Dean
Edition: Unabridged
Publisher: christianaudio
Print Publisher: HarperCollins
Runtime: 9 hours
Dallas Willard, one of today's most brilliant Christian thinkers and author of The Divine Conspiracy (Christianity Today's 1999 Book of the Year), presents a way of living that enables ordinary men and women to enjoy the fruit of the Christian life. He reveals how the key to self-transformation resides in the practice of the spiritual disciplines, and how their practice affirms human life to the fullest. The Spirit of the Disciplines is for everyone who strives to be a disciple of Jesus in thought and action—as well as intention.
Dallas Willard is a professor and former director of the the University of Southern California School of Philosophy. He is the best-selling author of more than 30 publications, including The Divine Conspiracy, The Spirit of the Disciplines, and Hearing God.

Trusting God (audio)
Author: Jerry Bridges
Narrator: John Haaq
Edition: Unabridged
Publisher: christianaudio
Print Publisher: NavPress
Runtime: 9 hours
Why is it easier to obey God than to trust him? In Trusting God, Jerry Bridges argues it is because obeying God makes sense to us. In most cases his laws appear reasonable and wise, and even when we don't want to obey them, we usually concede that they are good for us.
But the circumstances we find ourselves in often defy explanation. When unexpected situations arise that appear unjust, irrational, or even dreadful, we feel confused and frustrated. And before long we begin to doubt God's concern for us or his control over our lives. Adversity is hard to endure, and can be even harder to understand. If God were really in control, why would he allow a tragic auto accident or a crucial job loss? How could he permit cancer in a loved one or the death of a child?
In an effort to strengthen his own trust in God during a time of adversity, Jerry Bridges began a lengthy Bible study on the topic of God's sovereignty. What he learned changed his life, and he now shares the fruit of that study with you in Trusting God. As you begin to explore the scope of God's power over nations, nature, and the detailed lives of individuals, you'll begin to acknowledge his loving control. And as you come to know him better, you'll find yourself trusting him more completely—even when life hurts.
Jerry Bridges is an evangelical Christian author and speaker. He serves in the Collegiate Mission, and has been on the staff of The Navigators for more than 50 years. Bridges earned an engineering degree from the University of Oklahoma and went on to serve as an officer in the United States Navy during the Korean War before joining the staff of The Navigators.
He is the author of more than a dozen books, including The Pursuit of Holiness, which has sold more than one million copies. His devotional Holiness Day garnered the 2009 ECPA Christian Book Award for the inspiration and gift category, and The Discipline of Grace: God's Role and Our Role in the Pursuit of Holiness received a similar award in 1995 in the Christian living category.