Mobile Ed: CM100 Basic History of Preaching (2 hour course)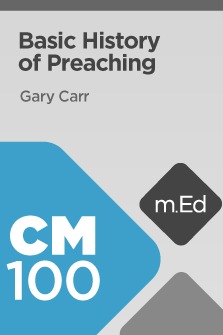 Mobile Ed: CM100 Basic History of Preaching (2 hour course)
•
Runs on Windows, Mac and mobile.
Overview
In Basic History of Preaching, Dr. Gary Carr surveys the history of preaching from the early church to the present. He begins with an introduction to the origins of preaching in classical Greek rhetoric and then highlights notable preachers and their contribution to the nature of preaching in the time of the Church Fathers, the Middle Ages, the Reformation, and the succeeding centuries up to modern times.
Be prepared to serve through Preaching. Earn a Mobile Ed Certificate of Completion when you invest in your education. Learn more about the Preaching Certificate Program.
Learning Objectives
Upon successful completion you should be able to:
Describe the origins of preaching in classical Greek rhetoric
Trace the development of the practice of preaching from the early church to modern times
Identify several key contributors to the development of preaching
Course Outline
Introduction
Introducing the Speaker and the Course
Unit 1: Origins of Preaching and the Early Church
Greek Origins
From Cicero to the Early Church
Downloading and Using the Perseus Classics Collection
Early Adopters
Searching the Early Church Fathers Collection
Chrysostom
Search a Custom Collection of Chrysostom's Writings
Unit 2: The Medieval Ages
Early Medieval Preaching
Studying Medieval Preachers in History Books
Savonarola
Using the Timeline to Study the Life of Savonarola
John Wycliffe
Exploring the Community Pricing Program with Focus on Medieval Works
Unit 3: The Reformation
Martin Luther
François Fénelon
John Calvin
Unit 4: The 18th Century
John Wesley
George Whitefield
Jonathan Edwards
Observing the Contents of Jonathan Edwards' Preaching
Unit 5: The 19th Century
Charles Finney
Charles Spurgeon
Dwight L. Moody
Phillips Brooks
John Jasper
Unit 6: The 20th Century
Martin Luther King, Jr.
Phoebe Palmer and Other Female Preachers
Aimee Semple McPherson
Fulton Sheen
Billy Sunday
Using the Handbook of Contemporary Preachingto Improve Sermon Style
Billy Graham
G. Campbell Morgan
James Stewart
George Buttrick
Harry Fosdick
Two Resources Useful for Researching Historical Christians
Today's Preachers
Finding and Bookmarking Resources from Modern Preachers
Product Details
Title: CM100 Basic History of Preaching
Instructor: Gary Carr
Publisher: Lexham Press
Publication Date: 2014
Product Type: Logos Mobile Education
Resource Type: Courseware, including transcripts, audio, and video resources
Courses: 1
Video Hours: 2
About Gary Carr
Dr. Gary Carr is vice president for adult and graduate studies at Southern Wesleyan University, overseeing administration operations and providing leadership for faculty services, student services, and chaplains' services. He served as vice president for translations for the International Bible Society and as division chaplain, 2nd Marine Division and 24th Marine Expeditionary Unit. In addition, Dr. Carr has served as command chaplain aboard the aircraft carrier USS Kitty Hawk and Battle Force Seventh Fleet. He is an ordained minister in The Wesleyan Church and served as pastor for the Diamond Springs Wesleyan Church in Michigan.
Getting the most out of Mobile Ed
Logos Mobile Education is a highly effective cross-platform learning environment that integrates world class teaching with the powerful study tools and theological libraries available in Logos Bible Software. Every course provides links to additional resources and suggested readings that supplement the lecture material at the end of every transcript segment.
This course was produced with screencast videos. These videos provide tutorials showing you how to use Logos Bible Software in ways that are tied directly into the content of the course. We are now producing Activities resources as a replacement for screencast videos. We plan on updating this course to include this additional Activities resource in the future for no extra charge.
More details about these resources