Mobile Ed: Preaching and Discipling Foundations Bundle (10 courses)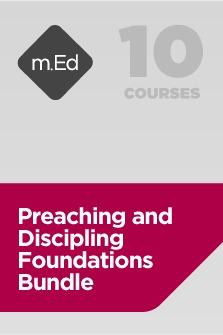 Mobile Ed: Preaching and Discipling Foundations Bundle (10 courses)
•
Runs on Windows, Mac and mobile.
Overview
Be better prepared to proclaim God's Word and equip others with Mobile Ed's Preaching and Discipling Foundations Bundle. These 10 courses will provide you with valuable training from leading pastors, professors, and authors such as J. Kent Edwards, Greg Ogden, Michael W. Goheen, and more. Learn helpful principles of communication you can use whether preaching from a pulpit, teaching a Sunday school class, leading a small group, or meeting one-on-one in a discipling relationship. The lessons are practical and relevant and will help you grow both in your ministry and your everyday spiritual life. Whether you are a pastor, an aspiring pastor, or involved in teaching and discipling others, the Preaching and Discipling Foundations Bundle will help you take your minstry to the next level.
Be prepared to serve through Preaching, Discipleship & Spiritual Formation, Pastoral Care & Counseling. Earn a Mobile Ed Certificate of Completion when you invest in your education. Learn more about the Certificate Programs.
Individual Courses
Product Details
Getting the most out of Mobile Ed
Logos Mobile Education is a highly effective cross-platform learning environment that integrates world class teaching with the powerful study tools and theological libraries available in Logos Bible Software. Every course provides links to additional resources and suggested readings that supplement the lecture material at the end of every transcript segment.