Abba's Child: The Cry of the Heart for Intimate Belonging (audio)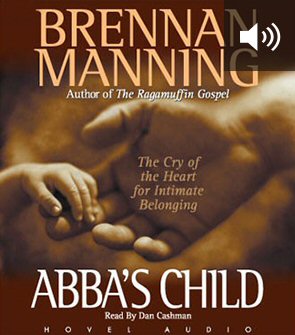 Abba's Child: The Cry of the Heart for Intimate Belonging (audio)
•
Runs on Windows, Mac and mobile.
Overview
Many Christians have bought into the lie that we are worthy of God's love only when our lives are going well. If our families are happy or our jobs are meaningful, life is a success.
Yet when life begins to fall apart and embarrassing sins threaten to reveal our less-than-perfect identity, we scramble to keep up a good front to present to the world—and to God. We cower and hide until we can rearrange the mask of perfection and look good again. Sadly, it is then that we wonder why we lack intimate relationships and a passionate faith.
All this time, though, God is calling us to take our masks off and come openly to him. God longs for us to know in the depths of our beings that he loves us and accepts us as we are. When we are our true selves, we can finally claim our identity as God's children and experience his pure pleasure in who we are.
Brennan Manning encourages us to let go of the impostor lifestyle and freely accept our belovedness as a child of the heavenly father. In him there is life, our passion is rekindled, and our union with him is his greatest pleasure.
Key Features
Discusses the idea of openness with God even in the face of failure or embarassment
Explains how being true to God helps build a stronger relationshp with him
Encourages not to give up hope and faith when life is hard
Contents of Print Edition
Come Out of Hiding
The Impostor
The Beloved
Abba's Child
The Pharisee and the Child
Present Risenness
The Recovery of Passion
Fortitude and Fantasy
The Rabbi's Heartbeat
Product Details
Title: Abba's Child
Author: Brennan Manning
Narrator: Dan Cashman
Edition: Unabridged
Publisher: christianaudio Hovel
Print Publisher: NavPress
Runtime: 6.1 hours
Christian Group: Evangelical
Product Type: Audiobook
Topic: Counseling
About Brennan Manning
Brennan Manning (1934–2013) spent the past 40 years helping others experience the reality of God's love and grace. It was at the heart of everything he wrote and did. A recovering alcoholic and former Franciscan priest, his spiritual journey took him down a variety of paths. He taught seminarians, spoke to packed arenas, lived in a cave and labored with the poor in Spain, and ministered to shrimpers in Alabama. Brennan is best known as the author of the contemporary classics The Ragamuffin Gospel, Abba's Child, Ruthless Trust, and The Importance of Being Foolish.
More details about this resource