Day One Creation Points Series (3 vols.)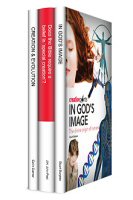 Overview
Want to read about young-earth creationism, but don't have a background in science? Looking for accessible guides to discussing human origins? Check out these studies from leading British scientists on the creation of the universe and human origins. Written in an informal and engaging style, the Day One Creation Points Series texts are informative introductions to topics in creation studies, easily readable by the non-scientist. Authors Colin Garner, J.H. John Peet, and Stuart Burgess use their expertise in science and engineering to engage today's scientific findings, affirming the Genesis creation account and the divine origin of humans.
See the integral role of the first chapters of Genesis as the rest of Scripture unfolds, and better understand these chapters' vital importance to fundamental doctrines. Explore the unique features of humans that point to their divine origin as recorded in the Bible, and discover how biblical creation explains the world in a way that is consistent with science. With these concise, readable introductions, the everyday reader is equipped to explore valuable arguments that use science to point towards the creator.
The Logos edition of the Day One Creation Points Series is designed to encourage and accelerate your study. These fully indexed texts enable fast search results for words, people, places, and ideas, while Scripture references appear on mouseover in your preferred translation. Find what other scientists, pastors, and theologians have to say about the Genesis account of creation, man's divine origins, young-earth creationism, and much more. Use Logos' tablet and mobile apps to take your study wherever you go. With the most efficient and comprehensive research tools all in one place, you get the most out of your study.
Key Features
Offers accessible studies on creationism
Discusses the divine origins of humans
Explores the importance of the first chapters of Genesis to the rest of Scripture
Individual Titles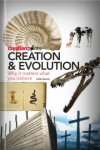 Colin Garner argues for the biblical account in Genesis, not by abandoning science, but because it is scientific and explains the world as we see it, in an entirely consistent way. Garner shows that only biblical creation makes any sense of original sin, death, the fall, and the atoning sacrifice of Jesus—it profoundly affects the way we reach out to people in evangelism.
Garner demonstrates that, as well as being inconsistent with biblical truth, evolutionary theory has serious fundamental scientific weaknesses. He highlights why Genesis is of such foundational importance to life today, in the hope that it will encourage us all to base our beliefs, our evangelism, and our hopes on the whole Bible, including its vital teaching on creation.
Colin Garner (PhD, CEng, FIMechE) is Perkins/ Royal Academy of Engineering Professor of Applied Thermodynamics in the Wolfson School of Mechanical and Manufacturing Engineering at Loughborough University, UK. He conducts research for the UK government and several major international engine, vehicle, and fuel companies. His research has been featured in New Scientist and he has presented his work on national BBC TV and radio. He also lecturers on creation/evolution at the East Midlands School of Christian Ministry.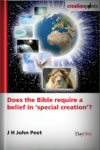 To many people, belief in the historicity of the early chapters of Genesis is anachronistic and at best, optional. J.H. John Peet examines the nature of these Genesis chapters and explores their impact on a range of fundamental doctrines throughout the Scriptures, including God, the Bible, mankind, and salvation—highlighting their vital importance. His study especially highlights the contrast between the creationist and evolutionist approaches. Special studies include discussion of the days of creation and the history of mankind.
In this book, John Peet presents a positive and concise defense of young-earth creationism that is easy to read. The book contains clear biblical arguments that show the dangers of theistic evolution and how it is incompatible with evangelical Christianity. In particular, John Peet demonstrates how evolution leads to unbiblical views of Adam, man, God and even salvation. He shows how the whole of Scripture regards Genesis 1–2 as historical, and he has included a very helpful summary table of New Testament references to the first two chapters of Genesis. This book will no doubt help many Christians who want to understand the problems of theistic evolution.
—Stuart Burgess, professor of engineering design, University of Bristol
Dr. John Peet has for many years been greatly respected as a champion of speaking boldly and clearly concerning both the biblical position on creation and the science supporting it. In this book, he unequivocally shows the biblical reasons why keeping to a young-earth creation position is so essential. As he states in the Introduction, 'the purpose of this book is to look at the theological issues arising from the subject [of creation]'. He rightly puts a great emphasis on the authority of Scripture and on man's nature, which cannot be understood without recognizing that he is made in the image of God. Dr. Peet goes on to stress the importance of the Fall of Man, since so much wrong thinking comes when we underestimate the extent of the Fall. As a summary of all the powerful biblical arguments against the idea of God using evolution, this book is invaluable.
—Andy McIntosh, professor of thermodynamics and combustion theory, University of Leeds
J.H. John Peet is traveling secretary for the Biblical Creation Society in the United Kingdom. He earned his PhD in photochemistry from Wolverhampton Polytechnic. He is a fellow of the Royal Society of Chemistry, and the author of In the Beginning God Created . . ., two textbooks, and numerous academic papers in chemistry and science education. He is the editor of the journal, Origins.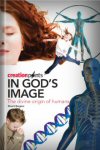 From head to toe, the human being has a uniquely wonderful design. Our upright stature, nuanced facial expressions, unique brain, and beauty are just some of the many aspects that make humans different from all other creatures. In this booklet, Stuart Burgess explains how these characteristics give humans many unique creative and emotional capacities. His clear arguments and the book's informal, well-illustrated design create an accessible overview of how these features point to a creator and are consistent with the biblical explanation of human origins.
Stuart Burgess (PhD, CEng, FIMechE) is professor of engineering design at the University of Bristol. He has also lectured at Cambridge University and Bristol University. He has also carried out spacecraft design for the European Space Agency, and co-edited the International Journals of Design & Nature. In 1989, the Minister of State for Trade and Industry presented him with a Design Council Prize for engineering design, and in 1993 he was awarded the Turners Gold Medal for engineering design, presented by the vice chancellor of City University.
More details about these resources