Mobile Ed: TH102 Introducing Bible Doctrine II: The Triune God and His Heavenly Host (6 hour course)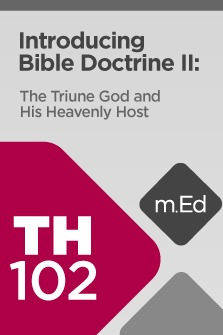 Mobile Ed: TH102 Introducing Bible Doctrine II: The Triune God and His Heavenly Host (6 hour course)
•
Runs on Windows, Mac and mobile.
Overview
Find answers to questions of Christian doctrine with experts in the field. Why do Christians believe in a Trinity? What is the relationship between God and angels? How does God relate to his creation? Why does evil exist? Drs. Ronn Johnson and Dr. Carl Sanders introduce students to the academic discussion of these questions by examining biblical descriptions of the Trinity and the members of God's heavenly host. The course also discusses God's providential relationship to creation, his divine knowledge, the problem of evil, and modern views of spiritual gifts.
Learning Objectives
Upon successful completion you should be able to:
Be familiar with the biblical terminology related to God and other divine beings
Be acquainted with theological issues concerning God's relationship to the existence of evil
Understand differing views of the relationship between providence, foreknowledge, and free will
Be able to properly describe the personhood of Jesus Christ and the Holy Spirit with respect to Trinitarian Theology
Understand how monotheism and Trinitarianism are compatible
Understand Spirit baptism and varying modern views of spiritual gifts
Course Outline
Unit 1: God
Introduction to the Doctrine of God
What We Don't Mean
Finding the God of the Bible
Determining the Meaning of Elohim with the Bible Sense Lexicon
The Name of Our God
Identifying the Hebrew Names for God
God as Creator
God as Controller
God in Character
Quiz – Unit 1
Unit 2: Creation and Providence
Introduction to God's Work
Creation
Creation Theology
Ethical Implications of Creation
Divine Providence: Preservation
The Dispute about God's Rule
Total Control
Subject-Verb Clause Searching to Discover God's Actions in Ruth
Partial Control
Open Theism
Openness Arguments
Performing a Bible Word Study for the Hebrew Term Nacham
Concerning Open Theism
Quiz – Unit 2
Unit 3: The Problem of Evil
The Problem Defined
Background of the Problem of Evil
Evil and Providence
Two Kinds of Evil
Approaches to the Problem of Evil
Conclusion: One Final Approach
Quiz – Unit 3
Unit 4: Angels
Introduction to Angels
Defining Angels
Searching the Old Testament for the Term "Angel"
Identifying Angels
Appreciating Angels
Quiz – Unit 4
Midterm Exam
Unit 5: Christology: The Person and Work of Christ
Introduction to the Doctrine of Christ
Background to Deity
The Deity of Christ
Implications of Deity
The Humanity of Christ
The United Person
Adding Verses to a Topic Guide Search
Implications of Humanity
The Work of Christ
Stages of Christ's Work
Quiz – Unit 5
Unit 6: The Holy Spirit: Person and Work
Importance of the Holy Spirit
Overview of the History of the Holy Spirit
Personality of the Spirit
Deity of the Spirit
The Old Testament Work of the Holy Spirit
Searching for References to the Holy Spirit in the Old Testament
The Holy Spirit in the Life of Jesus
The Spirit and the Believer
Disputed Works of the Spirit
Quiz – Unit 6
Unit 7: THe Holy Spirit: Spirit Baptism
Spirit Baptism in Acts
What Is Spirit Baptism?
Searching the Words of Christ for References to the Holy Spirit
Paul and the Spirit
Quiz – Unit 7
Unit 8: Spiritual Gifts: The Contemporary Debate
Debates Surrounding Spiritual Gifts
Purpose of Spiritual Gifts
General Observations: 1 Corinthians 12–14
The Use of Charisma in Contemporary Greek Literature
Cessationism vs. Continuationism
The Cessationist Challenges
The Nature of Tongues: Issues
The Nature of Tongues: More Cessationist Arguments
Quiz – Unit 8
Final Exam
Product Details
Title: TH102 Introducing Bible Doctrine II: The Triune God and His Heavenly Host
Instructors: Carl Sanders and Ronn Johnson
Publisher: Lexham Press
Publication Date: 2014
Product Type: Logos Mobile Education
Resource Type: Courseware, including transcripts, audio, and video resources
Courses: 1
Video Hours: 6
About the Instructors
Dr. Carl Sanders is an associate professor of theology at Lancaster Bible College's Capital Bible Seminary. He has taught at college and seminary levels since 1999 at several schools: Bethel University (St. Paul, Minnesota), Northwestern College (St. Paul, Minnesota), and Washington Bible College in Washington, DC, where he also served as chair of the Bible and theology department (2003–2012).
Dr. Sanders is well liked by his students for his down-to-earth presentation of Bible doctrine. Students quickly learn that he enjoys talking about theology and has a quick wit. Among his strengths as a lecturer are his ability to distill information to essential elements, as well as his good-natured way of fairly explaining differences in theological positions. Dr. Sanders has a keen interest in urban ministry and has served for many years in racially diverse urban congregations. His interest in local-church experience helps him practice theology in ways that reflect the diversity present in the body of Christ. He strives to make theology interesting and practical.
Dr. Ronn Johnson, lecturer in biblical studies at the University of Northwestern St. Paul, Minnesota, has been the senior pastor at his church, Coon Rapids Evangelical Free, since 2006. He previously taught in the Bible departments at Pillsbury Baptist Bible College (1991–1994) and The Master's College (1994–1996).
Dr. Johnson is well known by his students for demanding that they think about what they believe instead of being passive listeners. His approach is the opposite of proof-texting—simply quoting Bible verses without consideration of what they might mean in context. His goal is to drive home the point that the Bible is more than a collection of verses to be memorized and thrown into play—it's a message from God that had a clear, coherent purpose that we need to hear without imposing our own traditions on the text. That approach of loyalty to the Bible above all else comes through in his Mobile Ed sessions on Bible doctrine.
He and his wife, Susan, have three teenage children. His pastimes include reading and giving too much attention to Kirby, the family dog.
Getting the most out of Mobile Ed
Logos Mobile Education is a highly effective cross-platform learning environment that integrates world class teaching with the powerful study tools and theological libraries available in Logos Bible Software. Every course provides links to additional resources and suggested readings that supplement the lecture material at the end of every transcript segment.
This course comes with an Activities resource that functions as a type of "workbook" for the course. This resource includes learning activities such as: places for you to respond to reflection questions, exercises that will challenge and show you how deepen your understanding of this course by using specific Logos tools and resources, tutorial videos on different features of Logos Bible Software, and links to relevant Logos guides and tools. A link to open the Activities resource is conveniently placed at the end of every segment.