Mobile Ed: Bible and Doctrine Foundations Bundle (8 courses)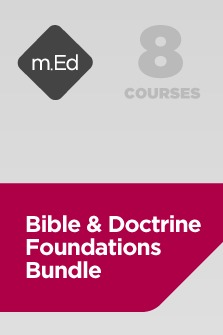 Mobile Ed: Bible and Doctrine Foundations Bundle (8 courses)
•
Runs on Windows and Mac.
Overview
Build the foundations of your biblical education with this nine-course bundle from Logos Mobile Ed. Leading scholars present essential introductions to the Old and New Testaments, doctrine, and biblical interpretation, making this the perfect place to begin.
Outline the general story and message of the Bible with big-picture courses from Dr. Mark Futato, Hebrew-language and Psalms scholar; Dr. Lynn Cohick, New Testament and Pauline studies expert; and Dr. Michael Goheen, professor of theology and Christian worldview. Learn the basic tools of biblical interpretation with Dr. Michael Heiser—ancient-language and translation specialist. Complete your introduction to the Bible with a survey of essential Christian doctrines from specialists in the field.
Individual Courses
Product Details
Getting the most out of Mobile Ed
Mobile Ed is a highly effective mobile learning environment that incorporates the powerful study tools found in Logos Bible Software.
With any Logos library base package, you will be able to view the lectures and interact with the transcripts. For the best learning experience, we recommend you use Logos Platinum.
Readings for the courses are often tailored to Platinum because the larger library provides access to a wide range of suggested resources and increases search results for further study.
The Platinum collection best matches the resources used in screencasts. It includes a breadth of commentaries, original-language studies, and over 1,400 resources to deepen your study.