Classic Surveys on Plato and His Philosophy (6 vols.)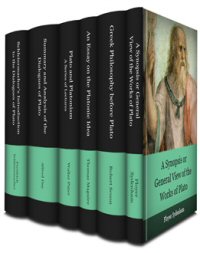 Classic Surveys on Plato and His Philosophy (6 vols.)
•
Runs on Windows, Mac and mobile.
$21.00
Reg.: $84.95
Print: $144.81
* Projected price. Future bids may change this price.
Place Your Bid!
Click on the highest price you'd pay. If the final price is lower, that's what you'll pay.
Overview
Philosopher and mathematician A. N. Whitehead once claimed that "the safest general characterization of European philosophical tradition is that it consists of a series of footnotes to Plato." It is difficult to disagree with him. Plato wrote seminal works on ethics, political theory, morality, epistemology, and metaphysics. His concept of forms went on to have a great influence on Christian theology in the post-Apostolic period and many of the ideas that form the basis for Western democracy come from his Republic.
Classic Surveys on Plato and His Philosophy is a collection designed to help you dig into the philosophy of the great Greek idealist and the ancient rhetorical form of the dialogue. Friedrich Schleiermacher's Introduction and Alfred Days Summary and Analysis provide thorough, time tested starting points for studying seminal classics like Phaedrus, Apology, Timaeus, and Plato's keystone work, the Republic. Walter Pater and Thomas Maguire's essays holistically examine Plato's philosophy and influence over 2,500 years.
The Logos edition of these valuable volumes are enhanced by amazing functionality. Study Plato's texts alongside a library of classic literature and philosophy. Important terms link to dictionaries, encyclopedias, and a wealth of other resources in your digital library. Powerful searches help you find exactly what you're looking for. Tablet and mobile apps let you take your study with you. With Logos Bible Software, the most efficient and comprehensive research tools are in one place, so you get the most out of your study.
Get into dialogue with Plato by pairing these classic works with the Loeb Classical Library Works of Plato.
Key Features
Provides exposition and insight into the Western world's foundational philosopher
Holistically examines the work and influence of Plato
Analyzes each of Plato's dialogues individually
Product Details
Title: Classic Surveys on Plato and his Philosophy
Volumes: 6
Pages: 1,839
About Plato
Plato (427–347 BC) was born in Athens to an aristocratic family. A student of Socrates until the latter's death, he also studied the works of Heraclitus, Parmenides, and the Pythagoreans. Following the death of Socrates, Plato spent a number of years traveling around the Mediterranean. He eventually returned to Athens and founded a school of philosophy called the Academy (named for the field in which it was located), where he later taught Aristotle.
Plato wrote works on ethics, politics, morality, epistemology, and metaphysics. He is best known for his theory of forms, the theory that the qualities that define a thing's existence (redness, beauty) exist in an abstract realm of forms, separate from matter. Plato believed that what was true, and therefore real, must be unchanging. Because the material world is in a constant state of change it is not true reality but a mere illusion. Plato taught that love is the longing for the Beautiful in its purest, most abstract, form. Consequently, love is what motivates all the highest human achievements.