Select Works of Oscar Wilde (7 vols.)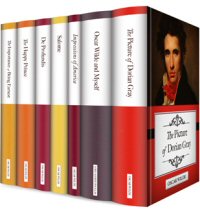 Overview
Writing in the height of the aesthetic movement in Europe, Oscar Wilde rose to the pinnacle of popular society on both the strength of his writing's biting social commentary and his glittering public persona. He is best known for his novel, The Picture of Dorian Gray; his satirical black comedies, including The Importance of Being Earnest; and a tumultuous personal life that ended with his death in exile and poverty. This collection gathers a diverse array of Wilde's work, in addition to his classic novel and beloved comedy. The Happy Prince and Other Fairy Tales collects several short children's stories. The Tocquevillian Impressions of America is an early lecture on American ethics and aesthetics. And De Profundis is a contemplative epistle written from prison, in which Wilde expresses regret over a formerly lavish lifestyle and meditates on his spiritual development.
The digital edition of these valuable volumes are enhanced by amazing functionality. Study Wilde's texts alongside a library of classic literature and philosophy. Important terms link to dictionaries, encyclopedias, and a wealth of other resources in your digital library. Powerful searches help you find exactly what you're looking for. Tablet and mobile apps let you take your study with you. With Logos, the most efficient and comprehensive research tools are in one place, so you get the most out of your study.
Key Features
Includes classic works from the English language's foremost representative of aestheticism
Selects diverse works from throughout Wilde's career
Provides insights into Wilde's tumultuous personal life through Alfred Douglas' autobiographical volume, Oscar Wilde and Myself
Product Details
Title: Select Works of Oscar Wilde
Volumes: 7
Pages: 1,542
About Oscar Wilde
Oscar Wilde (1854–1900) is the foremost representative of aestheticism in English literature. Born in Dublin, the son of Anglo-Irish intellectuals, Wilde became fluent in French and German as a child and went on to study classics at Oxford. In his early career, Wilde worked in London as a prolific journalist, lectured, and published poetry. He quickly became a well-known public personality. He published his only novel, The Picture of Dorian Gray, in 1890, and in the early 1890s went on to write several plays featuring the biting high-society satire that brought him to the apex of his fame. In 1895, 15 weeks after the premier of his masterpiece, The Importance of Being Earnest, Wilde was convicted of sodomy and gross indecency. He spent two years in prison, where he wrote the pensive De Profundis. Wilde died of viral meningitis three years after his release, exiled and destitute.
More details about these resources