Church and Postmodern Culture Series (7 vols.)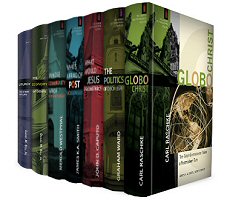 Church and Postmodern Culture Series (7 vols.)
•
Runs on Windows, Mac and mobile.
Overview
The seven-volume Church and Postmodern Culture Series features high-profile theorists in continental philosophy and contemporary theology writing for a broad, nonspecialist audience interested in the impact of postmodern theory on the faith and practice of the church. This collection is assembled by a variety of contemporary theorists and uses insights from Deleuze, Nietzsche, Heidegger, Foucault, Augustine, Irenaeus, Aquinas, and others to bring different angles to answer the many questions dealing with postmodernism and its impact on ecclesial practice.
Logos Bible Software dramatically improves the value of any resource by enabling you to find what you are looking for instantly and with unbelievable precision. As you read these volumes, you can easily search and access topics or Scripture references you come across, for example, "postmodernism" or "discipleship."
Key Features
Contains clear and concise exposition
Provides insights from some of the best postmodern scholarship
Compares and contrasts capitalism and Christianity
Analyzes the arts as Christian worship
Praise for the Print Edition
[This] series is not just a good idea; it is actually essential. If mission, liturgy, and pastoral care are to be effective today, then churches need a better understanding of so-called postmodern culture as something to be reckoned with and sometimes resisted. Increasingly, there is an educated interest in religion, but there is also a need to be well-informed about postmodern thought and its very complex relation both to postmodern culture (to which it is often actually hostile) and to religion. Again the need is for a critical appreciation—not dismissal and not empty adulation. This new series aims to provide this in an accessible manner. I am convinced that the main ideas of postmodernism are actually not as 'difficult' as people suppose and that a clear and simple presentation of them actually assists wider cultural discussion. An additional purpose of the series is to introduce to a wider audience theologies that are already trying critically to assimilate the postmodern turn. Since some of these, for example radical orthodoxy, are intensely focused on the importance of 'church,' it is crucial that this occur. Although it is already happening, it needs to crystallize. This new series may be just the thing to bring it about.
—John Milbank, professor of religion, politics, and ethics, University of Nottingham
Product Details
Title: Church and Postmodern Culture Series
Publisher: Baker
Volumes: 7
Pages: 1,360
Christian Group: Evangelicals
Resource Type: Monographs