Select Works of Gregory A. Boyd (6 vols.)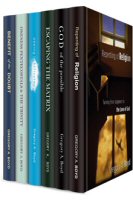 Overview
This collection brings together six volumes from Gregory A. Boyd, exploring pertinent topics of theology and Christian living. In his fresh, bold, and thorough style Boyd offers a hopeful and practical discussion of struggling with doubt, improving your prayer life, winning mental battles, and repenting of judgmental attitudes. Boyd also provides a biblical introduction to the "open view of God," or the freewill theism position. And drawing on his own experience with past involvement with Oneness Pentecostalism, he analyzes the theology and practice of this group. Rigorous yet readable, these studies are ideal for scholars and students, clergy and laypeople, and anyone interested in furthering their study of the Bible.
In the Logos editions, these valuable volumes are enhanced by amazing functionality. Scripture citations link directly to English translations, and important terms link to dictionaries, encyclopedias, and a wealth of other resources in your digital library. Perform powerful searches to find exactly what you're looking for. Take the discussion with you using tablet and mobile apps. With Logos Bible Software, the most efficient and comprehensive research tools are in one place, so you get the most out of your study.
Key Features
Combines some of Gregory A. Boyd's finest works
Offers practical and hopeful insight into struggling with doubt
Provides an introduction to the "open view" of God
Discusses strategies for fostering a more vibrant prayer life
Individual Titles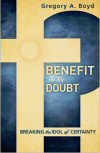 In Benefit of the Doubt, Gregory Boyd speaks especially to those who have struggled with doubts about their faith. He encourages readers to let their questions lead them to a stronger faith. Boyd writes of how for him, faith has been anything but certain, inviting readers to embrace a faith that doesn't strive for certainty but rather for commitment to Christ in the midst of uncertainty. Join him as he shares with poignant honesty his own inspirational journey, offering reassurance that you can experience a life-transforming relationship with Christ, even with unresolved questions about the Bible, theology, and ethics.
Even when certainty is inaccessible, commitment remains an option. Greg Boyd is incapable of uninteresting thoughts. And this book is not merely thoughtful; it will be a tremendous help to doubters—and non-doubters—everywhere.
—John Ortberg, author, Who Is This Man?
Boyd has gotten used to exploring new territory, and in this book he dives into the issue of doubt and certainty—and recovers the lost treasure of Christlike humility and childlike wonder. Enjoy.
—Shane Claiborne, author, The Irresistible Revolution
Benefit of the Doubt is a deeply personal yet profoundly theological look at the important role of doubt in the Christian faith. Prepare to feel a little less crazy, a little less alone, and a lot more challenged to take the risk of following Jesus with your head and heart engaged. Boyd is the best sort of company for the journey.
—Rachel Held Evans, author, A Year of Biblical Womanhood
If you're a Christian who wrestles with doubt or you know someone who does, Benefit of the Doubt is one of the best books ever written on the subject.
—Frank Viola, author, God's Favorite Place on Earth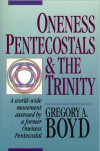 Oneness Pentecostals and the Trinity
Author: Gregory A. Boyd
Publisher: Baker
Publication Date: 1992
Pages: 234
In this penetrating analysis of Oneness theology and practice, Gregory Boyd writes from the experience of his four years of personal involvement in a Oneness church. Boyd argues that although Oneness Pentecostals' belief in Christ's deity establishes some common ground with other Christians, their aggressive denial of the Trinity has nonetheless fostered their indisputably differing Christian ideas about God's character, about salvation, and about Christian living.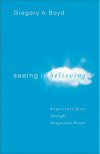 One of the most common problems with Christians in our modern secularized world is that they don't feel the reality of Jesus. They believe in him and love him, but he somehow doesn't seem to enter their daily lives in a real sense. Some might say, "You ought to pray more." Others would advise, "You ought to witness more." While this may be true, Boyd argues that you don't get closer to God just because you "ought to." Boyd believes that the way to true spiritual transformation and feeling the presence of God in your life comes from a little "R and R": rest and reality. Boyd encourages readers to stop striving and learn to rest in an experience of Jesus as real. The best way to do this, he says, is through imaginative prayer. Seeing Is Believing aims to teach readers how to use God's gracious gift of creative imagination to know him better and feel his presence in their daily lives.
The imagination is one of the great, untapped capacities of the Christian soul, and imaginative prayer is like diving into the ocean and discovering a world of wonders never before glimpsed or even guessed at. Read Seeing Is Believing and discover the great gift from God that you may have been missing.
—Luci Shaw, author, Water My Soul
Gregory Boyd has a way of cutting through all the jargon to get at essential truths. So many books on spirituality offer 'pie in the sky' solutions, but not Seeing Is Believing. I love the way Boyd explains and helps us to live out the true identity that we have in Jesus Christ.
—Robert Webber, author, The Younger Evangelicals
This is one of the most comprehensive books ever written on the subject. Tracing from the early church right up to present day writers, it is scholarly, biblical, and thoroughly Christ-centered. I believe it will not only clear away much misunderstanding, but inspire many to experience the healing freedom and deeper relationship with Jesus that comes through imaginative prayer.
—David A. Seamands, author, Healing for Damaged Emotions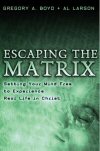 Escaping the Matrix poses the question: What is in control of your mind? Like the characters in The Matrix movie trilogy, our minds can get hardwired to distortions that lie so deep within us that we aren't even aware of them, such as habitual sin, thought patterns, damaged emotions, or even phobias. In Escaping the Matrix, pastor Gregory Boyd and counselor Al Larson bring together the biblical and neurological truths behind such struggles. Their practical examples and exercises will help you transform your thought processes to experience a deeper life in Christ.
In Escaping the Matrix, Gregory A. Boyd and Al Larson have represented the how-to of giving your hurts and pains to the Lord. They brilliantly utilize the metaphors from the recent movie series The Matrix as a framework for the book, which contributes to making this a most enjoyable read.
—Bobby G. Bodenhamer, cofounder, Institute of Neuro-Semantics
The authors take a very complex dilemma for Christians and give understandable simple biblical explanations of the dilemma. Then they provide easily implementable exercises to enable Christians to overcome and experience a victorious life in Christ. Utilizing the metaphor of the matrix, as popularized in the movies, they show how we can get caught up in the matrix of lies of the great deceiver and how we can escape the matrix of lies and obtain the real life in Christ that Christ intended all of his followers to possess. This is a must read book for Christians desiring to grow in their relationship with Christ and desiring to assist others in finding real life in Christ.
—Stanley H. McCreary, professor of Christian counseling, Central Christian College of the Bible
As Jesus used stories powerfully for communicating, so have Boyd and Larson. They have taken the story and central idea within the movie The Matrix and have used it to describe many of the processes regarding how we actually "renew our mind" in the process of transformation. I'm impressed with this work as being well-grounded in Scripture, current in the neurosciences, and practical for everyday living. It is a must read for every pastor, counselor, coach, teacher, and parent.
—L. Michael Hall, author, The Matrix Model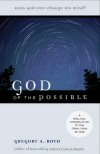 Perhaps no theological topic is more hotly debated within evangelical Christianity these days than God's foreknowledge. Is the future exhaustively settled, or does it include possibilities, or maybes? In encountering such questions, a growing number of evangelicals are becoming dissatisfied with the classical view of foreknowledge and have accepted an alternative, open view of God. In God of the Possible, theologian Gregory Boyd offers an accessible introduction to the freewill theism position.
Boyd begins by laying out and critiquing the "motif of future determinism," which forms the basis of the classical view of foreknowledge. He goes on to explicate several Scripture passages that depict the future as partially open and that God therefore knows it as such. He then discusses some practical areas in which he thinks the open view can make a positive difference. Finally, Boyd addresses the most frequently asked questions and typical objections raised against the open view. An appendix explores other passages supporting the open view of God and the future. Exploring issues of foreknowledge, freedom, and the future, Boyd presents biblical, theological, and philosophical insights into the openness issue in this introductory, yet provocative, book. While geared particularly for a lay readership, more advanced students of theology will also benefit from his presentation.
In this book Greg Boyd offers a thoughtful, caring, and courageous contribution to that new interpretive undertaking, a contribution that is marked by careful, disciplined thought and sensitivity to the materials with which he works. His careful analysis makes clear that the classical theological tradition has been 'misguided' in its governing categories imposed from Hellenistic philosophy. As a consequence, theological development has proceeded in categories that have distorted the truth and radicality of biblical revelation and left the church with much to unlearn. . . . The outcome of his study is to take the Bible seriously, to notice how venturesome is the decisive text of revelation and how inscrutably it moves beyond all of our intellectual attempts to control or domesticate. . . . Readers who want old settlements should be on notice. But those who are open to the leadings of the testimony of Scripture, Boyd invites to a faithful and vigorous rethink.
A stunning book—on the biblical truth of an open future and the revolutionary benefits of believing it. What a great way to begin the new millennium theologically with the open view of God. I only hope that his witness is heard before the self-styled guardians of the tradition marginalize him.
Greg Boyd presents a powerful argument for the open view of God as omnipotent, sovereign, and yet vulnerable. Boyd's God is alive and personal as well as infinite and perfectly wise. The portrait of God drawn here is unrecognizable compared to the caricatures of openness theism's God crudely crafted by many of its critics. It is much more majestic and beautiful as well as biblical. Inquiring Christian minds will love this book for its creativity and clarity. Closed minds will despise it for the same reasons. Those who have been merely 'open to the openness of God' will find its arguments difficult to resist. Everyone who reads it will be challenged to reconsider traditional ideas of God in the light of a fresh reading of Scripture.
Gregory Boyd gives a strong and accessible argument for views that challenge some traditional theological positions. Many will disagree, but fair-minded readers will come to understand both that the 'open God' position is motivated by a desire to be faithful to the Bible and that it is consistent with both classical Christian orthodoxy and evangelical distinctives. Boyd himself provides a fine example of how evangelical Christians may disagree in a loving and respectful manner.
We human beings are burdened by our tendencies to harshly judge others and ourselves. Unfortunately for believers, this bent is as prevalent in the church as in the world. Pastor and author Gregory A. Boyd calls readers to a higher standard through understanding the true manner in which God views humanity: as infinitely worthwhile and lovable. Only an attitude shift in how we perceive ourselves in light of God's love can impact how we relate to people and transform our judgmental nature. Believers wrestling with the reality of God's love and Christians struggling with judging in the local church will appreciate this examination of how we move from a self-centered to a Christ-centered life.
Repenting of Religion is anything but another run of the mill evangelical book; it is radical and revolutionary. Some will call it dangerous and heretical. One thing is certain: it will make readers think critically about some traditional evangelical habits of the heart.
—Roger E. Olson, professor of theology, George W. Truett Theological Seminary, Baylor University
This book demonstrates with both subtle and compelling biblical evidence that the local church is called to be God's community of redemption rather than the exclusive clique of rejection it has often become. The argument constitutes a convincing commentary on the Apostle's radical claim that we cannot glorify God unless we accept others as Christ has accepted us. This is a prophetic call to repentance addressed to judgmental church leaders and to self-righteous congregations who curse the weak rather than bring healing to God's broken, hurting world.
—Gilbert Bilezikian, professor emeritus of biblical studies, Wheaton College
Mere Christianity is religionless, Boyd rightly says. It is about dancing with the triune God. And, since it's all about mercy, let's love one another and stop judging, as if it were just another religion.
—Clark H. Pinnock, professor emeritus of systematic theology, McMaster Divinity College
Product Details
Title: Select Works of Gregory A. Boyd
Authors: Gregory A. Boyd, Al Larson
Publisher: Baker
Volumes: 6
Pages: 1,370
About Gregory A. Boyd
Gregory A. Boyd graduated with honors from Yale Divinity School and Princeton Theological Seminary, and he was a professor of theology at Bethel University for 16 years. He is the founder and senior pastor of Woodland Hills Church in St. Paul, Minnesota. Boyd has also authored or coauthored numerous books and academic articles.