Robert Webber Collection (2 vols.)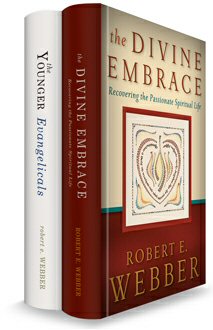 Overview
Author and theologian Robert Webber was best known for his highly influential works on worship and the early church. The Robert Webber Collection contains two volumes that focus on the development of Christian spirituality and evangelicalism. Webber's The Divine Embrace examines spirituality's history, development, and contemporary relevance and application, while The Younger Evangelicals provides a look at the characteristics and thought of the twenty-first century church's emerging leaders.
The Robert Webber Collection is perfect for scholars, pastors, students, and laypeople. The Logos edition of this collection is fully searchable, and it connects with the rest of your digital library: Scripture passages link directly to your preferred translation, and important theological concepts link to dictionaries, encyclopedias, and a wealth of other resources.
Key Features
Explores the history, development, and contemporary significance of spirituality
Presents insight on the twenty-first century's emerging leaders
Product Details
Title: Robert Webber Collection
Author: Robert Webber
Publisher: Baker
Volumes: 2
Pages: 576
Individual Titles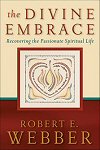 In The Divine Embrace, Robert Webber lays out the foundation for understanding Christian spirituality. He traces the idea of spirituality from the ancient church to the present day, showing how biblical teaching has been developed and informed by changes in culture. Webber explores how we can return contemporary spirituality to its biblical source by living out God's story in our individual, corporate lives. Webber's thoughts and insights are sure to encourage and equip you to live out your spirituality with a deeper and more delightful response to God's divine embrace.
Robert Webber's new book places him in the good company of Dallas Willard, Richard Foster, and Eugene Peterson as one of our most important thinkers about spiritual formation for authentic Christian living. It provides fresh, wise, and challenging guidance that is rooted in a career of Christian leadership development. It draws from decades of research in church history and spirituality, and flows from the mind of a scholar and the heart of a practitioner. I am a fan of all his work, but I think this is his best and most important book to date.
—Brian McLaren, author, speaker, theologian
Do not read this book alone! Bob Webber is right: authentic Christian spirituality is a shared response of believers to God's actions on our behalf. Get your small group, Sunday school class, or church to study this challenging message together.
—David Neff, editor-in-chief, Christianity Today
Robert Webber—one of our most trusted voices on worship and discipleship—takes spirituality out of the closet of privacy and individualism and locates it smack in the middle of friendship and community. His is a wonderful, unique vision that cuts across the grain of the 'spirituality industry.'
—James K. A. Smith, professor of philosophy, Calvin College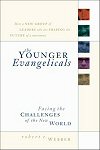 Almost four decades ago, Richard Quebedeaux's classic The Young Evangelicals told the story of a new generation of believers. Now, in The Younger Evangelicals, Robert Webber explores how another generation of emerging leaders is bringing sweeping change and renewal to the twenty-first-century evangelical church.
Webber examines the characteristics of these emerging leaders and provides an outlet for their stories. He gives an overview of twentieth-century evangelicalism and examines the differences between "younger," "traditional" (1950–1975)," and "pragmatic" (1975–2000) attitudes toward faith and church practice.
Thought-provoking and timely, The Younger Evangelicals is a landmark book if you want to prepare for—and respond to—the new evangelical awakening brought on by our changing cultural context.
If you're suspicious about new winds blowing across the evangelical coastland, please don't criticize until you've read The Younger Evangelicals. It is by far the most thoughtful description of what's going on. If you're not critical but just curious, Webber will give you a thorough immersion into the emerging church. And if you're 'younger' yourself or young at heart, you'll find Webber giving voice to much that you have felt but couldn't yet articulate. Webber proves himself a sagely resource for this fresh, fledgling movement in this wise, warm, timely book.
—Brian McLaren, author, speaker, theologian
At a time when many graying prognosticators are bemoaning the state of the church, it is refreshing to read a commentator of Robert Webber's stature who is optimistic about the future of the evangelical cause. Webber documents the presence of a cadre whom the Holy Spirit is raising up to lead the church in offering a biblically rooted, historically informed, and culturally aware gospel witness. I am personally encouraged by Webber's findings.
—Stanley J. Grenz (1950–2005), evangelical scholar
The Younger Evangelicals is an eye-popping, brain-bending look at where the evangelical church must head if it has any hopes of impacting postmodern culture. A superbly researched, foundational work, it is easily the best primer on the emerging church that I have seen.
—Sally Morgenthaler, author, Worship Evangelism
About Robert Webber
Robert Webber (1933–2007) received his bachelor's degree from Bob Jones University, his divinity degree from the Reformed Episcopal Seminary, his master's in theology from Covenant Theological Seminary, and his doctorate in theology from Concordia Theological Seminary. He was the Myers Professor of Ministry at Northern Seminary in Lombard, Illinois. He served as the president of the Institute for Worship Studies in Orange Park, Florida. Webber's many books include Ancient-Future Faith, Ancient-Future Time, Ancient-Future Worship and Ancient-Future Evangelism.
More details about these resources