Classic Commentaries and Studies on the Pastoral Epistles Upgrade (10 vols.)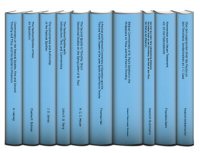 Classic Commentaries and Studies on the Pastoral Epistles Upgrade (10 vols.)
•
Runs on Windows, Mac and mobile.
Your Custom Discount
Reg. Price $129.95
Sale Price $19.99
Your Price $19.99
You Save $109.96 84%
Your Price
What's Pre-Pub?
$19.99
Reg.: $129.95
Print: $241.93
Overview
The Pastoral Epistles contain some of the most controversial passages in the New Testament. They are also the most personal New Testament letters. The Classic Commentaries and Studies on the Pastoral Epistles Upgrade presents commentaries written from multiple traditions, each examining the epistles from their unique perspective. Authorship of the letters draws a great deal of attention in each volume—from both traditional and non-traditional commentators. At varying levels, each commentary in this collection focuses on the text, and seeks to make it more understandable to readers.
With the Logos editions, these valuable volumes are enhanced by amazing functionality and features. Scripture and ancient-text citations link directly to English translations and original-language texts, and important terms link to dictionaries, encyclopedias, and a wealth of other resources in your digital library. Perform powerful searches with the Topic Guide to instantly gather relevant biblical texts and resources. Tablet and mobile apps let you take the discussion with you. With Logos Bible Software, the most efficient and comprehensive research tools are in one place, so you get the most out of your study.
Key Features
Provides multiple exegetical commentaries on the Pastoral Epistles
Presents varied perspectives on authorship
Features traditional and non-traditional treatments of controversial social issues
Product Details
Title: Classic Commentaries and Studies on the Pastoral Epistles Upgrade
Volumes: 10
Pages: 2,533
Individual Titles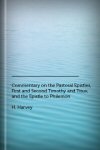 H. Harvey's Commentary on the Pastoral Epistles provides an exegetical treatment of 1 and 2 Timothy, Titus, and Philemon. The KJV sits at the top of each page for easy reference, while Henry's commentary resides below, along with outlines and interpretive translations of each verse—based on the Westcott-Hort Greek Text. The commentary focuses on the meaning of the text, and technical issues are only included where they are essential for understanding the text. Harvey reviews the work of contemporary and ancient scholars, and treats important topical issues in the body of his commentary.
H. Harvey (1821–1891) was a Baptist minister and professor at Hamilton Theological Seminary. Known for his expertise in preaching, he authored The Pastor: His Qualifications and Duties, and The Church: Its Polity and Ordinances.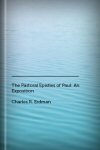 The Pastoral Epistles of Paul: An Exposition
Author: Charles R. Erdman
Publisher: Westminster Press
Publication Date: 1923
Pages: 174
Charles Erdman's commentary on the Pastoral Epistles provides an early analysis of the text from the perspective of early-twentieth-century Protestant liberalism. Erdman provides an analysis of the text and comments at length on the major social and ecclesiastical issues raised by the book.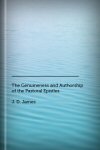 The Genuineness and Authorship of the Pastoral Epistles
Author: J. D. James
Publisher: Longmans, Green, and Co.
Publication Date: 1906
Pages: 165
Presenting a powerful argument for Pauline authorship, James provides a historical and text-based analysis of Paul's most personal letters in order to demonstrate the viability of the traditional perspective. James counters arguments against Paul's authorship, both from church history and from his modern contemporaries.
J. D. James was a distinguished Pauline scholar who specialized in the Pastoral Epistles.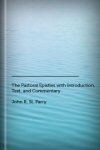 An early version of what would become the critical exegetical commentary, R. St. John Parry's The Pastoral Epistles provides a detailed introduction that considers structural concerns, historical questions, and authorship. The commentary's main body examines the Greek text, and focuses exclusively on the linguistic features and text-critical components of the epistles. Supplemented by an extensive bibliography, historical charts, and Greek usage index, this volume is a complete technical analysis of the Pastoral Epistles.
R. St. John Parry (1858–1935) was vice-master of Trinity College at Cambridge University. Highly educated, he was a classicist, biblical scholar, and historian. He authored several books, including the Cambridge Greek Testament for Schools and Colleges: Romans, The First Epistle of Paul to the Corinthians, and a biography entitled Henry Jackson.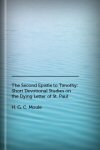 The Second Epistle to Timothy: Short Devotional Studies on the Dying Letter of St. Paul
Author: H. G. C. Moule
Publisher: Religious Tract Society
Publication Date: 1905
Pages: 191
Written from a pastoral perspective, H. G. C. Moule's volume provides devotional commentary on Paul's most personal letter. In the midst of persecution and nearing his own death, Paul's second epistle to Timothy provides some of his most profound council and shows the depths of his love for his pupil. Moule draws on the emotion of the epistle as well as its profound wisdom to provide moving devotionals for modern readers.
H. G. C. Moule (1841–1920) was educated at Cambridge University, and later served the university as dean at Trinity College, the first principal of Ridley Hall, and Norrisian professor of divinity. In 1898, he was named as chaplain to the Queen Victoria, and became deeply involved in global missions work. His many works include, The Epistle to the Romans, Jesus and the Resurrection: Expository Studies on St. John XX, XXI, and Outlines of Christian Doctrine.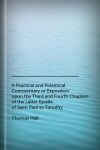 In this powerfully argued and meticulously cross-referenced volume, Thomas Hall presents an exposition treatment of the third and fourth chapters of 2nd Timothy. Written before the invention of the modern technical commentary, Hall unpacks these chapters verse by verse while relating it to the message of the epistle as a whole. Hall's aim is the edification of the church by taking readers through the text step by step.
Thomas Hall (1610–1665) was a Presbyterian English minister, and was ejected by the 1662 Uniformity Act. Educated at the King's School and Pembroke College, he was known for his love of books and his lively preaching. Though tolerant of others' views, persecution reduced him to poverty.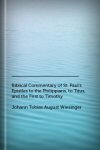 Continuing the work of Herman Olshausen's commentary series, August Wiesinger's work covers the epistles of Philippians, 1 Timothy, and Titus. Exegetical in approach, this volume draws on the English text of the Bible, and uses the Greek text where necessary. Wiesinger examines the text phrase by phrase, explaining its meaning in detail. Conversation with other commentators is limited and used to illuminate the text's meaning, not for academic debate.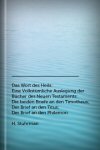 Influenced by German pietism, this commentary examines the Pastoral Epistles with the aim of deepening one's Christian walk. Heinrich Stuhrmann examines each verse of the biblical text, and applies them to the Christian life. Stuhrmann takes account of the historical background of the epistles and shows how God's plan worked itself in the lives of Paul and his companions. This commentary is in German.
H. Stuhrman (1869–1940) was a German theologian, pastor, and politician. His works include, Hunger for Life, Perpetual Peace, and Luise of Prussia, Noble Queen.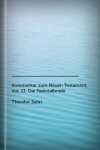 Taking a decisively traditional perspective on the Pastoral Epistles, Zahn provides a section-by-section examination on Paul's personal letters, and takes definitive interpretive positions on the controversial issues raised by the epistles. An expert on the development of the New Testament canon, Zahn also provides a strong defense of Pauline authorship. This commentary is written in German.
Theodor Zahn (1838–1933) was professor of theology at Göttingen, Kiel, Erlangen, and Leipzig. He was a leading voice for conservative biblical scholarship, and was the preeminent scholar of the New Testament canon in nineteenth-century Germany. He advocated the theological perspective known as "Heilsgeschichte" and was nominated for the Nobel Prize in Literature in 1902, 1904, and 1908.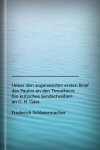 A leading proponent of pietism and the role of emotion in the Christian life, Schleiermacher analyzes the text in the hopes of illuminating how it affects the attitude of one's feeling toward God. To this end, he illuminates emotional aspects of the letter that focus on how people can come closer to God. Writing in German, Schleiermacher focuses on the Greek text, and provides non-traditional perspectives derived from his ground breaking work in hermeneutics.
Friedrich Schleiermacher (1768–1834) was a German theologian, philosopher, and biblical scholar. His expertise led him to attempt reconciling Enlightenment philosophy with orthodox Christianity. He established the framework for the modern discipline of hermeneutics, was a distinguished ethicist, and has been highly influential in German Higher Criticism, liberal Christianity, and Neo-Orthodoxy. He served as a pastor for several years, but spent most of his career as a professor of theology, first at Halle and then at the University of Berlin. Many of his works remain highly influential today, including On Religion: Speeches to Its Cultured Despisers, The Christian Faith, and Christmas Eve: A Dialogue on the Incarnation.