WEA Theological Resource Library, Version 3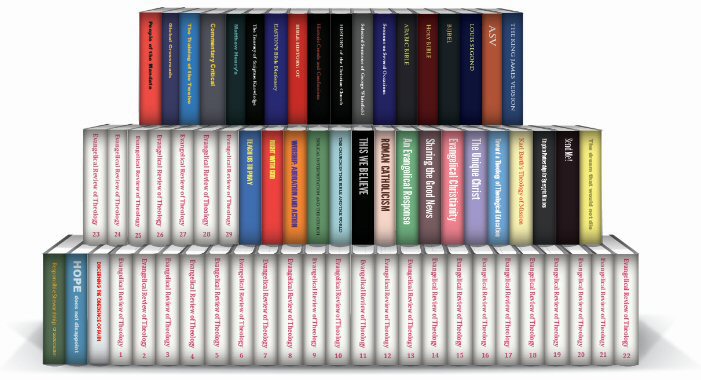 Overview
The WEA (World Evangelical Alliance) Theological Resource Library, Version 3 includes 29 years worth of back issues of the WEA journal, Evangelical Review of Theology, along with a number of additional ministry resources. This product also features the Faith and Church series of texts edited by New Testament scholar D. A. Carson.
Key Features
Contains articles on OT, NT, Theology, and Hermeneutics
Includes book reviews
Provides a systematic theology of worship
Authors include John Stott, D. A. Carson, R. C. Sproul, Gordon Fee, J. I. Packer, R. T. France, P. T. O'Brien, and more
Product Details
Title: WEA Theological Resource Library, Version 3
Publisher: World Evangelical Alliance
Volumes: 62
Individual Titles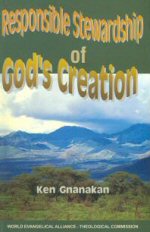 Responsible Stewardship of God's Creation
Author: Ken Gnanakan
Publication Date: 2004
Pages: 133
Experienced practitioner and insightful theologian, Ken Gnanakan has prepared an accessible yet comprehensive study book on one of the most important issues of the day. He has combined biblical truth, practical reality, and wise reflection in a way that will benefit local church study groups, students, pastors, and church leaders so that they can understand the important aspects of the topic and also take action in their own neighborhoods and regionally to make a difference.
Ken Gnanakan is a writer, evangelist, and theological educator based in Bangalore, where he is Director of ACTS Institute, a holistic training program committed to training Christians for a more practical witness in India.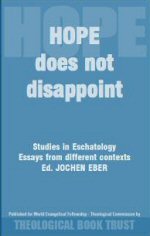 Hope Does Not Disappoint: Studies in Eschatology
Editor: Jochen Eber
Publication Date: 2001
Pages: 356
Sixteen authors from every continent combine under the editorship of Jochen Eber to present a comprehensive text book covering biblical foundations, the views of various global churches, and the missiological, religious and social contexts of one of the important Christian beliefs—eschatology. Angled for students, this is an authoritative volume which touches the practical areas of daily Christian living and the church's mission in the world.
Jochen Eber is a lecturer at Theological Seminary Chrischona in Bettingen, Switzerland.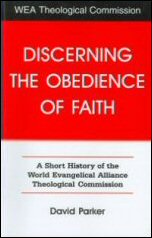 Discerning the Obedience of Faith: A Short History of the World Evangelical Alliance Theological Commission
Author: David Parker
Publication Date: 2005
Pages: 139
David Parker has had 20 years of involvement with the Theological Commission and has used this familiarity with the movement and its key founders and leaders to record the story of the first 30 years story of this organization. This is a narrative that spans the world and documents many key initiatives which have had a part in shaping evangelical theological reflection, publication, and pastoral training.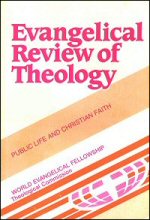 Evangelical Review of Theology
Editors: Bruce J. Nicholls and David Parker
Publication Date: 1977-2005
Volumes: 29
The journal of the Theological Commission of the World Evangelical Fellowship (now Alliance), established in 1977 and edited by Dr. Bruce J. Nicholls, Dr. Sunand Sumitra, and Dr. David Parker. Originally offering a concentrated selection of key periodical and other articles from around the world on important themes and areas of interest for students, pastors, and missionaries, it is now a forum of global evangelical theological scholarship. This bundle includes 29 volumes (99 issues), as well as an index volume. There are articles on the Old Testament, New Testament, theology, and Hermeneutics by authors John Stott, D. A. Carson, R. C. Sproul, Gordon Fee, J. I. Packer, and much more.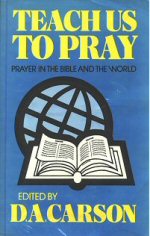 Teach Us To Pray: Prayer in the Bible and the World
Editor: D. A. Carson
Publication Date: 1994
Pages: 315
A unique book on prayer, containing a detailed analysis of the biblical theology of prayer, a survey of spirituality in various religions, and lessons in prayer from the worldwide church concluded with personal insights from some key leaders. In all, a full library on the subject, conserving the best insights of the past and breaking new ground with penetrating original thinking. This volume containing twenty chapters contributed by a international team and edited by D. A. Carson for the World Evangelical Fellowship Theological Commission's Faith and Church Study Unit is the third in the series.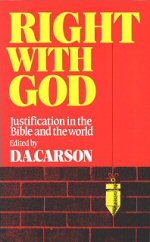 Right With God: Justification in the Bible and the World
Editor: D. A. Carson
Publication Date: 1992
Pages: 309
This is a study of what the Bible has to say about justification, along with reflections as to how this teaching ought to work out in a variety of contexts around the world. It covers the various parts of the Bible and topics such as Christian living, social justice, and other religions. The work of 14 international scholars and edited by D. A. Carson, this is the fourth volume in the World Evangelical Fellowship Theological Commission's Faith and Church Study Unit series.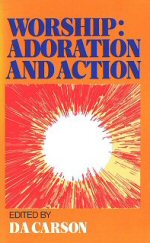 Worship: Adoration and Action
Editor: D. A. Carson
Publication Date: 1993
Pages: 256
Avoiding a merely mechanical and pragmatic approach to worship, this collection of thirteen papers by an international team covers the biblical and systematic theology of worship, the heritage of the Reformers, and contemporary free church worship. Reflecting the diversity yet richness of the global church, this is fifth and final volume in the series edited by D. A. Carson for the World Evangelical Fellowship Theological Commission's Faith and Church Study Unit.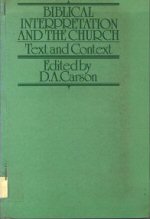 Biblical Interpretation and the Church
Editor: D. A. Carson
Publication Date: 1984
Pages: 240
Eight international scholars show how the study of hermeneutics can have vital relevance for contemporary issues facing the church. The focus is on the biblical doctrine of the church and its mission in various cultures. This volume is edited by D. A. Carson for the World Evangelical Fellowship Theological Commission's Faith and Church Study Unit and is the first in the series.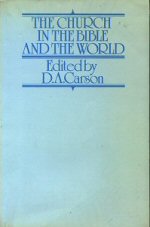 The Church in the Bible and the World
Editor: D. A. Carson
Publication Date: 1987
Pages: 359
A study of the role of the church in the varied contexts of the globalised world, covering its mission, ministry, and worship, its role under persecution, the challenge of secularism and syncretism and the new hermeneutic. This collection of seven papers edited by D. A. Carson for the World Evangelical Fellowship Theological Commission's Faith and Church Study Unit is the second in the series.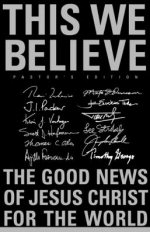 This We Believe: The Good News of Jesus Christ for the World (Special Pastor's Edition)
Editors: John N. Akers, John H. Armstrong, and John D. Woodbridge
Edition: Pastor's
Publication Date: 2000
Pages: 235
This We Believe is a exposition of the Gospel based on the statement, "The Gospel of Jesus Christ: An Evangelical Celebration" which is a detailed statement of our understanding of the Gospel. Each of the 12 chapters cover a key theme of Christian truth (such as sin, salvation, Jesus Christ, heaven, and more) written by a leading evangelical Christian, designed to help us all understand and live out the gospel today. Each chapter also contains an inspiring personal story of the power of the Gospel drawn from the church around the globe.
This special "Pastor's Edition" contains congregational resources (keyed to each chapter), including sermon outlines, interactive worship suggestions, and Bible study materials. The sermon material (one for each of chapters of the book) has been prepared so that it is "thoroughly biblical, theologically sound, and deeply practical." The sermon outlines are complete and detailed, with illustrations; there are also suggestions for music (traditional and contemporary), prayers, dramas, responsive readings, and small group discussion topics. This Special Pastor's Edition also includes:
Congregational resources keyed to each chapter
Sermon outlines
Interactive worship suggestions
Bible study materials
Sermon illustrations
Suggestions for music, prayer, responsive readings
Designed to be biblical, theological, and practical
Training of the Twelve (A. B. Bruce)
Jamieson, Fausset, and Brown Commentary
Matthew Henry's Concise Commentary
Treasury of Scripture Knowledge
Easton's Bible Dictionary
Bible History OT by Alfred Edersheim (7 Vols.)
Historic Creeds and Confessions
Schaff's History of the Christian Church (8 Vols.)
Selected Sermons of George Whitefield
Sermons on Several Occasions by John Wesley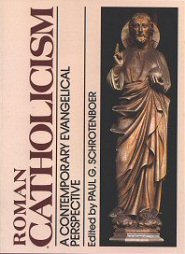 A Contemporary Evangelical Perspective on Roman Catholicism
A study document by a World Evangelical Fellowship task force assessing the state of Roman Catholicism, taking account of some welcome changes but also pointing out long-standing differences of belief. It covers such topics as religious liberty, the place of Mary, papal authority, sacraments, justification and the mission of the church.
Also included is the Spanish translation titled Una Perspectiva Evangelica Contemporanea del Catolicismo Romano, which was edited by Paul G. Schrotenboer in 1987.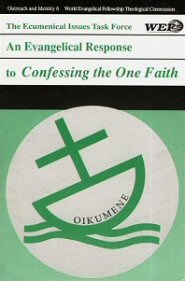 An Evangelical Response to Confessing the One Faith
Editor: Bong Rin Ro
Publication Date: 1993
The WEF Theological Commission's 10 member international task force evaluated the World Council of Churches study document, Confessing the One Faith which deals with the modern ecumenical leaders' interpretation of important Christian doctrines inherited from the apostolic faith and focused in the Nicene Creed. The report contained in this book, No. 6 in the 'Outreach and Identity' Series, takes account of concerns about possible loss of doctrinal truth, the adoption of syncretistic approaches and the dominance of socio-political interests in the light of a desire to be loyal to the faith that has been entrusted to the people of God.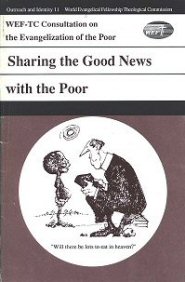 Sharing the Good News with the Poor
Editor: Bong Rin Ro
Publication Date: 1993
In October 1993, 25 people participated in a consultation on 'Evangelization of the Poor' in New Delhi, India where they visited slums, shared with local churches and reflected on the abject poverty, social welfare ministries, church life and seminary training that they observed. This book, No. 11 in the WEF Theological Commission's 'Outreach and Identity' Series, forms their report and recommendations.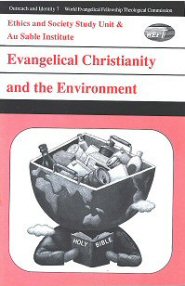 Evangelical Christianity and the Environment
Editor: Bong Rin Ro
Publication Date: 1993
This paper summarizes the substance of discussions at a joint consultation of the WEF Theological Commission and the Au Sable Institute, Madison, Wisconsin, USA on the topic of 'Christianity and the Environment' in August 1992, attended by 60 people from eight countries. It focuses on the biblical and theological framework, praxis for sustainable development and tasks for the Christian community and individuals. This book is No. 7 in the Commission's 'Outreach and Identity' Series.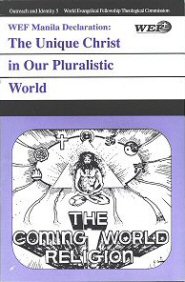 The Unique Christ in Our Pluralistic World
Editor: Bong Rin Ro
Publication Date: 1993
Addressing one of the key issues in contemporary theology and mission, this is the Manila Declaration which issued from a consultation on the topic held in Manila, Philippines, June 1992, which attracted 85 evangelical theologians. Themes from six different papers were synthesized into this declaration, which forms No. 5 in the WEF Theological Commission's 'Outreach and Identity' Series.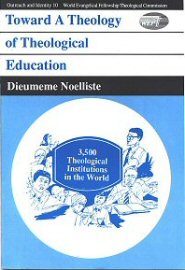 Toward a Theology of Theological Education
Author: Dr. Dieumeme Noelliste
Editor: Bong Rin Ro
Publication Date: 1993
Theological Education faces many challenges in the contemporary world—financial, ideological, personnel, recruitment, curriculum. It is all the more necessary therefore for evangelicals to find sound biblical bases for the content, aims and methods that are employed. Written by an experienced and capable theological educator and leader from the Caribbean, this is No. 10 in the WEF Theological Commission's 'Outreach and Identity' Series.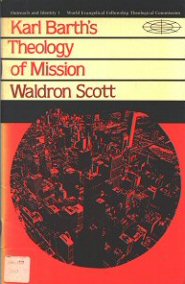 Karl Barth's Theology of Mission
Author: Waldron Scott
Publication Date: 1993
Karl Barth is one of the greatest figures in 20th century theology. His theology of mission has a lot to teach evangelicals—and it also poses problems for them which they cannot ignore. Written by a former WEF General Secretary, this is a thoughtful book, and the first in WEF Theological Commission's 'Outreach and Identity' Series.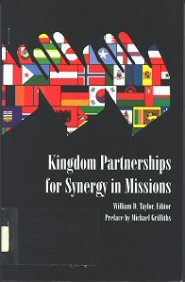 Kingdom Partnerships for Synergy in Missions
Editor: William D. Taylor
Publication Date: 1994
The church/missions community must move beyond superficial fellowship and simple networking to true partnerships—cooperative ventures, strategic alliances, mutually engaged projects, and the sharing of material and human resources. The expected result is synergy—a phenomenon where the output is greater than the sum of the individual components. In these pages, 22 missions leaders from around the world speak candidly to these issues. It's a call to reflection, relationship and engagement without which the nations of this world will not be discipled for Christ.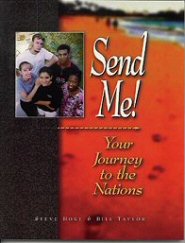 Send Me! Your Journey to the Nations
Authors: Steve Hoke and Bill Taylor
Publication Date: 1999
Do you or someone you know want to explore serving in missions but don't know quite how to go about it? Send Me! is the ideal tool to help explore God's leading. It is filled with self-evaluation tools, articles and practical suggestions. Ideal for individual or small group study.
Steve Hoke is vice president of Training for Church Resource Minitries. He helps mobilize, train, and encourage international teams for ministry around the world. He also works with groups like ACMC (Advancing Churches in Missions Commitment) to equip churches nationwide in global ministries.
Bill Taylor is executive director of Missions Commission at World Evangelical Alliance. He serves the global missions force through WEA in missiological concerns, developing national missionary movements, missionary training, strategic research, and publications.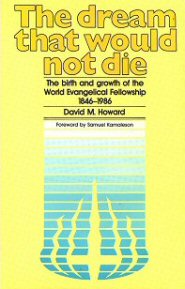 The Dream That Would Not Die: The Birth and Growth of the World Evangelical Alliance
Author: David M. Howard
Publication Date: 1986
A full account of projects and plans, personalities, crises and debates which surrounded the emergence of the World Evangelical Fellowship (now Alliance) to fulfill 'the dream that would not die'—the idea that evangelical Christians could co-operate with one another and express their unity in Christ on a worldwide basis, which initially came to birth in 1846 with the formation of the World's Evangelical Alliance in UK and then with the formation of the present body in 1951. Drawing on a wealth of unpublished material, former International Director, David Howard, presents an essential contribution to the understanding of evangelical progress.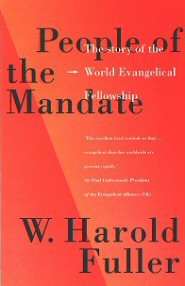 People of the Mandate: The History of WEA
Author: W. Harold Fuller
Publication Date: 1996
The updated human story of World Evangelical Fellowship, formed in 1951—an introduction to its dynamic leaders, and examples of its vital ministry in theological and ethical thinking, evangelism and reconciliation, and the quest for social justice and religious liberty. With its roots in the British Evangelical Alliance, WEF (WEA) now represents over 150 million Evangelicals in national and regional alliances in over 115 nations. A lively account showing God's gracious hand on this global movement.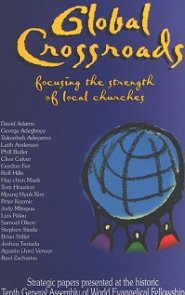 Global Crossroads: Focusing the Strength of Local Churches
Editor: W. Harold Fuller
Publication Date: 2000
This compendium of WEF's 10th General Assembly messages is a rare collection of inside reports on the church in China, nationalism in Croatia/Bosnia, reconciliation in Rwanda, transforming street gangs in Venezuela, church growth in Korea, post-modernity in the West, plus many other dynamic scenes—and how the gospel is strategically focusing the strength of the churches in each. Edited by Dr. Harold Fuller, it contains 23 powerful texts from outstanding church leaders from around the globe.