Classic Commentaries and Studies on Matthew Upgrade (17 vols.)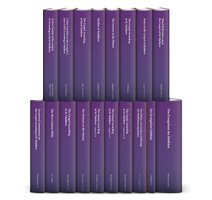 Classic Commentaries and Studies on Matthew Upgrade (17 vols.)
•
Runs on Windows, Mac and mobile.
$40.00
Reg.: $219.95
Print: $450.00
* Projected price. Future bids may change this price.
Place Your Bid!
Click on the highest price you'd pay. If the final price is lower, that's what you'll pay.
Overview
The Classic Commentaries and Studies on the Matthew Upgrade offers seven thousand pages of commentaries, lectures, contextual history, and practical application of the wisdom found in the Gospel of Matthew. These 17 volumes give you significant studies on Matthew from as early as the seventeenth century, up through the twentieth century. Theologians and scholars including Benjamin Wisner Bacon, Julius Wellhausen, A. H. McNeile, and Henry James Coleridge explore a wide range of historical-critical, pastoral, content, and contextual issues found in Matthew's Gospel. This collection includes alternate translations of Matthew, studies on the Sermon on the Mount, analysis of difficult passages, and dialogue with historical interpretations by other eminent theologians. You'll also find varied practical insights into how the teachings and parables apply to the Christian life, and much more. This collection also contains two German-language texts from early twentieth-century scholars, and a Greek text from Peter of Laodicea as part of C. H. Georg Heinrici's German-language study of Matthew. This collection is essential for students, scholars, pastors, historians, teachers of the Bible, or anyone studying the book of Matthew.
In the Logos editions, these valuable volumes are enhanced by amazing functionality. Scripture and ancient-text citations link directly to English translations and original-language texts, and important terms link to dictionaries, encyclopedias, and a wealth of other resources in your digital library. Perform powerful searches with the Topic Guide to instantly gather relevant biblical texts and resources, enabling you to jump into the conversation with the foremost scholars on issues within Matthean studies. Tablet and mobile apps let you take the discussion with you. With Logos Bible Software, the most efficient and comprehensive research tools are in one place so you get the most out of your study.
Key Features
Provides a variety of important studies on Matthew, from varying perspectives and focuses
Offers in-depth passage-by-passage analysis, devotional commentaries, and volumes of alternate translations
Includes two studies devoted to the Sermon on the Mount
Individual Titles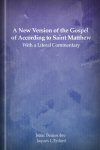 Originally produced by order of the King of Prussia, who wished to provide new, updated French versions of the New Testament, de Beausobre and L'enfant undertook creating new translations and original notes, which were published at Amsterdam in 1718. This volume offers an English translation of their French translation of the Gospel of Matthew, as well as the extensive notes introducing the New Testament. Designed for divinity students, or those without the benefit of extensive knowledge of the cultural practices, biblical history or geography, this volume prepares the reader to approach the New Testament, a task which consumes the bulk of this extensive work. This text relates a wealth of detailed information on a comprehensive array of subjects helpful for understanding the New Testament, including such sections as "Of the Political and Religious State of the Jews," "Of the Jewish Sects," and "The Geography of the New Testament." The last section contains "a new version" of Matthew's Gospel.
Issac de Beausobre (1659–1738), was born in Niort, Deux-Sèvres, France. He studied theology at the Protestant Academy of Saumur, and was ordained at age 22. He was pastor at Châtillon-sur-Indre before fleeing to Rotterdam after the Edict of Nantes was revoked. He pastored a French church in Berlin, and was a court preacher, counsellor of the French Reformed Consistory, and superintendent of all the French churches in Brandenburg. He also wrote Histoire critique de Manichée et du Manichéisme, for which he is best known.
Jaques L'enfant (1661–1728) studied at Saumur and Geneva, and finished his theological studies at Heidelberg. He became an ordained minister of the French Protestant Church in 1684, and appointed chaplain to the dowager electress palatine. He withdrew to Berlin in 1688 when the Electorate of the Palatinate was invaded in 1688. He was the author of many works, predominantly on church history.
A Brief Exposition of the Evangel of Jesus Christ according to Matthew
Author: David Dickson
Publisher: Smith
Publication Date: 1647
Pages: 426
This commentary, written by Scottish preacher and professor David Dickson, works through the Gospel of Matthew. Dickson gives section-by-section exposition with an eye towards practical application, providing insights into how teachings can be applied. He also maintains a pastoral focus on the ministry of Jesus, as portrayed by Gospel writer Matthew.
David Dickson (1583–1662) was a born in Glasgow. He studied at the University of Glasgow, where he was appointed professor of philosophy. In 1618, he was ordained minister of Irvine, where he served for a number of years, during times of significant division in the church. In 1642 he became professor of divinity at the University of Glasgow, and then at the University of Edinburgh.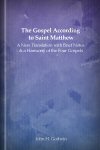 The Gospel according to Saint Matthew: A New Translation with Brief Notes, and a Harmony of the Four Gospels
Author: John H. Godwin
Publisher: S. Bagster & Sons
Publication Date: 1863
Pages: 400
British scholar John H. Godwin provides a holistic and accessible study of Matthew in this volume, which includes his new translation of the Gospel of Matthew and explanatory notes. Godwin also links Matthew's writings with those of the other Gospel writers, offering a harmony of the four Gospels to supplement the reader's study of Matthew. Compiling the Gospels into one account, Godwin helps readers to better understand the chronology of events and enables them to see how the Gospels relate to one another.
John H. Godwin was professor of English language, mental and moral philosophy, logic, and rhetoric at New College, London in the nineteenth century.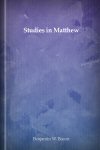 Yale professor Benjamin Wisner Bacon provides a scholarly historical-critical look at the Gospel of Matthew, offering "a combination of various types of observations on the Gospel, notes introductory, exegetical, and biblico-theological." Bacon examines the tradition of Matthean origin, translation, interpretation, major themes, and much more in this volume.
Benjamin Wisner Bacon (1860–1932) was born in Litchfield, Connecticut. He was educated at Yale, where he was later appointed instructor in New Testament Greek, and then served as Buckingham Professor of New Testament Criticism and Exegesis. His numerous works include The Genesis of Genesis, Triple Tradition of the Exodus, The Fourth Gospel in Research and Debate, and The Story of St. Paul.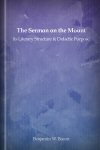 The majority of this volume contains the text of a 1901 lecture on the Sermon on the Mount, given by Benjamin Wisner Bacon at Wellesley College. Writing in a scholarly but clear style, Bacon significantly revises and updates the lecture, adapting the text "to exhibit by analytical and synthetic criticism the nature and interconnection of the greater discourses of Jesus." Bacon also includes three additional appendixes with further analysis, comparison, and reconstruction of important synagogue discourses of Jesus.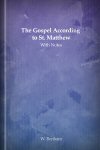 W. Benham's commentary volume was designed especially as introduction to Matthew for teachers preparing to teach this Gospel. Benham includes Matthew's text and explanatory notes, side by side. Thorough yet concise, Benham details Old Testament references, discusses particularities of Matthew's wording, offers exposition of theological concepts, and places his analysis in dialogue with other commentators.
W. Benham was a theological associate of King's College, London, and tutor in St. Mark's College, Chelsea.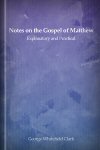 George Clark set out to write "a popular commentary on a critical basis; to explain the meaning of words, idioms, and phrases of the original; to exhibit the drift and object of the discourse or narrative in each particular place, the arguments used, the connection of thought as well as the general scope of the whole Gospel." Clark attempts to identify and illustrate practical and doctrinal ideas found in this Gospel in a clear yet scholarly way. He includes introductory remarks establishing context at the beginning of the work, as well as a synoptic view of the Gospels in chart form, and a harmony of the Gospels. He discusses varying views on controversial passages, and offers analysis especially on these difficult sections.
George W. Clark was the author of The Harp of Freedom, A New Harmony of the Four Gospels, The Mighty Worker: Lessons in Mark and other titles.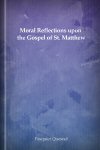 Moral Reflections upon the Gospel of St. Matthew
Author: Pasquier Quesnel
Publication Date: 1709
Pages: 462
French theologian Pasquier Quesnel offers a detailed commentary on Matthew from a Jansenist perspective—emphasizing human sinfulness and the need for divine grace. Favoring close study of the Scriptures to increase devotion rather than formalized methods of spirituality, Quesnel offers varied insights into this Gospel, as he works through it piece by piece.
Pasquier Quesnel (1634–1719) was a French Jansenist theologian and scholar. He studied at the Sorbonne before entering the Congregation of the Oratory in 1657, and was made director of the seminary at Paris in 1662. In the 1680s, he had to escape to Orleans, and then Brussels for refusing to condemn Jansenist views, and was imprisoned in 1703 by the King of Spain before escaping once more. He published a number of spiritual and theological books.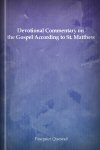 Devotional Commentary on the Gospel according to St. Matthew
Author: Pasquier Quesnel
Publisher: Rivingtons
Publication Date: 1869
Pages: 406
In this volume, French theologian Pasquier Quesnel provides a commentary of Matthew's Gospel from a Jansenist stance. Emphasizing close personal study and reflection, this commentary is designed to grow personal devotion.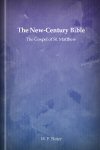 This volume includes a helpful context-establishing introduction by W. F. Slater, and a translation of the Gospel of Matthew from the New-Century Bible. It then offers a revised translation with extensive annotations—explaining certain phrasing, fleshing out Old Testament references, and offering practical suggestions for application.
W. F. Slater taught at Didsbury College, and was also the author of The Faith and Life of the Early Church.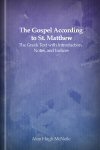 A. H. McNeile's scholarly study and commentary of the Gospel of Matthew includes both the Greek text and notes in English. McNeile also includes a lengthy introduction, covering Matthew's purpose in writing, the date of this Gospel, and a section exploring Old Testament quotations and allusions. This text also includes additional notes on such topics as the Virgin Birth, the Sermon on the Mount, the parables of Jesus, and more.
A. H. McNeile was a fellow, dean, and theological lecturer at Sidney Sussex College, Cambridge. He was examining chaplain to the Lord Bishop of Oxford as well. He was the author of numerous books, including An Introduction to Ecclesiastes, The Increase of God, and St. Paul: His Life, Letters, and Christian Doctrine.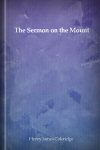 In this volume, Jesuit scholar Henry James Coleridge undertakes a thorough study of the Sermon on the Mount. Coleridge divides his study into sections that focus on specific portions of Jesus' teaching, such as "Treasure in Heaven," "Fasting," "The Precept of Prayer," and "Teaching with Authority." He offers a thorough look at the teachings in each of these sections, analyzing the imagery Jesus uses, discussing historical interpretations, suggesting practical applications, and more. This volume provides a thorough and well-rounded, yet clear and readable study of the Sermon on the Mount.
Henry James Coleridge (1822–1893) was a professor of Scripture at the Theological College of St. Bueno's, North Wales. He served as editor for The Month and The Messenger, for which he also wrote numerous articles and essays. His works include The Public Life of Our Lord, The Life and Letters of St. Francis Xavier, and The Life and Letters of St. Teresa.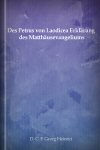 In this study on Matthew, German scholar C. F. Georg Heinrici provides Peter of Laodicea's Greek exposition of Matthew's Gospel, along with an introduction and his own expository notes in German. Heinrici publishes this ancient text for the first time and his examination makes Peter of Laodicea's insights into Matthew more accessible to modern readers, aiding in their study and understanding of this Gospel.
Carl Friedrich Georg Heinrici (1844–1915) was a German Protestant theologian. Born in Karkeln, East Prussia, he studied philosophy at the University of Halle-Wittenberg, and theology at Humboldt-Universität zu Berlin. He became a professor in the theological faculty at the Philipps-Universität Marburg in 1875.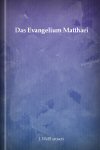 In this brief work, Julius Wellhausen provides a concise expository study of Matthew. Wellhausen works through this Gospel, looking at the original Greek, and offering analysis section by section.
Julius Wellhausen (1844–1918) is known for his studies of how the Pentateuch was understood. Wellhausen studied theology at the University of Göttingen, and in 1870 he became a lecturer of Old Testament history there. He also taught at the University of Greifswald, Halle, and Marburg. Wellhausen is likely best-known for his work, Prolegomena to the History of Israel, published in 1883.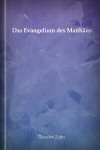 This German-language text by Nobel Prize nominated-author Theodor Zahn provides detailed exposition and analysis of the Gospel of Matthew.
Theodor Zahn (1838–1933) was born in Rhineland, Prussia, modern-day Germany. He studied at Basel, Erlangen, and Berlin. He was the professor of theology at Gottingen from 1871 to 1877, at Kiel from 1877 to 1878, at Erlangen from 1878 to 1888, at Leipzig from 1888 to 1892, and back at Erlangen in 1892. He was nominated for the Nobel Peace Prize in literature in 1902, 1904, and 1908. During his lifetime, Zahn was regarded as one of the most prominent conservative New Testament scholars.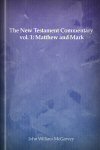 The New Testament Commentary is designed to be a helpful exegetical series, upholding the "genuineness and divine authority" of the Bible in light of a wealth of biblical criticism. In the first volume of the series, J. W. McGarvey provides a detailed commentary of the Gospels of Matthew and Mark, including the texts in English, side-by-side expository notes on the language used, Old Testament references, and biblical geography. McGarvey also includes introductions to each Gospel that discuss authorship,characteristics of the narrative, intended readership, and more.
John William McGarvey (1829–1911) was a Church of Christ minister and theology professor. He studied at Bethany College, and was minister of a church in Lexington in 1862. In 1865 he became one of the founders of the College of the Bible in Lexington, Kentucky, where he taught and served as president from 1895 until his death. He also wrote Lands of the Bible and Evidences of Christianity.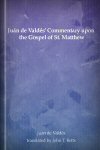 This volume provides the first English translation of Spanish lay theologian Juán de Valdés' commentary on the Gospel of Matthew. This commentary includes Valdés' translation from the Greek, and his detailed exposition "according to the literal sense." Especially concerned with personal piety, this commentary offers also "many considerations drawn from the text most necessary to Christian life."
This volume also includes a biographical history of the author and his twin, Alfonso, written by Edward Boehmer.
Juán de Valdés (c. 1500–1541) was a Spanish lay theologian and writer, deeply influenced by Erasmus. He most likely studied at the University of Alcalá. In the 1530s, he was forced to relocate to Italy for holding and publishing works with theological and political positions, which put him in danger of the Spanish Inquisition. He wrote numerous works from Italy during the rest of his life, and became central in a growing group of aristocrats supportive of reforming Roman Catholicism.
Product Details
Title: Classic Commentaries and Studies on Matthew Upgrade
Volumes: 17
Pages: 7,038