Reclaiming the Christian Intellectual Tradition (7 vols.)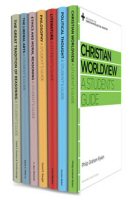 Reclaiming the Christian Intellectual Tradition (7 vols.)
•
Runs on Windows, Mac and mobile.
Overview
This collection of student's guides provides an overview of several academic disciplines from the Christian perspective. These guides note how over the centuries the church has interacted with the culture, contributed to education, and significantly impacted our worldview. Reclaiming the Christian Intellectual Tradition is ideal for Christian students, university faculty and staff, pastors and church leaders, and anyone looking for materials discussing the connection between the Christian tradition and twenty-first century academia.
The Logos Bible Software edition of Reclaiming the Christian Intellectual Tradition is designed to encourage and stimulate your study and understanding of the Christian tradition's place in today's intellectual world. Scripture passages link directly to your preferred English translation and original language texts, and important theological concepts link to dictionaries, encyclopedias, and a wealth of other resources in your digital library. Perform powerful searches by topic and find what other authors, scholars, and theologians have to say about Christianity's connection to political thought, philosophy, literature, moral reasoning, and more.
Key Features
Provides a broad overview of modern academia from the Christian perspective
Offers a guide to the connection between Christianity and modern academia
Helps students engage with contemporary challenges to their faith in various academic fields
Product Details
Title: Reclaiming the Christian Intellectual Tradition
Editor: David S. Dockery
Publisher: Crossways
Volumes: 7
Pages: 896
Individual Titles

Everything we think, say, and do reflects our worldview. Basic beliefs about God, humanity, history, and the future inevitably shape how we live. Philip Ryken, a prolific author and the president of Wheaton College, explains the distinguishing marks of the Christian worldview, helping us to engage thoughtfully with our increasingly pluralistic society. Based on the notion that ideas have consequences, this accessible resource will help you see life's "big picture" by equipping you with a well-reasoned framework of Christian beliefs and convictions
If you are looking for a succinct, marvelously clear, well-illustrated introduction to the phenomenon of worldview, look no further. Philip Ryken has managed what few others in the Reformed tradition could do. He argues for the ubiquity of worldview thinking while respecting the balance between its intellectual component and its most basic attribute: love. And all of it is based on the biblical account of creation, fall, and redemption and its implication for all of life, from the arts, to education, to politics and family life. Required reading for everyone from the educated layperson to students, Christian leaders and gate-keepers.
—William Edgar, professor of apologetics, Westminster Theological Seminary, Philadelphia
Philip Ryken thoughtfully explains the ins and outs of a Christian worldview, backed by considerable biblical support and key selections from cultural touchstones. The book is a quick read but is certainly not slight. Thorough and accessible, this is a perfect resource for students who need a solid grounding or a fresh reminder of truths of the Christian worldview.
—D. Michael Lindsay, president, Gordon College
Philip Graham Ryken has served as the president of Wheaton College in Wheaton, Illinois, since 2010. He earned degrees from Wheaton College, Westminster Theological Seminary, and a doctorate from the University of Oxford. Ryken was the senior minister of Philadelphia's Tenth Presbyterian Church for nearly 15 years before becoming the president of Wheaton College. He has been ordained as a teaching elder in the Presbyterian Church in America. Ryken has authored over 30 books, including several volumes in the Preaching the Word Collection, Written in Stone, and Discovering God in Stories from the Bible.

From drone warfare to gay marriage, the modern world is full of ethical conundrums stemming from amazing technological advances and dramatic cultural shifts. Challenging the relativism common to our society today, C. Ben Mitchell helps us thoughtfully engage our morally confused world in this introduction to ethics from a distinctly Christian perspective. Drawing on insights from key historical figures and modern Christian ethicists such as Stanley Hauerwas and N. T. Wright, this book will help you embrace a holistic approach to moral reasoning that is founded on Scripture and informed by history.
I cannot think of a subject more important to this generation than ethics; and no person better to treat it than C. Ben Mitchell. I'm very happy to recommend this welcome and important volume.
—Eric Metaxas, New York Times best-selling author, Bonhoeffer: Pastor, Martyr, Prophet, Spy
In a world filled with test tube babies, living wills, and drone warfare, Christian ethics can seem like quicksilver, with positions irrelevant almost as soon as they are articulated due to fast-changing circumstances. This book demonstrates why and how every believer is called to Christ-conformed ethical reasoning. C. Ben Mitchell, one of the most significant Christian ethicists of our age, shares C. S. Lewis's gift for communicating complex issues in easily understood terms. This book brims with insight that transcends the ethical squabbles of any given moment. Most importantly, this book shows us how to be moral without surrendering to mere moralism by rooting and grounding our ethics in the gospel that saves.
—Russell D. Moore, president, The Ethics & Religious Liberty Commission
C. Ben Mitchell holds the Graves Chair of Moral Philosophy at Union University in Tennessee, and serves as the editor of Ethics & Medicine: An International Journal of Bioethics. He is a senior fellow in the Academy of Fellows of the Center for Bioethics & Human Dignity and previously served as its executive director. He's also served as a faculty member at Trinity International University. He is the author of numerous scholarly articles examining the intersection of science and ethics, and he has contributed to several books.

In The Great Tradition of Christian Thinking, David Dockery and Timothy George make a compelling case for the role of the Christian intellectual tradition in a serious liberal arts education. Surveying the long-standing history of Christian thinkers—from the Apostles to the Reformers to the twenty-first century's greatest theologians—this book introduces readers to the distinctive way that Christians through the years have read the Bible, formulated doctrine, provided education, and engaged the culture.
David Dockery and Timothy George are among the preeminent Christian intellectuals of the current age. This book demonstrates why. The volume courses with biblical conviction, evangelical vitality, and a breadth that interacts with the great cloud of witnesses from every place and era of the church of Jesus Christ. I commend this book heartily to students, professors, and church leaders.
—Russell D. Moore, president, The Ethics & Religious Liberty Commission
David Dockery and Timothy George are veterans of long and distinguished service in both church and academy. The wisdom they bring to their recommendation of the Christian intellectual tradition is biblical, seasoned, experienced, trustworthy, and encouraging. It is a book to enjoy both in itself and as a welcome guide to much, much more.
—Mark A. Noll, Francis A. McAnaney Professor of History, University of Notre Dame
David S. Dockery is president and professor of Christian Studies at Union University. He has written and contributed to many articles and books. He is the founding editor of the Criswell Theological Review and the general editor of the Holman Concise Bible Commentary found in the Holman Reference Collection (11 Vols.).
Timothy George is dean of Beeson Divinity School at Samford University in Birmingham, Alabama, and an executive editor of Christianity Today. George has written and edited more than 20 books including The New American Commentary: Galatians.

An excellent liberal arts education holds purpose-giving and society-shaping power. But how do we make the most of liberal learning for the glory of God? Professor Gene Fant teaches how to maximize a liberal arts education by outlining its history, criticisms, purposes, and benefits. Ultimately, he shows that liberal learning equips us to become spiritually and intellectually empathetic people who are passionate about serving God, the church, and the world.
Attention! The liberal arts are for everyone, especially Christians. They introduce us to all the personal dimensions that encompass our lives from beginning to end. But how is this so since so much of the liberal arts seem foreign to us as Christians? Begin with this book and find the answer. Then live out a rich life of knowledge and appreciation of what makes every life worth living.
—James W. Sire, author, The Universe Next Door and A Little Primer on Humble Apologetics
Gene C. Fant Jr. teaches literature at Union University, where he is vice president for academic administration. A prolific writer, he has earned degrees in Renaissance literature, biblical studies, English, anthropology, and education.

Enjoying poetry and novels can seem irrelevant and out of touch in a world of texting, tweeting, and blogging. But in this technological age, literature matters. Seasoned professor Louis Markos invites us into the great literary conversation that has been taking place throughout the ages and illuminates the wisdom to be found therein. He offers both a guide to studying and understanding literature (especially poetry), and an inspiring look at what it means to think like poets and view the world through literary eyes. This book holds out a truth for all: that the understanding and appreciation of literature draws us closer to God, his Word, and his work in the world.
Louis Markos not only possesses the wisdom of C. S. Lewis but also Lewis's uncanny ability to put complex ideas into a succinct and simple language that is accessible to everyone. Such a gift is invaluable to the writing of a student's guide to literature. Markos takes his readers through the principles and ages of literature on a tour of discovery that is also a tour de force. The wise and prudent student will read it avidly and then keep it near at hand as a constant companion and guide—a literary friend upon whom the student can always rely.
—Joseph Pearce, writer in residence and associate professor of literature, Ave Maria University
Louis Markos has produced an insightful digest of the most crucially important issues confronting the serious student of literature. All the tools for study are here, as well as an analytic account of literary commentary from Plato on up to the present day. Written from a frankly Christian point of view, the study reveals how essentially religious—until fairly recently—the Western literary tradition has been. Not only students will benefit from this learned and perceptive overview, but mature scholars of the discipline will also find The Student's Guide a helpful and clarifying aid.
—Louise Cowan, professor of literature, University of Dallas
Louis Markos is professor of English and Honors, and scholar-in-residence at Houston Baptist University, where he holds the Robert H. Ray Chair in Humanities. He holds a PhD from the University of Michigan.

Philosophy pervades every sphere of life, from the defense of the gospel, to the formulation of Christian doctrine, to the daily decisions we make. In this work, distinguished professor David Naugle gives us a firm understanding of basic issues, thinkers, and sub-disciplines in the field of philosophy. He also offers an invitation to engage with the contemporary challenges therein. He discusses the importance of prolegomena—assumptions and methods—and the vocation of Christian philosophers. Naugle outlines the differences between Hebrew and Greek mindsets, and provides biblical perspectives through an Augustinian approach. Above all, Naugle teaches us how to philosophize in light of God and the gospel.
A very readable, theologically sensitive treatment of crucial philosophical issues of central concern to the Christian faith. Dr. Naugle has done a first-rate job of covering a wide range of issues in a responsible way, while keeping the level of discourse at a truly introductory level. This book fills a needed gap in the literature, and I am delighted to endorse it.
—J. P. Moreland, distinguished professor of philosophy, Biola University
This fine book not only makes important explorations in Christian philosophy accessible to those who may be starting out on their intellectual journey; it also offers insights to those of us who are well along in that pilgrimage. Dr. Naugle combines solid scholarship with a firm grasp of how a biblical worldview can help to reclaim a strong Christian intellectual tradition in these confusing—but exciting—times.
—Richard J. Mouw, president and professor of Christian Philosophy, Fuller Theological Seminary
David Naugle is distinguished university professor and chair of philosophy at Dallas Baptist University. He is the author of Worldview: The History of a Concept, which was Christianity Today's Book of the Year in Theology and Ethics, 2003. He holds a ThD from Dallas Theological Seminary and a PhD from University of Texas, Arlington.

Politics affect everyone everywhere. Yet most people do not know how to communicate or think methodically—much less unemotionally—about the issues at hand. We need to ground our thinking in the basic framework of order, freedom, justice, and equality. Award-winning professor Hunter Baker helps political amateurs gain a foundational understanding of the subject and encourages seasoned political observers to find a fresh perspective in this book. Learn how to fruitfully consider and discuss politics, and gain a greater capacity for evaluating political proposals and the claims that go with them.
Political Thought is a wonderful introduction to the study of politics. Hunter Baker writes as a true teacher, offering not only rigor and clarity but also a personal touch. He shows his reader that the study of political thought is not just an abstract exercise for dreary academics, but an application of practical reason to the question of how we are to live together in freedom and order to advance the common good. While introducing the student to the greatest political philosophers in history, Professor Baker takes great care in showing the indelible marks these thinkers have left on our civilization, and how they, for good or ill, have shaped the way Christians should critically assess their place in civil society and its political institutions.
—Francis J. Beckwith, professor of philosophy and church-state studies, Baylor University
What is the purpose of politics? How should we order our lives together? In lively and engaging prose, Hunter Baker surveys the answers that great thinkers have given to these enduring questions. His book is an excellent, accessible introduction to the fundamental themes of political discourse—and to why these matter for the rising generation.
—George H. Nash, author, The Conservative Intellectual Movement in America Since 1945
Hunter Baker is associate dean of arts and sciences at Union University and has written for a wide variety of publications including Christianity Today. He is the winner of the 2011 Michael Novak Award given by the Acton Institute for outstanding scholarly research on the relationship between religion, economic freedom, and the free and virtuous society. He holds a PhD from Baylor University and a JD from the University of Houston.
More details about these resources