Select Studies in Martin Luther's Life and Influence, Part 2 (14 vols.)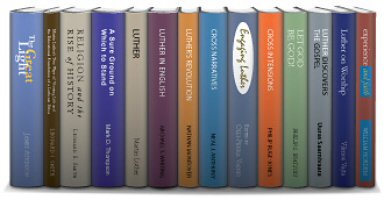 Select Studies in Martin Luther's Life and Influence, Part 2 (14 vols.)
•
Runs on Windows, Mac and mobile.
Overview
In Part Two of this collection, you will find a varied compilation of perspectives on monk, priest, professor, reformer, husband, and father: Martin Luther. Explore Luther's political writings, his views on worship, and his approach to Scripture. Immerse yourself in new assessments of his theology, and learn about his transition from medieval Catholicism. Read a selection of Luther's political writings, and explore his thought in relation to historicism, German cultural revolution, the English Reformation, and much more.
The Logos edition of the Select Studies in Martin Luther's Life and Influence is designed to encourage and stimulate your study. These fully indexed texts enable near-instant search results for words, people, places, and ideas, while Scripture references appear on mouseover in your preferred translation. Find what other authors, scholars, and theologians have to say about Luther, the Protestant Reformation, Christian liberty, and much more. With the most efficient and comprehensive research tools all in one place, you can expand your study with just a few clicks. And with Logos tablet and mobile apps, you can take your study wherever you go.
Key Features
Provides multi-faceted insights on Martin Luther's life and works
Includes a variety of perspectives and methodological approaches
Analyzes Luther's political thought
Product Details
Title: Select Studies in Martin Luther's Life and Influence, Part 2
Publisher: Wipf & Stock
Volumes: 14
Pages: 3,318
Individual Titles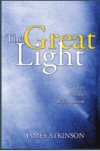 More than 450 years have passed since Luther's definitive protest at Wittenberg. In this volume, James Atkinson contends the Reformation is Luther, and Luther is the Reformation. Thus, the acid test of any work on this period is whether the author understands and effectively communicates the fundamental concerns of the Reformation's figurehead. Atkinson sets up a framework with which we may survey and assess the other men and movements of the period. From Luther, Atkinson moves to Zwingli and the Swiss Reformation, to Calvin and the establishment of Protestantism, to the Reformation in Britain under the Tudors, and finally to the beginnings of the discontent that boiled over in the British Puritan revolt of the seventeenth century.
James Atkinson was formerly professor of biblical studies at Sheffield University. He was the founder and director of Sheffield's center of Reformation studies. He also served as president of the Society for the Study of Theology, and special professor in Reformation theology at Nottingham University from 1994–2002.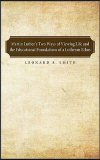 This essay asserts that Luther's "at-the-same-time," simul, or paradoxical way of viewing life, does not capture Luther's thought as a whole, or his way of viewing life based on the power of the word and the spirit of God. Smith argues that the best way to capture Luther's "second" basic way of thinking and of viewing life is through the connected prepositions "in, with, and under." This second basic way was based primarily on the gospel of John and its prologue, which shows how God is acting, creating, and redeeming, and how Jesus is "the Word become flesh." Smith argues that understanding both of Luther's ways of viewing life is helpful for understanding Lutheran education and "a Lutheran ethos" since the sixteenth century. This short text can easily be used as a supplementary reading for a class, seminary, or group discussion.
Leonard Smith is a superb scholar of German intellectual history. He has used his work on the German Enlightenment and later periods to add a new dimension to the thinking about the sixteenth-century scholar and reformer, Martin Luther. In particular, Smith argues that Martin Luther's paradoxical way of thinking and his deep mysticism culminates in the idea that there is a special "Lutheran Ethos," one that is related to all areas of life, education, vocation, civil and political life.
—Richard G. Cole, emeritus professor of history, Luther College
Luther's influence continues as a remarkable source of continuous relevance. Smith uncovers yet another dimension. I am grateful for his work.
—Larry Rasmussen, Reinhold Niebuhr Professor Emeritus of Social Ethics, Union Theological Seminary
Some important ideas lie buried just below the surface of intellectual history; obvious to one generation, they become invisible to the next. Leonard Smith's roots, which reach unusually deeply into German intellectual and cultural life, help him lay bare the most basic epistemological and hermeneutical (and indeed spiritual) assumptions of the founders of modern German history and theology. To hear these thinkers anew, embedded in the Lutheran context they shared, is to hear them fully for the first time since their own era.
—R. Guy Erwin, Gerhard & Olga J. Belgum Professor of Lutheran Confessional Theology, California Lutheran University
Smith offers a penetrating study of Luther's central insights with an eye on its implications for the cultural role of morality-a fascinating sequence to his Religion and the Rise of History.
—Eric W. Gritsch, emeritus professor of church history, Gettysburg Lutheran Seminary
Leonard S. Smith is emeritus professor of history, California Lutheran University, Thousand Oaks, California.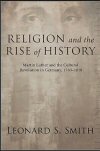 Religion and the Rise of History: Martin Luther and the Cultural Revolution in Germany, 1760–1810
Author: Leonard S. Smith
Publisher: Wipf & Stock
Publication Date: 2009
Pages: 306
This intellectual history applies the ideal-type, or model-building methodology of Otto Hintze (1861–1940) to Western historical thought. Religion and the Rise of History suggests that, in addition to his paradoxical, simul, "at-the-same-time," way of thinking and viewing life, Martin Luther also held to a way that was deeply incarnational, dynamic, and "in-with-and-under." Smith argues that this dual vision and "Lutheran ethos" strongly influenced Leibniz, Hamann, and Herder, and was integral to the rise of a modern form of historical consciousness—commonly called "historicism"—in Protestant Germany.
Leonard Smith's book is, in its origins and goals, a deeply pedagogical work. He addresses a central problem in the history of eighteenth-century German and European thought, the emergence of a new, evolutionary view of history called "historicism." Enabled by Luther's incarnational theology, historicism received its first formulation, Smith argues, from Leibniz and his successors and achieved its public place in the new University of Berlin (est. 1810). This book is a splendid marriage of classical themes with new and original insights. Everyone interested in the evolution of European historical thought should read it.
—Thomas A. Brady Jr., University of California, Berkeley
This book breaks new ground in showing how Martin Luther shaped the philosophical pioneers of a new worldview based upon the study of history. A textbook for minds curious about a philosophy of history.
—Eric W. Gritsch, Gettysburg Lutheran Seminary
A wide-ranging intellectual history of the emergence in Germany of a modern historical consciousness. Smith argues that a Lutheran ethos was especially conducive to this development, as it was transmitted through the use of Luther's Small Catechism and generations of pastors and teachers. Key figures in this transmission include Leibniz and Hamann, leading to its flowering in Ranke and further elaboration by Hintze and Meinecke in the nineteenth and twentieth centuries. Provocative and engaging.
—Dale A. Johnson, Buffington Professor of Church History, emeritus, Vanderbilt University
Leonard S. Smith is emeritus professor of history, California Lutheran University, Thousand Oaks, California.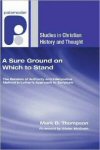 A Sure Ground on Which to Stand: The Relation of Authority and Interpretive Method in Luther's Approach to Scripture
Author: Mark D. Thompson
Publisher: Wipf & Stock
Publication Date: 2007
Pages: 362
This study from Mark Thompson examines Luther's most significant comments on the nature and use of Scripture, locating each in its literary and historical context. Thompson explores a series of connections in Luther's thought, analyzing his scattered statements in terms of four categories reflected in his own terminology: inspiration (inspiratio), unity (tota scriptura), clarity (claritas scripturae), and sufficiency (sola scriptura). Thompson seeks to identify the elements that enable Luther to move with confidence between his statements about the authority of Scripture and his interpretive method.
Mark Thompson forcefully appeals, against different modernizings of the German Reformer, that we "let Luther be Luther" on the doctrine of Scripture itself—its inspiration, unity, clarity, and sufficiency. Luther turns out to be less an anticipation of a modern biblical critic and more a conservative in the lineage of the Fathers and medievals. This is an important corrective interpretation, not least because Luther deployed the Word with such vibrant power. The recovery of the latter in the contemporary church may depend on recapturing the Luther-like confidence in handling Scripture.
—David F. Wright, University of Edinburgh
Nothing is more important for understanding Martin Luther than a grasp of his approach to the Holy Scriptures on which he based his faith and doctrine. In this illuminating study Mark Thompson explains the many different ways in which Luther approached the biblical text and reveals a man whose understanding of God's Word defies simplistic analysis. In the process he engages with modern Lutherans who have so often appropriated some parts of Luther's legacy but ignored others. This book will be essential reading for everyone with a serious interest in Luther and in the gospel which he proclaimed.
—Gerald Bray, Beeson Divinity School
Mark D. Thompson is principal and head of the department of theology, philosophy, and ethics at Moore College. He became a priest in the Anglican Church of Australia in 1987, and received his PhD in philosophy from Oxford in 1997.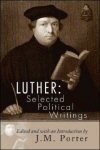 Luther: Selected Political Writings
Author: Martin Luther
Editor: J. M. Porter
Publisher: Wipf & Stock
Publication Date: 2003
Pages: 160
In this text, political scientist J. M. Porter, presents revealing selections from nine of Luther's important writings. Porter compiles excerpts from Luther's writings which shaped the Reformation and continue to influence the course of events in our time. They illustrate Luther's innovative ideas about the nature of temporal authority, political obligation and its limits, church-state relations, and political resistance. These selections reveal the complexity of the reformer's thinking, its theological base, and the situational focus of his political utterances. Porter also provides a helpful introduction in which he clarifies the meaning and implications of Luther's famous "two kingdoms" theory, whereby the state is freed both from domination by the church, and from the temptation to dominate the conscience of its citizens.
J. M. Porter taught political science at the University of Saskatchewan in Saskatoon, Canada.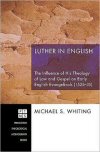 Recent studies have increasingly downplayed, and in a few cases even wholly denied, the influence of Martin Luther's theology of Law and Gospel on early English evangelicals such as William Tyndale. The impact of a late medieval Augustinian renaissance, Erasmian Humanism, the Reformed tradition, and Lollardy have all but eclipsed the more central role once attributed to Luther. In this text Michael Whiting examines these claims with a thorough reevaluation of Luther's theology of Law and Gospel in its historical context—spanning twenty-five years, something entirely lacking in all previous studies. Using extensive research of primary sources, paying acute attention to the larger historical narrative, and remaining in dialogue with secondary scholarship, Whiting argues that scholars have often oversimplified Luther's theology of Law and Gospel. His argument continues that scholars have thus wrongly diminished Luther's very significant, even principal, influence upon first-generation evangelicals William Tyndale, John Frith, and Robert Barnes during the English Reformation of the 1520s and 1530s.
Martin Luther, the theological giant of the sixteenth century, has almost been written out of the English Reformation. Whiting's book restores him to his proper place, not least by showing that Luther's early English interpreters often understood his paradoxical theology better than modern commentators have done. He reminds us of what we should always have known: that a Reformation without Luther is simply unimaginable.
—Alec Ryrie, Durham University
Whiting's fresh look at the works of three of the most significant inaugurators of the Protestant Reformation in English casts aside the prejudices of the previous generation of scholars and thus opens a new discussion of how the earliest English reformers read and digested Luther's core insights within the framework of his distinction of law and gospel.. . . This book will command attention from the coming generation of interpreters of the Reformation in the wider European context and specifically in England.
—Robert Kolb, Concordia Seminary, Saint Louis, Missouri
This excellent study shows how Luther's theology of Law and Gospel greatly influenced the work of Tyndale, Frith, and Barnes. It examines the concept of the Tertius Usus Legis and traces its development in Luther's own work. Michael Whiting has produced an extremely comprehensive, persuasive, and well-informed study, a high quality work which amply justifies careful attention.
—George Newlands, University of Glasgow
Michael S. Whiting has taught history of Christianity and the Reformation at Wheaton College and earned his PhD with his thesis: Luther in English.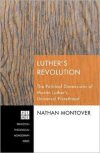 In this volume Nathan Montover discusses how Luther's universal priesthood is, in part, a radical political doctrine that constitutes a revolutionary strain in Luther's thinking. Luther's political understanding of the universal priesthood posed a challenge to the concrete structures of his day, which were built upon a cosmological foundation that came under attack as a result of the Protestant Reformation. Thus, as Montover argues in this text, Luther's universal priesthood was not simply another evangelical concept that dealt with the office of ministry. It also served as the means for reordering the concept of temporal authority and the temporal order.
In Luther's Revolution, Montover presents a creative, compelling explication of the universal scope of Luther's vision of the 'priesthood of all believers,' for in living out their new life in Christ, both structures of the church and the world will be transformed. The author's use of Luther's 1520 treatise 'To the German Nobility of the German Nation Concerning the Betterment of the Christian Estate' offers a promising model for fruitful engagement of Luther's evangelical theology in the twenty-first century.
—Winston D. Persaud, author of The Theology of the Cross and Marx's Anthropology
Luther's Revolution is a provocative and evocative challenge to those who view Luther as someone who distanced himself from revolutionary politics. Montover offers a compelling and well-documented reading of the political implications of the early Luther's foray into the caste system of the medieval church's conception of the priesthood. His contention is that Luther's call for the universal priesthood of all believers entails not only an ecclesial reformation but a conscientious yet radical subversion of dominant territorial politics and entitlements of the time.
—Vítor Westhelle, author of The Scandalous God
In this careful analysis of Martin Luther's 'To the Christian Nobility of the German Nation,' Nathan Montover affirms the traditional scholarly opinion that the doctrine of the universal priesthood has crucial implications for ecclesiology and the doctrine of ministry. However, he also demonstrates convincingly that Luther addressed the political realm and temporal authority in strategic ways in light of this doctrine. Luther is, therefore, presented as a creative political as well as ecclesiastical and theological reformer.
—Kurt K. Hendel, Bernard, Fischer, Westberg Distinguished Ministry Professor of Reformation History, Lutheran School of Theology at Chicago Lutheran School of Theology at Chicago
How was it possible that a man deemed outlaw by the empire and heretic by the papacy could over time become portrayed as a political conservative? Nathan Montover deftly probes the silences in and conventions of Luther research to unveil an alternative figure. Luther's concept of the universal priesthood of all believers, based on careful analysis of his writings, coheres best with a frontal assault on the pope's claims to temporal authority and the dismantling of late medieval political cosmology. Luther emerges from this excellent study as a thoroughly political, prophetic, and revolutionary Christian engaged in the struggle for liberation, drawing radical political consequences from foundational theological claims.
—Craig L. Nessan, author of Shalom Church and Beyond Maintenance to Mission
Nathan Montover serves as pastor at St. James Lutheran Church in Bettendorf, Iowa. He also teaches religion at Augustana College in Rock Island, Illinois, and is adjunct instructor of Reformation studies at Wartburg Theological Seminary in Dubuque, Iowa.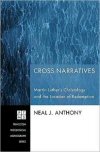 In this text Neal Anthony examines Luther's radical interpretation of the two natures of Christ, and the ubiquitous presence of the humanity of Christ as a fundamental expression of that same theology. This expression of Luther's theology of the cross, Anthony asserts, elaborates fully on an important and creative corrective with reference to recent signal expressions of the theology of the cross. As contemporary theologians of the cross have articulated—most notably Douglas John Hall and the late Alan E. Lewis—the theology of the cross is pre-eminently a theology of redemption from within ("within-redemption"). In the process of outlining and analyzing these theologies of within-redemption, Anthony exposes an impasse created by these theologies, regarding the relationship of within-redemption to individual human narratives. Anthony contends that only through Luther's radical interpretation of the two natures of Christ can complete within-redemption can be expressed. Anthony also evaluates the christology of Karl Barth from the perspective of his findings. This text is an innovative and fresh application of Luther's christology, placing it at the cutting edge of contemporary discussions regarding the theology of the cross and its within-redemption.
In this incisive and creative study, Anthony explores Luther's, Hall's, and Lewis's theologies of the cross and argues convincingly that Luther's incarnational focus and affirmation of the third mode enable contemporary theologians of the cross to offer the world a powerful theology of hope that both takes seriously the totality and particularity of human experience and celebrates the ongoing nature of God's 'within redemption.'
—Kurt K. Hendel, Bernard, Fischer, Westberg Distinguished Ministry Professor of Reformation History, Lutheran School of Theology at Chicago
Any theologian who is willing to pay attention to Martin Luther on Christ's Presence is by necessity exciting. Especially when that theologian takes seriously the ubiquitous presence of the crucified Christ to his sinners that concerns not Christ's presence to us, but ours to him. Neal Anthony's theological exploration is indeed exciting. Read freely.
—Steven D. Paulson, professor of systematic theology, Luther Seminary, St. Paul, Minnesota
Knowledgeable when it comes to Luther, Barth, and other significant theologians; creative when it comes to traditional topics of Christian doctrine; faithful when it comes to the relevance of research and teaching for ministry; challenging when it comes to the reader's own reflection.
—Antje Jackelén, Bishop of Lund, Church of Sweden
Neal J. Anthony is an ordained pastor in the Evangelical Lutheran Church in America, currently serving in Nebraska. He received his PhD in theology at Lutheran School of Theology at Chicago in 2008, and has taught at Midland Lutheran College.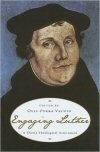 This volume compiles articles written by scholars affiliated with the project known as "the New Finnish Interpretation of Luther." Topics of study include Luther's theological anthropology, christology, Trinity, sacraments, faith, theology of the cross, the virgin Mary, sexuality, music, and the spiritual reading of the holy Scriptures. Included studies explore the ways Luther remains a fully Catholic and genuinely Augustinian theologian, how he could be a representative of classical Christianity, how Luther's theology fits in dialogue with currents like communitarianism or Radical Orthodoxy, and much more.
This compelling volume continues the ground-breaking project known as the 'new Finnish interpretation of Luther.' It is the contention of this movement that, for Luther, union with Christ in faith necessarily entails active and robust participation in God's own life. Building upon the reformer's unique vision, at once evangelical and catholic, this book offers powerful contributions to contemporary theology and renewed sustenance for ecumenical advances. Highly recommended.
—Thomas G. Guarino, Seton Hall University
For over twenty years a remarkable group of Finnish scholars has been offering a new interpretation of Luther's theology. Here for the first time in English these theologians give us not only a presentation of their challenging approach to Luther research, but a splendid introduction to Luther's theology as a whole. Beginners and experts alike will find much to ponder in the Luther who speaks from these pages.
—Bruce Marshall, Perkins School of Theology, Southern Methodist University
Olli-Pekka Vainio is adjunct professor of ecumenical theology at the University of Helsinki, and a member of the Center for Theological Inquiry, Princeton. He is the author of Justification and Participation in Christ and Beyond Fideism: Negotiable Religious Identities.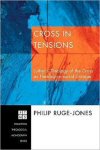 In this text, Philip Ruge-Jones maps the power relationships that Luther's theology addressed and turns to specific works that challenge established structures of his world. Ruge-Jones explores how Luther's Latin texts undermine the ideological assumptions and presumptions that bolstered an opulent church and empire, how Luther uses the cross of Christ to challenge what he called volatilem cogitatum, "knowledge that is prone to violence." Ruge-Jones also discusses how Luther's German writings—directed to a broader, more popular audience—focus this critique of human pretensions into an attack on systems of wealth, status, and power that refuse to look with compassion upon the many domestic servants of Germany. Finally, analyzing his popular pamphlets, Ruge-Jones highlights how the visual images show, with graphic specificity, that throughout his life Christ sought out solidarity with the least—contrasting brutally with images of a church consumed with acquiring wealth, political influence, military power, and status.
Candor and precision conjoined with a lucid exposition of complex historical arguments is what the reader will be treated to in Philip Ruge-Jones' Cross in Tensions. The book engages the development of the early Luther's theology of the cross and its various interpretations with poignant care for the pain of the world while being in compassionate and hopeful solidarity with those who, moved and shaken, endure the cross in all its tensions, gruesomeness, and intentions.
—Vítor Westhelle, author of The Scandalous God
Philip Ruge-Jones makes an interesting and thoughtful contribution to the contemporary scholarly literature on Martin Luther's theology of the cross by offering a contextually informed analysis of the Reformer's thought. . . . He places Luther's writings into their . . . contexts and clarifies the impact of those contexts on the reformer's works. . . . Ruge-Jones is not only sensitive to Luther's context, however. . . . Ruge-Jones is a Euro-North American who has lived in South America and whose theological perspectives have been profoundly impacted by Latin American Liberationist thought, particularly the notion of the preferential option of the poor. . . . He views the theology of the cross as a theology that points to the crucified Christ as God's ultimate self-revelation and that is liberating good news to the poor and marginalized. Hence, he celebrates Luther as a true theologian of the cross whenever the reformer and his writings advocate for the poor, and he criticizes Luther as a theologian of glory whenever the Reformer uses his writings to support those in power and to oppress the common people.
—Kurt K. Hendel, Bernard, Fischer, Westberg Distinguished Ministry Professor of Reformation History, Lutheran School of Theology at Chicago
Philip Ruge-Jones is associate professor of theology at Texas Lutheran University in Seguin, Texas. He is the author of The Word of the Cross in a World of Glory.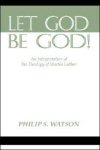 In this text Philip Watson asserts that similar to Copernicus' challenge of the notion that the sun moved around the earth, Luther challenged the teaching that mortals were at the center and that everything moved around them. Instead, Luther claimed that God is the center, and without him, humanity is nothing. Human salvation lies not in things mortals do, but in what God does. The first part of Let God Be God evaluates Luther as a theologian and points out the motif of his thought, that humanity must recognize God's will and way. The book proceeds to concentrate on three major themes in Luther: the revelation of God, the theology of the cross, and the doctrine of the Word. Those already acquainted with Luther will find this interpretation of his lectures, writings, and sermons particularly stimulating.
Philip S. Watson has served as professor of systematic theology at Garrett Theological Seminary in Evanston, Illinois.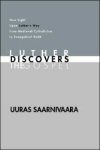 In this text, Uuras Saarnivaara examines the question: when did Luther discover the gospel of free justification and salvation, and what did this discovery mean?
Uuras Saarnivaara (1908-1998) was born in Finland, and worked in parish ministry there. He received a ThD from the University of Helsinki, as well as a PhD at the University of Chicago, where he wrote his dissertation on Luther, the text included here. Saarnivaara was a prolific author, writing books including: Scriptural Baptism, Hath God Said: Who is Right—God or the Liberals?, Armageddon—Before and After, and The Lutheran Confession and Martin Luther: Can the Bible be Trusted?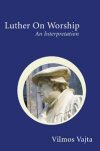 In this text, Vilmos Vajta presents a thorough study of Luther's thoughts on worship. This work provides insights interesting to Lutheran scholars, as well as engaging material relevant to Christian life and worship today.
Vilmos Vajta was the first director of the Lutheran World Federation's department of theology and later a research professor at the Institute for Ecumenical Research in Strasbourg, France. A multilingual ecumenical scholar who spent much of his career outside his native Hungary, Vajta wrote theological works in German, English, Swedish, Hungarian and French. He served as Lutheran World Federation's theology director from 1952–1963 and was on the staff of the Strasbourg Institute from 1963 until his retirement in 1981.

In Experience and Faith, William Hordern examines the intersection of faith and experience in Luther's theology, offering insights from the reformer's works that are engaging and highly relevant. Throughout this text, Hordern's analysis emphasizes the importance of understanding Luther in today's tendency towards experiential religion.
William Hordern is professor emeritus at Lutheran Theological Seminary, Saskatoon, and the author of A Layman's Guide to Protestant Theology, Speaking of God, Introduction to Theology, and Experience and Faith.