Select Studies in Martin Luther's Life and Influence, Part 1 (15 vols.)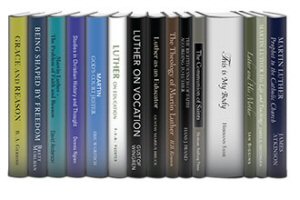 Select Studies in Martin Luther's Life and Influence, Part 1 (15 vols.)
•
Runs on Windows, Mac and mobile.
Overview
This collection features a host of perspectives on the extraordinary life and works of Martin Luther. One of the most significant individuals in Western history and a key figure in the Protestant Reformation, Luther has been both praised and vilified for what he preached and wrote. This collection offers essential texts such as Gustaf Wingren's classic, Luther on Vocation, and provides fresh insight on many aspects of Luther's life and theology. Explore his doctrine of the church, notion of Christian liberty, and beliefs about the Sacrament of Communion. Discover new research on his mother's influence in his life and see the significance of his devotional writings in a new light. Covering a rich variety of subjects within Lutheran studies, this collection enables you to deepen your understanding of Luther and the reach of his influence.
The Logos edition of the Select Studies in Martin Luther's Life and Influence is designed to encourage and stimulate your study. These fully indexed texts enable near-instant search results for words, people, places, and ideas, while Scripture references appear on mouseover in your preferred translation. Find what other authors, scholars, and theologians have to say about Luther, the Protestant Reformation, Christian liberty, and much more. With the most efficient and comprehensive research tools all in one place, you can expand your study with just a few clicks. And with Logos tablet and mobile apps, you can take your study wherever you go.
Key Features
Analyzes many aspects of Luther's life and theology
Provides fresh insights on long-standing debates within Lutheran studies
Includes examinations of Luther's thoughts on education and vocation
Individual Titles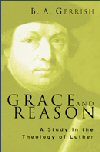 Grace and Reason: A Study in the Theology of Luther
Author: B.A. Gerrish
Publisher: Wipf & Stock
Publication Date: 2005
Pages: 200
In this volume, author B.A. Gerrish examines Luther's thoughts on human reason—reason before the Fall, reason after the Fall, and reason as it operates in a believer, the concept of ratio, and much more. Gerrish's thorough exploration sheds light on Luther's position regarding both the importance and limitations of human reason.
B.A. Gerrish is John Nuveen Professor Emeritus and professor of historical theology at the University of Chicago Divinity School.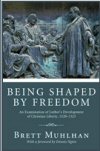 Did Luther get Christian freedom right? In this volume, author Brett James Muhlhan seeks to find the answer to this question by examination of two elements: What is Luther's understanding of Christian freedom? How did his understanding stand up under the pressure of reformation? Muhlhan explores both of these elements and contends that the sublime beauty of Luther's early understanding of Christian freedom—an understanding that empowered the German reformation—is consistently the same understanding he used to undermine papal heteronomy and refute radical legalism. Throughout this text, Muhlhan shares insight on how the relational character, cruciform substance, and complex structure of Luther's concept of freedom enabled him to speak both polemically and catechetically with a clear and authoritative clarity that reinvoked the magnificence of Christ and him crucified for sinners.
This well-researched and well-written book is a unique contribution to Luther studies. No other work so clearly and creatively demonstrates how Luther's concept of inner freedom works out in the early, difficult social situations the reformer faced. Being Shaped by Freedom is a courageous attempt to argue for and to elucidate the consistency between the reformer's practice and the indicative of reforming doctrine.
—Michael Parsons, Spurgeon's College
With clarity, precision, and insightful sensitivity, Muhlhan . . . examines how Luther's understanding of justification and freedom produces the faithful life of the believer. This refreshing analysis contributes significantly to our understanding of the holistic view of Christian righteousness fashioned by Luther's distinctions of law and gospel and of two kinds of human righteousness. This book shows how Luther's insights actually functioned in his proclamation aimed at shaping Christian consciousness and performance of God's will.
—Robert Kolb, Concordia Seminary
Brett Muhlhan displays a comprehensive knowledge of the principles and materials treated, lucidity in communicating that knowledge, and originality and independence in applying them . . . Throughout, he shows a talent for sound theological exposition, and an analytic gift to unearth the complex structure and substance of Luther's thinking . . . This monograph, a substantial study of high quality, deserves an ecumenical reception.
—From the foreword by Dennis Ngien, Tyndale Seminary
Brett James Muhlhan is postgraduate coordinator and lecturer in historical theology, systematics, and New Testament at the Perth Bible College, western Australia.

In this book, David Andersen offers a fresh re-evaluation of Luther and his understanding of the relationship between faith and reason based on a thorough engagement with Luther's mature writings. Andersen persuasively argues that, far from being either an irrationalist or a fideist, Luther stands within an empiricist tradition and that his pronouncements on fallen human reason can be understood only from that philosophical perspective. Based upon recent research into the writings of William of Ockham, who positively influenced Luther in this area, Andersen also shows that Luther can no longer be charged as a pessimist concerning human knowledge. He shows how reason has an important role to play for Luther in bringing people to faith, and the objectivity of Christ's resurrection serves as the focal point that validates all Christian discourse. Andersen's text sets forth the position that in subordinating itself to the facts of the death and resurrection of Christ for the forgiveness of sins, Luther believed reason's created function is restored to some extent, as it receives that forgiveness in the words of Holy Scripture and the visible means of Baptism and the Lord's Supper.
Luther has long been regarded, both by secular philosophers and by misguided believers, as an irrationalist. . . . A careful reading of Dr. Andersen's book will surely give the lie to all existentialisings of the Reformer. It will also demonstrate that Luther cannot be classified as one who would today replace insistence on clear thinking with post-modern refusals to allow, even in principle, the establishing of objective truth.
—John Warwick Montgomery, distinguished research professor of apologetics and Christian thought, Patrick Henry College, Virginia.
The result of this many-sided approach to the Reformer is a refreshingly positive re-evaluation of Luther's estimate of reason and of the often-reproduced portrait of Luther as fideistic and pessimistic. This new orientation also succeeds in revealing the complexity of Luther's thought, its nuances as well as its tensions, and the fact that he thinks of reason and faith on various levels. Reason is majestic, but it is to be subordinate to the will of God. It is majestic, but it is also fragmented and distorted by the Fall.
—Paul Helm, teaching fellow, philosophical theology, Regent College
David Andersen earned his PhD in philosophy and theology at Wycliffe Hall, Oxford and Coventry University. He was formerly assistant professor of philosophy and theology at Concordia University, Ann Arbor.

Luther as a Spiritual Adviser: The Interface of Theology and Piety in Luther's Devotional Writings
Author: Dennis Ngien
Publisher: Wipf & Stock
Publication Date: 2007
Pages: 206
In this volume Dennis Ngien unfolds the pastoral, not the polemical, side of the Luther, drawing on the spiritual insights he offers to people of high and low estate. These writings are devotional and catechetical in shape and intent, yet not devoid of rich theological substance, the fruit of his rigorous reflections. They are the exercises of Luther's basic calling as a theologian-pastor, and are the concrete illustrations of the interface of theology and piety. As Ngien argues, through these writings, readers are informed not only of the Reformation theology of justification, but also introduced to a distinct expression of the Christian faith in which Christ and his cross occupy the centre stage.
Reformation theology, like most if not all theology prior to the birth of the university, was done in the church, by the church, for the church. As such, it could never be separated from the pastoral context in which most of its great proponents labored. This is above all true of the great Martin Luther, and Dr. Ngien is to be thanked for an exciting and stimulating monograph on just this topic. It is my hope that this timely book will help to recover the pastoral theological importance of Luther for a new generation.
—Carl R. Trueman, professor of historical theology and church history, Westminster Theological Seminary, Philadelphia
Dennis Ngien is founder of the Centre for Mentorship and Theological Reflection and a research professor of theology at Tyndale Seminary, Toronto. He is the author of several books including Apologetic for Filioque in Medieval Theology and Interpretation of Love: God's Love and Ours.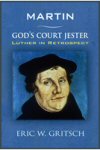 Martin—God's Court Jester: Luther in Retrospect
Author: Eric W. Gritsch
Publisher: Wipf & Stock
Publication Date: 2009
Pages: 304
In this volume, author Eric Gritsch thoroughly explores the life of Martin Luther, providing a detailed account of the course of his life. His rigorous scholarship sheds light on many facets of Luther's work, as well as the Lutheran Reformation.
Gritsch has provided us with a full-scale, one-volume biography of Luther. The work is meticulously documented and the bibliography at the end will alone warrant the price of the book
—Roland H. Bainton, former Titus Street Professor of ecclesiastical history, Yale University
This book will be an invaluable source of information for students of the Lutheran Reformation. Ecumenists will find in its pages a great resource in their efforts to deal with issues that have been church—divisive.
—Carl J. Peter, Catholic University of America
Eric W. Gritsch (PhD, Yale) is emeritus professor of church history at the Gettysburg Lutheran Seminary. He is the author of several books, including The Boy from the Burgenland: From Hitler Youth to Seminary Professor, The Wit of Martin Luther, Toxic Spirituality: Four Enduring Temptations of Christian Faith.

Originally published in 1889, this text is "an examination of all that [Luther wrote] about education" and an "attempt to arrange in . . . systematic form his educational opinions and principles." Painter's thorough study of Luther's ideas about education also includes four chapters of helpful historical introduction to the time in which Luther lived. Painter explores how Luther's writings on education are not only significant to the study of Luther himself, but also crucial to the study of educational progress, as "Luther brought about as important a reformation in education as in religion."
F.V.N. Painter was professor of modern languages at Roanoke College. He also wrote A History of Education.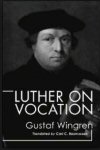 In this classic text, noted theologian Gustaf Wingren provides a comprehensive analysis of Luther's writings and teaching on the doctrine of vocation, elucidating the very practical and essential nature of Luther's thought on the complex concept of vocation.
Gustaf Wingren's conscientious analysis of Luther's teaching on the matter . . . remains our prime resource for the understanding of the relation of faith and works. Nothing could exceed the patience and thoroughness with which Wingren has combed through the Luther corpus.... [I]t will serve to put the full range of Luther's insight at the disposal of those who care for theology as part of their care of all the Churches.
—Alexander Miller, former professor of religion, Stanford University
Gustaf Wingren was a Swedish theologian, and professor of systematic theology at Lund University from 1951–1977. His other books include Creation and Law, Gospel and Church, and The Living Word.

Luther as an Educator
Author: Gustav M. Bruce
Publisher: Wipf & Stock
Publication Date: 2002
Pages: 320
Martin Luther is noted to once have remarked: "[y]ou parents can provide no better gift for your children than an education in the liberal arts. House and home burn down, but an education is easy to carry along." Well-versed in the classics, Luther frequently commended a liberal arts education, and held a position as professor of biblical literature during his life. In this text, Gustav Bruce discusses Luther in his role as an educator, illuminating his relevancy to education today.
Gustav M. Bruce is also the author of Ten Studies in Church History, Ten Studies on the Lutheran Church, The Apostolic Church, and Ten Studies on the Sunday School.

The Theology of Martin Luther
Author: H.H. Kramm
Publisher: Wipf & Stock
Publication Date: 2009
Pages: 152
Luther's ideas are puzzling to many. Catholics of various types may consider him to be the arch-Protestant; strict Protestants (including many British nonconformists) consider him to be half-Roman in outlook. His conservatism in Church order and liturgical forms may endear him to some Anglicans, while he annoys others by his insistence that neither prayer books nor ecclesiastical formularies can create Church unity but that unity of doctrine is the indispensable condition for union. In this text, H.H. Kramm sets out to interpret Luther for minister and layman alike, in an unbiased, scholarly way, while stressing Luther's importance to contemporary thought. He puts special emphasis on questions such as: What was Luther's attitude to morals and good works? Does "salvation by faith alone" mean that it is enough to hold a certain intellectual belief, no Christian life being required? What does he teach about peace and war; about Church and State, about political responsibility? What are his ideas about Church and ministry, about sacraments, about episcopacy and "apostolic succession"? Does Luther treat the Bible arbitrarily? Was he an anti-Semite, did he spread blind nationalism or racial hatred? What was his attitude to human reason, scholarship and free will? And many more.
Hans Herbert Kramm earned a Doctor of Divinity from Mansfield College, Oxford University with his thesis on Martin Luther. Originally from Germany, he came to England in the years between World War I and II as a liason officer from the Confessing Church. He also started a congregation at Oxford, made up of primarily German refugees.

The Righteousness of Faith According to Luther
Author: Hans J. Iwand
Publisher: Wipf & Stock
Publication Date: 2008
Pages: 116
Hans Joachim Iwand's 1941 monograph, The Righteousness of Faith According to Luther, is an important contribution to contemporary appreciation of Luther's theological significance. Although Iwand wrote his study three decades after the beginning of the Luther Renaissance, it nevertheless developed some of the central insights of Luther scholarship during that period. Two concepts—in particular, promise and simultaneity—are crucial to an appreciative understanding of Luther's doctrine of justification. The language of promise presents justification to the believer as a reality that has yet to arrive or is hidden under present reality. And the language of simultaneity attests that humans remain throughout their lives one in the same, sinner and saint. This beautiful translation by Randi H. Lundell makes Iwand's down-to-earth presentation of the doctrine at the heart of Luther's theology, at long last, available to English-language readers.
Though not as celebrated, Hans Joachim Iwand was once described as the greatest Lutheran theologian of the twentieth century. A close friend of Karl Barth's, Iwand tested his heritage in the fires of Barth's critique. This tempering is evident in seminal work on Luther's doctrine of justification by faith and the distinction of law and gospel. I heartily recommend this volume as a starting point in studying Iwand and hope that it is the beginning of a new interest in his legacy.
—James Nestingen, professor emeritus of church history, Luther Seminary
The appearance of this book in English is long overdue. Prior to the appearance of these essays in Lutheran Quarterly, little of Iwand had been translated into English and he was largely unknown in North America except, perhaps, from his influence on the thinking of Gerhard Forde. Hans Joachim Iwand's theological career was forged by an early and ongoing critical engagement with Barth, the necessity of confessional witness in the face of Hitler, and by a profound grasp of the heart of Luther's theology. Like Luther, Iwand's theological work is geared toward the proclamation of the righteousness of faith found only in Christ Jesus. Thus, the fundamental and critical distinction for theology is the distinction between the law and the gospel. Here Iwand is radically and refreshingly Lutheran in a way that deconstructs moralisms of the left and the right so that Christ alone is preached as the end of the law for all who believe. The Righteousness of Faith According to Luther is more than just another historical study of a Reformation theme; it is a vigorous exercise in pastoral dogmatics. Iwand teases out the nuances in Luther's distinction of the law from the gospel with provocative insights on nearly every page. This is a volume not simply for Reformation scholars but for seminarians, pastors and thoughtful laity. I look forward to using it in the classroom and beyond.
—John T. Pless, assistant professor of pastoral ministry and Missions, director of field education, Concordia Theological Seminary, Fort Wayne, Indiana
Hans J. Iwand (1899–1960), professor of theology at Gottingen and Bonn, was a prominent scholar of the Luther Renaissance. He made important contributions to the contemporary understanding of Luther's significance to theology today.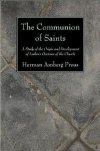 The Communion of Saints: A Study of the Origin and Development of Luther's Doctrine of the Church
Author: Herman Amberg Preus
Publisher: Wipf & Stock
Publication Date: 2008
Pages: 172
In this text, Herman Amberg Preus presents the case that Christian churches, divided and scattered over the earth, need to rediscover that there is one catholic and apostolic Church, the Communion of Saints. Growing up in a generation that struggled to find its way back to this Scriptural Doctrine of the Church, he argues that the solution is to be found in the theology of Luther and the Reformation. Preus puts forth that World Lutheranism and the Ecumenical Movement would benefit from the guidance of Luther.
Herman Amberg Preus (1825–1894) was born in Kristiansand, Norway and graduated from the University of Oslo in 1848 after studying theology. After immigrating to the United States in 1851, he became pastor of Spring Prairie Lutheran Church in Wisconsin. He became one of seven organizers of the Norwegian Evangelical Lutheran Church in America, and served as the president of the Norwegian Synod from 1862 to 1894.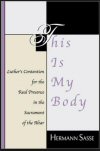 This is My Body: Luther's Contention for the Real Presence in the Sacrament of the Altar
Author: Hermann Sasse
Publisher: Wipf & Stock
Publication Date: 2001
Pages: 432
Originally published in 1959, this text from prolific author and theologian Hermann Sasse examines Luther's assertion of the real presence of Christ in the Sacrament of Communion. Sasse explores the origin of the Eucharistic Dogma in the Medieval period, Luther's foundation for his doctrine in Scripture, contention with other reformers, the ensuing conflicts, and much more.
Hermann Sasse (1895–1976) was a Lutheran theologian and author. Originally from Germany, he taught at the University of Erlangen, and was an active participant in the ecumenical movement. He also was involved in writing the Bethel Confession of 1933 with Dietrich Bonhoeffer and others. Sasse spent the latter half of his life in Australia where he was part of the faculty at the seminary of the United Evangelical Lutheran Church of Australia.

Luther and His Mother
Author: Ian Siggins
Publisher: Wipf & Stock
Publication Date: 2003
Pages: 96
In this text Ian Siggins presents a new understanding of the formative role that Martin Luther's mother played in his verbal, spiritual, and psychological development. Siggins begins with a discussion of the traditional portrait of Hanna Luder, including a review and the resolution of the debate about Hanna's maiden name. Next, he looks at a much less technical and more colorful controversy involving Luther's mother. He describes the social background and achievements of Hanna's family, and relates details of young Martin's contact with that family during his impressionable adolescent years. Siggins pays special attention to the preaching that Luther heard in the circle of his maternal relatives. Finally, he examines Luther's mature writings for traces of his mother's influence.
Ian Siggins is adjunct professor in the medical school at the Unviersity of Queensland and chief executive of Siggins Miller. He received his PhD from Yale University, and was formerly a Fulbright Scholar, and fellow of the National Endowment for the Humanities. He taught for many years at Harvard and Yale Universities.

Martin Luther: His Life and Teachings
Author: James A. Nestingen
Publisher: Wipf & Stock
Publication Date: 2004
Pages: 80
This book offers a fundamental analysis of Luther's life and theological witness. Writing in an accessible style, Nestingen introduces the reader to many facets of Luther's background and the influences upon him. This simple, straightforward guidebook to Luther also features a discussion of his "Small Catechism" with each part of the catechelical text preceded by interpretive comments and a description of the context in which it was written. An afterword illustrates points of tension between Luther and the contemporary world.
James A. Nestingen is professor of church history at Luther Seminary, St. Paul, MN. Nestingen has many published works and lectures on Luther's catechisms and confessional Lutheran theology. He is also the author of Martin Luther: A Life, Manger in the Mountains, The Faith We Hold.

Martin Luther: Prophet to the Catholic Church
Author: James Atkinson
Publisher: Wipf & Stock
Publication Date: 2004
Pages: 226
Written in the five-hundredth year after the birth of Luther, James Atkinson argues that the time is ripe for a completion of Luther's work, a fulfillment of Reformation goals—a reunified, truly catholic Church. In this provocative text, he contends that changes in Roman Catholic theology since the sixteenth century have brought it very nearly to the point that Luther wished it to attain. He goes on to argue that the crucially important reforms initiated by the Second Vatican Council in 1965 indicate a new spirit of ecumenical openness to a rapprochement with the separated brethren of the Protestant denominations. The first part of this book offers a brief historical survey of Catholic perspectives on Luther from 1517 to the present. In the second, Atkinson delves more deeply into the main points of doctrinal contention between Catholics and Protestants, and suggests that the gap between the two is no longer so large as to preclude its being bridged in a spirit of fellowship in faith.
A useful survey of the history of Catholic Luther scholarship . . . Atkinson's vigorous evangelical argument that Luther belongs to the whole Church catholic as a prophetic reformer . . . is indeed salutary.
—Carter Lindberg, professor emeritus, Boston University
James Atkinson was formerly professor of biblical studies at Sheffield University and the founder-director of its center for Reformation studies. He also served as president of the Society for the Study of Theology, and special professor in Reformation theology at Nottingham University from 1994–2002.