Wipf & Stock Philosophy and Apologetics Collection (5 vols.)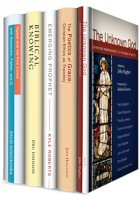 Wipf & Stock Philosophy and Apologetics Collection (5 vols.)
•
Runs on Windows, Mac and mobile.
Overview
This multifaceted collection is a valuable resource for the thoughtful investigation of current topics in Christian philosophy, ethics, and apologetics. Agape and the Four Loves with Nietzsche, Father, and Q presents a compelling study of the concept of agape in Western philosophical history. In Biblical Knowing: A Scriptural Epistemology of Error, Dru Johnson provides an attentive analysis of biblical approaches to human knowledge. In Emerging Prophet: Kierkegaard and the Postmodern People of God, Kyle Roberts traces the intersections of Søren Kierkegaard's philosophy and emergent Christianity. Jeph Holloway's The Poetics of Grace seeks to answer "What is God doing about evil?"—drawing from Paul's Letter to the Ephesians, he offers a faithful work on Christian ethics. The Unknown God: Sermons Responding to the New Atheists offers an insightful collection of essays addressing the contemporary phenomenon of New Atheism. These studies offer unique insights and perspectives on timely issues.
In the Logos editions, these volumes are enhanced by amazing functionality. Scripture citations link directly to English translations, and important terms link to dictionaries, encyclopedias, and a wealth of other resources in your digital library. Perform powerful searches to find exactly what you are looking for. Tablet and mobile apps let you take the discussion with you. With Logos Bible Software, the most efficient and comprehensive research tools are in one place, so you get the most out of your study.
Key Features
Five volumes on philosophy, ethics, and apologetics
Recent works on important topics in Christianity
Numerous philosophical ideas and questions to engage the reader
Individual Titles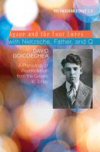 Agape and the Four Loves with Nietzsche, Father, and Q: A Physiology of Reconciliation from the Greeks to Today
Author: David Goicoechea
Publisher: Wipf & Stock
Publication Date: 2013
Pages: 382
Goicoechea explains Nietzsche's thesis that the agapeic love of Jesus is humankind's highest affirmation. Prior to Q scholars—the researchers who study and attempt to reconstruct the supposed source of the content common to Matthew and Luke, but not present in Mark—Nietzsche saw this love as the essence of the Sermon on the Mount and based his philosophy upon it. Throughout the Catholic tradition agape fulfilled the affection of Empedocles, the eros of Plato, the friendship of Aristotle, and the agape of Plotinus. While, as Anders Nygren shows, modernists protested such syntheses, now postmodernists once again let agape and the four loves contribute to one another.
In this work, David Goicoechea gives us an exhilarating exploration of the role of the father in the lives of Christ and Nietzsche, as well as in his own life.
—Tim Madigan, associate professor of philosophy, St. John Fisher College
David Goicoechea offers us a personal tour through his life and the life of agape in Western philosophical thought. This book is both a confession of love and a working out of the problem of love, in sometimes inspiring and sometimes controversial ways. We can agree or disagree with him, but we certainly cannot avoid being engaged by him.
—David Galston, chaplain, Brock University
David Goicoechea is professor emeritus of philosophy at Brock University, St. Catharines, Ontario. He has published widely in the areas of philosophy of love, existentialism, philosophy of religion, postmodernism, and the history of philosophy.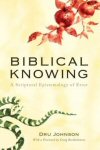 Biblical Knowing: A Scriptural Epistemology of Error
Author: Dru Johnson
Publisher: Wipf & Stock
Publication Date: 2013
Pages: 264
Through themes like the knowledge of good and evil, knowing God, and the emphasis of developing Israel into a "wise and discerning people," Scripture clearly stresses human knowledge and the consequences of error. We, too, long for confidence in our understanding, the assurance that our most basic knowledge is not ultimately incorrect. Biblical Knowing assesses what Israel knew, but more importantly, how Israel was meant to know—introducing a comprehensive Scriptural epistemology, firmly rooted in the Scripture's own presentation of important epistemological events in the story of Israel. Because modern philosophy has also made authoritative claims about knowledge, Biblical Knowing engages contemporary academic views of knowledge. These views include Reformed epistemology, scientific epistemology, virtue epistemology, and recent philosophical method. This text assesses them for points of fitting with or departing from Scripture's own epistemology. Additionally, Biblical Knowing explores what proper knowing looks like in the task of theology itself, in the teaching and preaching of the church, and in the context of counseling.
Dru Johnson attends carefully to Scripture to elucidate the dimensions of human knowing it exemplifies throughout. He compares biblical knowing favorably with scientific epistemology in a Polanyian vein, and he contrasts it with the myopic preoccupation with propositions in Anglo-American analytic philosophy. Johnson taps his multidisciplinary expertise to bring Christian scholars a valuable study that itself calls us to listening and participation in order to see a broader reality.
—Esther L. Meek, associate professor of philosophy, Geneva College
Dru Johnson's Biblical Knowing is a superb introduction to the latest currents in scholarship seeking to elucidate the philosophical content of Scripture. Johnson focuses on biblical approaches to human knowledge, arguing that Scripture shies away from propositional affirmations in favor of phenomenal experience as constitutive of knowledge. In doing so he defends rigor and clarity as biblical values, but boldly insists that these can be no less present in biblical stories about gaining knowledge than in the discursive arguments of later traditions. This is an excellent work that deserves careful attention, opening up new horizons in both philosophy and biblical studies.
—Yoram Hazony, author, The Philosophy of Hebrew Scripture
Dru Johnson is assistant professor of biblical studies at The King's College in New York City. He is also the Templeton Associate Research Fellow in analytic theology at the Institute for Advanced Studies at the Shalem Center in Jerusalem, Israel.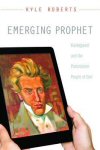 Emerging Prophet: Kierkegaard and the Postmodern People of God
Author: Kyle Roberts
Publisher: Wipf & Stock
Publication Date: 2013
Pages: 176
Philosopher Søren Kierkegaard critiqued "Christendom" as a perversion of authentic, New Testament Christianity—arguing that it transformed New Testament Christianity into an institutionalized, materialistic, and triumphalist religion of modernism. Kyle Roberts writes that emergent Christianity is attempting to carve out a more authentic way of being Christian and doing church within—and beyond—the institutionalized church of modernity. In many ways, Kierkegaard's critiques, concerns, and goals overlap with emergent Christianity and the emerging church.
Following Kierkegaard, Roberts encourages and displays a healthy rhythm of critical distance and active engagement—funding both the critique of the idols of modernism, moralism, and Christendom, and the creative retrieval of a proper understanding of the revelation of God in Scripture and our imaginative, hermeneutical engagement with it.
—Christopher Ben Simpson, author of The Truth is the Way: Kierkegaard's Theologia Viatorum
To 'emergent' Christians experimenting with faith apart from the benefits of established Christianity, Roberts introduces Kierkegaard as an invaluable resource. To those of us who have wrestled with Kierkegaard, Roberts introduces a growing group of creative, faithful Christians who wrestle with radical discipleship. Whether they are scholars, students, or seekers, this book is for all who wonder and worry about the shape of Christian faith and church today.
—Jason A. Mahn, author of Fortunate Fallibility: Kierkegaard and the Power of Sin
As emergent Christianity has gained more traction in the church, serious scholars have been paying attention and adding to the conversation. Rarely has a book been published in this vein about which I am as excited as I am about Emerging Prophet. To put the emerging church movement into conversation with Kierkegaard is, I think, a stroke of genius—it's a match made in heaven.
—Tony Jones, author of The Church Is Flat: The Relational Ecclesiology of the Emerging Church Movement
In this compelling and well-written volume, Roberts brings the postmodern commitments of the emerging church into fruitful conversation with Kierkegaard. In so doing he makes a powerful case that emergence Christianity is generally consistent with Kierkegaard's vision of a Christian alternative to Christendom. This is one of the best books yet on the potential significance of the emerging church movement for the future of Christianity in the West.
—John R. Franke, author of Manifold Witness: The Plurality of Truth
At a time when the church is in the midst of transition, Roberts calls out the passionate, ironic, scathing, beautiful voice of Kierkegaard to help us imagine faithful ecclesiological alternatives. It's a brilliant move—hopeful, generative, insightful, and instructive.
—Debbie Blue, author of From Stone to Living Word: Letting the Bible Live Again
Kyle Roberts (PhD) is associate professor of systematic theology and lead faculty for Christian thought at Bethel Seminary, St. Paul, Minnesota.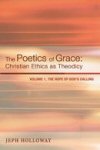 The Poetics of Grace: Christian Ethics as Theodicy: Volume 1, The Hope of God's Calling
Author: Jeph Holloway
Publisher: Wipf & Stock
Publication Date: 2013
Pages: 304
Where is God in a world marked by conflict and division? What about a world in which our technologies promise great good but also threaten our existence? What is God doing in a world where the demands for accumulation and acquisition create division and despair? Can Christians hope to be of positive influence in a world that does not always support, reflect, or even understand Christian commitments?
Christian ethics often raise these questions, and the possible answers vary widely. Paul's Letter to the Ephesians is a tremendous resource for exploring a faithful response to perhaps the toughest question of all: what is God doing about evil? Author Jeph Holloway writes that the role of Christian ethics is to take seriously the challenge that, whatever God is doing, God calls us to participate in a distinctive task that embraces our own commitments and labors within the divine purpose. Ultimately, that God has taken the initiative to pursue that purpose and, remarkably, offers that we ourselves are part of the answer to "What is God doing about evil?"
Hope for the future cannot be extrapolated from data of the present. That would only yield despair. If there is to be hope, it must derive from a different sort of logic. In The Poetics of Grace, Jeph Holloway has undertaken to spell out this different logic. By insisting that the primary question of ethics is not 'what must I do?' but 'what has been given to us?' Holloway, motivated by deep pastoral concern, frames a Trinitarian ethics attuned both to history and Christian Scripture.
—Brad J. Kallenberg, professor of theology and ethics, University of Dayton
God, in Holloway's groundbreaking The Poetics of Grace, summons us to engage in the divine, transformative work that settles on nothing less than daring, responsible, and participatory biblical ethics in line with God's creative, peacemaking, and reconciling work of sustaining life. This unique reading of Ephesians is a probing and stimulating, delicate and unfailing gift to the academy and the church.
—Aliou Cissé Niang, assistant professor of New Testament, Union Theological Seminary
Jeph Holloway is professor of theology and ethics in the School of Christian Studies and Graduate Program at East Texas Baptist University in Marshall, Texas. He is the author of Peripateo as a Thematic Marker for Pauline Ethics (1992).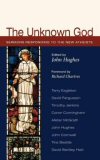 The Unknown God: Sermons Responding to the New Atheists
Editor: John Hughes
Publisher: Wipf & Stock
Publication Date: 2013
Pages: 126
What is the so-called New Atheism? The first decade of the twenty-first century has witnessed a cluster of authors who have attained public notoriety through their berating of religion and their popularizing of atheism. How should Christians and other believers understand and respond to this attack on their faith? In this collection of sermons, leading academic theologians and philosophers who have written about the New Atheists seek to sum up their thinking and help us make sense of this contemporary phenomenon—and offer a richer and more sophisticated account of what belief in God is really about.
New Atheists often appeal to reason, as if it were a divine name. The irony is their attempts to pit reason against religion are often charged with irrational vitriol, as well as philosophical and theological naïveté. What is the best Christian response? These nine intellectually dazzling sermons speak clearly and charitably to all those who say in their heart 'God does not exist.' A stellar collection!
—C. C. Pecknold, assistant professor of systematic theology, The Catholic University of America
The New Atheists applaud science and berate religion, but the science they uphold is unrecognizable to most scientists and the religion they berate is unrecognizable to most Christians. In this absorbing and measured collection some leading contemporary Christian voices take the New Atheist challenge as a stimulus to the renewal of theology and the church. One is almost grateful to the New Atheists for provoking such lively thought as this.
—Samuel Wells, visiting professor of Christian ethics, King's College, London
John Hughes is the dean of chapel and fellow at Jesus College, Cambridge and teaches for the faculty of divinity. He is the author of The End of Work (2007).
Product Details
Title: Wipf & Stock Philosophy and Apologetics Collection
Publisher: Wipf & Stock
Volumes: 5
Pages: 1,252