T&T Clark Studies in Philosophy and Theology (14 vols.)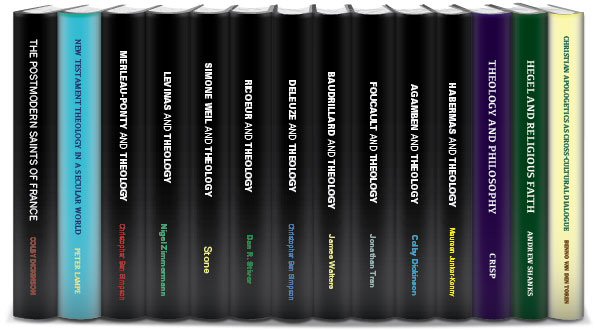 T&T Clark Studies in Philosophy and Theology (14 vols.)
•
Runs on Windows, Mac and mobile.
Your Custom Discount
Reg. Price $249.95
Pre-order Price $199.95
Your Price $199.95
You Save $50.00 20%
Your Price
What's Pre-Pub?
$199.95
Reg.: $249.95
Print: $426.30
Overview
This T&T Clark Studies in Philosophy and Theology collection contains the latest scholarship on the intersection between theology and philosophy as well as overviews and analyses of some of the most significant figures in the field of philosophical theology. Topics addressed include apologetics, faith, reason, reality, political ethics, and more. This collection was put together for the academic mind and anyone interested in studying these philosophical and theological issues.
The Logos Bible Software edition of T&T Clark Studies in Philosophy and Theology is designed to enhance and stimulate your study and understanding of philosophy and theology from many different authors. Scripture passages link directly to your English translations and original-language texts, and important theological concepts link to dictionaries, encyclopedias, and a wealth of other resources in your digital library. In addition, you can perform powerful searches by topic and find what other authors, scholars, and theologians have to say about epistemology and apologetics.
Key Features
Fourteen books covering philosophical and theological topics
Extended analysis of many influential thinkers
Numerous ideas and questions to provoke the reader
Individual Titles
The Postmodern Saints of France: Refiguring "the Holy" in Contemporary French Philosophy
Editor: Colby Dickinson
Publisher: T&T Clark
Publication Date: 2013
Pages: 288
This volume is devoted to exploring certain varied notions of "the saint" in recent French philosophical and literary thought from within a theological context, offering insights and valuable contributions toward how we understand sainthood in cultural, philosophical and religious terms.
Each essay focuses on the convergence of a particular author's work and their various re-formulations of "saintliness" in their writings, whether this concept is directly expressed in their writings or not. In general, the aim of the volume is to develop a critical engagement between each authors' philosophical worldview and historical notions of sainthood, such that we are capable of providing new understandings of what a "saint" is in our world today.
Colby Dickinson is a post-doctoral researcher in the faculty of theology and religious studies in Kuleuven, Belgium.
New Testament Theology in a Secular World is an important and original new work in Christian apologetics. It is the first book to apply constructivist theory to biblical studies. Biblical studies scholar Peter Lampe tackles head on such questions as: What do we mean by "reality?" How does this relate to what theology calls the "reality of God" or the "reality of resurrection?" How can we account for the concept of "revelation?" Lampe argues that in talking about "reality" theologians must make an effort to engage with the concept of "reality" as it is discussed in the fields of philosophical epistemology and sociology of knowledge. However, as Lampe shows, theology has so far hardly or only reluctantly participated in this dialogue.
A meritorious, important tool, abounding in perspectives. Lampe shows how helpful it is to use constructivism for epistemological groundwork—both in the dialogue between theology and other scholarly disciplines, and in the inner theological discourse. Worth not only to be read but to be studied.
—Pfaelzisches Pfarrerblatt
Peter Lampe is professor and chair of New Testament at the University of Heidelberg in Germany.
Merleau-Ponty and Theology
Author: Christopher Ben Simpson
Series: Philosophy and Theology
Publisher: T&T Clark
Publication Date: 2013
Pages: 208
The philosophical contributions of Maurice Merleau-Ponty, the French phenomenologist, carry great untapped potential for theologians thinking through some of the central affirmations of the Christian faith. This exploration is structured against the background of the fundamental interrelation between three "bodies" in Merleau-Ponty's thought and Christian theology: material as such, or "nature" (the corporeal), the human body as a living body (the corporal), and the social body (the corporate—including language and tradition). Merleau-Ponty's philosophy offers a finessed and non-reductionistic understanding of the relations between these orders of bodies. Appropriating Merleau-Ponty's thought helps one think through Christian doctrines of creation, theological anthropology, Christology, ecclesiology, and eschatology.
Christopher Ben Simpson is associate professor of philosophy and theology, Lincoln Christian University.
Levinas and Theology
Author: Nigel Zimmermann
Series: Philosophy and Theology
Publisher: T&T Clark
Publication Date: 2013
Pages: 208
The thought of Emmanuel Levinas is of increasing importance for those working in the diverse fields of phenomenology and continental philosophy, French studies, Jewish studies, ethics, politics, and religious studies. In this book, Nigel Zimmermann gives proper attention to the "incarnate" aspect of the "other" in Levinas' work, providing a theological reading that explores the basic strands of Levinas' thinking regarding the concrete nature of human living. Human communities, in which politics inevitably plays a crucial role, may learn much from the theological shape of Levinas' philosophy. In all his writings, Levinas cannot be understood apart from his roles as a Talmudic commentator and as a radical thinker who suffered personally under the shadow of the Holocaust.
Nigel Zimmermann's Levinas and Theology is a book that everyone in the field of Levinas studies, and beyond, must read. Not only does it cover the fundamentals of this great thinker but also, and more pointedly, it points us to what the author calls 'the disturbance of theology' and even 'the return of God.' This is a book that informs, questions, and provokes.
—Kevin Hart, professor of Christian studies at the University of Virginia
Nigel Zimmermann lectures in theology at the University of Notre Dame in Australia. He completed his PhD at the University of Edinburgh and has been a Wingate Scholar since 2011. His previous work has appeared in The Heythrop Journal and The Tablet.
Simone Weil and Theology
Authors: A. Rebecca Rozelle-Stone, Lucian Stone
Series: Philosophy and Theology
Publisher: T&T Clark
Publication Date: 2013
Pages: 248
Simone Weil—philosopher, religious thinker, mystic, and social/political activist—is notoriously difficult to categorize, because her life and writings challenge traditional academic boundaries. As many scholars have recognized, she set out few, if any, systematic theories, especially when it came to religious ideas. In this book, A. Rebecca Rozelle-Stone and Lucian Stone illuminate the ways in which Weil stands outside Western theological tradition by her use of paradox to resist the clamoring for greater degrees of certainty. Beyond a facile fallibilism, Simone Weil's ideas about the super-natural, love, Christianity, and spiritual action, and indeed, her seeming endorsement of a sort of atheism, detachment, foolishness, and passivity, begin to unravel old assumptions about what it means to encounter the divine.
This is an extended set of reflections that begin in Weil's claim that 'the gospel contains a conception of human life and not a theology.' In seriously engaging the post-modern, the authors draw out Weil's deep and subtle meditations on the human temptation to self-deception and on the possibilities of transformation in today's world. There are wonderful insights here on attention, beauty, grace, and education that go to the real depth of Weil's thinking. These are things to be thought about carefully and for a long time.
—Eric O. Springsted, president of The American Weil Society
A. Rebecca Rozelle-Stone is assistant professor in the Department of Philosophy and Religion, University of North Dakota.
Lucian Stone is assistant professor in the Department of Philosophy and Religion, University of North Dakota.
Paul Ricoeur has been heralded as one of the most notable philosophers of the twentieth century. He is among the most inter-disciplinarian of philosophers whose work not only explores such areas as existentialism, phenomenology, hermeneutics, structuralism, psychoanalysis, metaphor, narrative, and political ethics, but also bridges the gulf between Continental and Anglo-American philosophy. One of the areas to which he contributed greatly was the philosophy of religion where he made notable contributions in the areas of symbol, metaphor, and epistemology. Ricoeur's work has been appropriated in theology, but often in an indirect way. This book will help the reader grasp the breadth of a complex philosopher, indicating the increasing relevance and appropriation of Ricoeur's work in theology.
Dan Stiver has provided an essential resource for both those who want to meet Paul Ricoeur for the first time and those who want to engage again in the depth and texture of their teacher, Paul Ricoeur.
—Joseph A. Edelheit, director of religious and Jewish studies and associate professor of philosophy, St Cloud State University
Dan R. Stiver received his PhD from Southern Baptist Theological Seminary and is the Cook-Derrick Professor of Theology at Logsdon School of Theology, Hardin-Simmons University.
Gilles Deleuze is known for advancing a thoroughly "modern" philosophy that would seem to be fundamentally hostile to Christian theology—a philosophy of atheistic immanence with an essentially chaotic vision of the world. Nonetheless, Deleuze's philosophy can generate many potential intersections with theology that would seek to learn and respond from the perspective of confessional theology—to take from the encounter with Deleuze an opportunity to clarify and reform an orthodox Christian self-understanding.
Christopher Ben Simpson is associate professor of philosophy and theology, Lincoln Christian University.
Jean Baudrillard was one of the foremost intellectual figures of the late twentieth century and his work is currently reaching a new prominence in the English-speaking world. Known as the "high priest of postmodernity," Baudrillard never directly addressed theological concerns. However, his provocative analysis of the changing nature of reality, subjectivity, and agency is of increasing importance to contemporary theology. Furthermore, his mode of cultural analysis provides fruitful possibilities for theological reasoning in the post-idealist world he describes.
James Walters provides the context of Baudrillard's writing and identifies key influences. He then sets out his core ideas, drawing in theological responses and relating them to theological concerns. Finally, he highlights some areas of his work of particular theological interest.
Baudrillard and Theology is an impressive accomplishment. Walters makes original and convincing arguments to demonstrate Baudrillard's significance for contemporary theological thinking. Here Baudrillard's analyses of nihilism and hyperreality become an opportunity to recharge and refashion theology itself.
—Clayton Crockett, associate professor and director of religious studies, University of Central Arkansas
James Walters has completed a PhD at the University of Cambridge and currently serves as an Anglican priest in the diocese of London.
This is a major contribution to the link between theology and philosophy, introducing the core ideas of Michel Foucault to students of theology. Near the end of his life, Foucault turned his attention to the early church fathers. He did so not for anything like a return to God but rather because he found in those sources alternatives for re-imaging the self. And though Foucault never seriously entertained Christianity beyond theorizing its aesthetic style one might argue that Christian practices like confession or Eucharist share family resemblances to Foucaultian sensibilities. This book will explain how to do theology in light of Foucault, or more precisely, to read Foucault as if God mattered. Therefore, it will seek to articulate practices like confession and prayer as techniques for the self, situate "the church as politics" within present constellation, and conceptualize Christian existence in time through mnemonic practices of genealogy.
Foucault and Theology is valuable as a serious attempt to come to terms with the implications for theological thinking of Foucault's later concerns with biopower and care of the self. And the book not only points to a new theological approach to Foucault, but points to significant possibilities of contem-porary Christian practices of the self, which take as their point of departure Foucault's analysis of worldly power.
—Foucault Studies
Jonathan Tran is assistant professor of theological ethics, Baylor University.
Though the work of Italian theorist Giorgio Agamben has been increasing in popularity over the last several years in the English-speaking world, little work has been done directly on the theological legacy which actually dominates the overall force of his critical analyses, a topic which has intrigued his readers since the publication of his short book on Saint Paul's Letter to the Romans. Agamben and Theology intends to illuminate such a connection by examining the theologically inflected terms that have come to dominate his work over time, including the messianic, the sacred, sovereignty, glory, creation, original sin, redemption, and revelation.
Agamben has long been deeply concerned with theological issues. This book is the first, and also much needed, overview of Agamben's relation to theology. Striking the perfect balance between exposition and analysis, it deserves to be widely read.
—Kenneth Surin, professor of literature and professor of religion and critical theory and chair of the program in literature at Duke University
Colby Dickinson is a post-doctoral researcher on the faculty of theology and religious studies, Katholieke Universiteit Leuven, Belgium.
Jurgen Habermas has been one of the most influential social philosophers of the twentieth century and a major dialogue partner for theology in the different stages of his work. This book explores the origins of Habermas' thinking from the critical theory of the first generation of the Frankfurt school to his turn from the philosophy of consciousness to language, and to the development of his theories of the public sphere, law, and democracy. The philosophical critiques of his work that are relevant for theology are explained before the successive phases of his view of religion are traced: supercessionism, coexistence, and co-operation in offering specific resources and shared criteria for public debate on the future directions of a technologically shaped pluralist culture.
In this knowledgeable work, Junker-Kenny examines the turn to religion in Habermas' latest work calling for a process of mutual translation of religion and postsecular reason. She traces this back to his early engagement with religion and the later chastening of religion in discourse ethics. She lucidly presents the major philosophical objections to the founding concepts of Habermas' reasoning, welcoming the called-for alliance of theology and postsecular reason against the "pathologies of modernity'. The book is a thorough systematic reconstruction and a groundbreaking source for the dialogue between theology and philosophy.
—Hille Haker, chair of catholic moral theology at Loyola University, Chicago
Maureen Junker-Kenny is associate professor of theology, Trinity College Dublin.
Theology and Philosophy: Faith and Reason
Editors: Oliver D. Crisp, Gavin D'Costa, Mervyn Davies, Peter Hampson
Series: Religion and the University
Publisher: T&T Clark
Publication Date: 2013
Pages: 256
The purpose of this volume is to offer an authoritative overview of the positive relationship between faith and reason. It will also show that, despite important variations and differences, the manner in which Christian faith is able to interact with other intellectual disciplines is grounded in and required by theology. Finally, it will ground the overall project of "Religion and the University" firmly in different ecclesial communities within the Christian family and differing theological-philosophical orientations that might be trans-denominational.
From Paul's citing the Stoic poet Aratus in his Areopagusspeech to Alain Badiou's recent reworking to Paul's writings, Christianity has always interacted with contemporary philosophers, including their religious and ethical beliefs. This absorbing collection of freshly thought out, often innovative, and always richly documented essays covers the whole spectrum from the beginning until now: highly recommended.
—Fergus Kerr, honorary fellow at the University of Edinburgh
Oliver D. Crisp attended the Wimbledon School of Art and the University of Aberdeen before completing his PhD at King's College, University of London. He has taught at the University of St. Andrews, the University of Notre Dame, and Regent College. He is currently a reader in theology, University of Bristol.
Gavin D'Costa is professor of Catholic theology, University of Bristol.
Mervyn Davies is scholar-in-residence at Sarum College in Salisbury and honorary senior lecturer in the department of theology and religious studies, University of Bristol.
Peter Hampson is visiting fellow, Blackfriars Hall, Oxford.
In Hegel and Religious Faith: Divided Brain, Atoning Spirit, Andrew Shanks argues that rejection is a defensive reaction against the sheer, troubling, prophetic open-mindedness of Hegel's thought. No doubt there is some truth to the charge that Hegel is religiously one-sided, especially as this criticism has been developed by Kierkegaard and, more recently, William Desmond. Against Desmond, however, Shanks argues that the critique itself is no less one-sided. The argument focuses especially on the dialectic of the "Unhappy Consciousness" in Hegel's phenomenology of spirit, seeking to open up its relationship to recent developments in neuropsychology.
Andrew Shanks is a canon theologian, Manchester Cathedral in the UK.
This is a call for a new understanding of apologetics, moving away from appeals to trans-cultural rationality, arguing for a new form of cross-cultural dialogue. Christian apologetics is in crisis. Old concepts no longer hold and post-modern development pose new questions. Benno van den Toren argues for an apologetic witness that is an exercise in cross-cultural dialogue aimed at persuading our conversation partners of the relevance of a life centered on the reality revealed in Jesus Christ. Some significant steps have been made toward the development of such a new apologetic practice. The aim of this book is to provide theological and philosophical basis for a new paradigm for Christian apologetic dialogue with our post-modern and multi-cultural world and to work out its practical relevance.
This is a stimulating and important book . . . a book that Christians of all traditions with an interest in apologetics and mission can read with profit.
—Church of England Newspaper
Benno van den Toren taught apologetics, ethics, and doctrine in French-speaking Africa before coming to Wycliffe Hall, Oxford where he is currently tutor in doctrine and dean of faculty.
Product Details
Title: T&T Clark Studies in Philosophy and Theology
Publisher: T&T Clark
Volumes: 14
Pages: 3,036