Select Works of F. W. Farrar (3 vols.)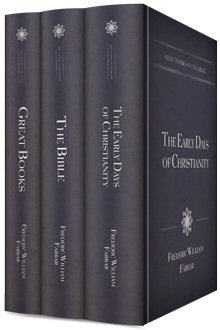 Overview
Frederic William Farrar's writings provided a crucial link between the academic world and the common people. His works were popular, his fans and critics were many, and in the academic field his writings were engaged by some of the greatest scholars in the world. As a writer, Farrar was a servant of the people, writing to help the general public understand what he valued above all else: the pure, unadulterated truth of the Gospel.
The Select Works of F. W. Farrar contains Great Books: Bunyan, Shakespeare, Dante, Milton, The Imitation, Etc., The Bible: Its Meaning and Supremacy, and The Early Days of Christianity. This collection includes a mix of Farrar's secular and religious writings, which he wrote for the public.
With the Logos edition of Select Works of F. W. Farrar, these writings automatically integrate with your Logos library, allowing you to experience this popular writer's work like never before.
Key Features
A defense of the Christian faith
A supplement to the entire New Testament
Farrar's recommended reading
Praise for Frederic William Farrar
[Farrar] was at that time the most popular preacher and writer in the Church of England . . . but was guilty of one great sin in the eyes of many literary critics—he had the gift of expressing his knowledge in such a way as to appeal to the multitude.
—Sir Henry S. Lunn, humanitarian, missionary, and founder of Lunn Poly
Individual Titles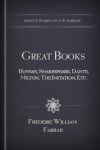 Farrar feared that the overabundance of books would inhibit young people from reading some of the world's greatest treasures. This book was written to provide readers with choices of exceptional literature. Each of the essays in this text was first published in the Sunday paper, and it includes reviews of the writings of Bunyan, Shakespeare, Dante, Milton, and more.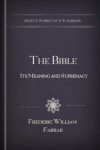 In this book, Farrar responds to the acceptance of scriptural misinterpretations that greatly affected public perception of the Christian faith. The antagonism he saw facing the church was largely based upon what he felt to be inaccurate representations of the faith. Here, he addresses common opposition to Christianity in light of his understanding of Scripture.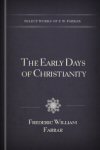 This text was written to supplement the New Testament by providing contextual information on people, places, and events that could help a reader better understand and interpret Scripture.
Product Details
Title: Select Works of F. W. Farrar
Author: Frederic William Farrar
Publishers: Longman, Cassell and Company, and Isbister & Co.
Volumes: 3
Pages: 1,020
About Frederic William Farrar
F. W. Farrar (1831–1903) was born in Bombay, India. He attended King's College, London and Trinity College, Cambridge. In his lifetime Farrar served as canon of Westminster, rector of St. Margaret's, archdeacon of Westminster Abbey, and dean of Canterbury. Known for his preaching, Farrar was also a prolific author. His works include Eternal Hope, Mercy and Judgment, The Life and Work of St. Paul, The Life of Christ, and Lives of the Fathers, as well as novels and children's books.
More details about these resources