Selected Works on the Life of Christ (6 vols.)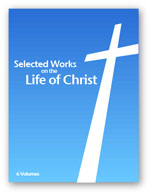 Selected Works on the Life of Christ (6 vols.)
•
Runs on Windows, Mac and mobile.
Overview
"The Life of Christ is an exhaustless theme. It reveals a character of greater massiveness than the hills, of serener beauty than the stars, of sweeter fragrance than the flowers; higher than the heavens in sublimity and deeper than the seas in mystery." So begins Stalker's biography of the greatest life ever lived.
We have collected a half dozen of the most well-known works on the life of Christ, from four eminent writers whose work has stood the test of time: F. W. Farrar, James Stalker, Samuel J. Andrews, and G. Campbell Morgan. The study of Christ's life holds great rewards for those who will embark upon it, as each of these authors testifies. We hope that your own life will be enriched and transformed through these works.
Product Details
Title: Selected Works on the Life of Christ
Volumes: 6
Pages: 2,909

Life of Christ
Author: F. W. Farrar
Publisher: Cassell Publishing Company
Publication Date: 1888
Pages: 996
Biographical info at Pitts Theology Library
"Of the great men from Cambridge's Trinity College who have made a significant contribution to the cause of Christ, F. W. Farrar (1831-1903), at one time a minister in London's famous Westminster Abbey and later Dean of Canterbury, deserves to be remembered.… The value of Dr. Farrar's writings lay in his ability to combine 'an honest and robust faith with wide and accurate scholarship.' So much so that Charles Haddon Spurgeon, the out-spoken Baptist preacher, said that his study of the life of Christ was 'THE work on the subject. Fresh and full. The price [of the 1874 edition] is very high, and yet the sale has been enormous."
"… In the case of the published works of Dr. Farrar, and particularly in connection with his Life of Christ, we have such excellence of coverage, such a beautiful blending of piety and scholarship, such vividness of description, and such a dramatic portrayal of the events as they unfold in the Gospels, that few readers could ever hope to produce a work of such literary and theological excellence. Within the pages of this book we are treated to the best scholarship of the period. This discussion of Christ's life and teaching, person and work, will amply repay the reader for the time he spends reading this book."
—Cyril J. Barber, Author, The Minister's Library
"I collect books about the life of Christ. I look for the best authors, the best texts, and then make my purchase. I have been buying them for several years...This text, by Farrar, is the best I have read. All others pale in contrast.… If you are looking for a doctrinal treatise, look elsewhere; for this text is a history in every sense. The people, the culture, the atmosphere, the food, the dress, everything becomes alive and clear. Farrar is a talented writer...whose perfectly clear and subtle style is fully compensated with a historian's touch. Its greatest strength is in the details and objectivity. Any person wondering 'what it was like' when Jesus lived should read this text …" (more …)
It has long been the desire and aim of the publishers of this work to spread as widely as possible the blessings of knowledge; and, in special furtherance of this design, they wished to place in the hands of their readers such a sketch of the Life of Christ on earth as should enable them to realise it more clearly, and to enter more thoroughly into the details and sequence of the Gospel narratives.… If the following pages in any measure fulfill the objects with which such a Life ought to be written, they should fill the minds of those who read them with solemn and not ignoble thoughts; they should 'add sunlight to daylight by making the happy happier;' they should encourage the toiler; they should console the sorrowful; they should point the weak to the one true source of moral strength. But whether this book be thus blessed to high ends, or whether it be received with harshness and indifference, nothing at least can rob me of the deep and constant happiness which I have felt during almost every hour that has been spent upon it. Though, owing to serious and absorbing duties, months have often passed without my finding an opportunity to write a single line, yet, even in the midst of incessant labour at other things, nothing forbade that the subject on which I was engaged should be often in my thoughts, or that I should find in it a source of peace and happiness different, alike in kind and in degree, from any which other interests could either give or take away.
—From the Preface to the Print Edition
Frederic William Farrar was an important biblical scholar, a minister at London's famous Westminster Abbey, and the Dean of Canterbury. He wrote prolifically on the life of Jesus and the life of Paul.

The Life of Lives
Author: F. W. Farrar
Publisher: Dodd, Mead, and Co.
Publication Date: 1900
Pages: 461
Farrar's follow-up work to the popular Life of Christ. provides further application of Christ' s life and teachings to today's Christian. Special attention is given to Jesus' external influences: education, home life, and political dynamics of the world in which he lived. Contrary to a typical commentary, this book looks at Christ's life from a topical angle.

The Life of Jesus Christ
Author: James Stalker
Publisher: Henry A. Sumner and Company
Publication Date: 1882
Pages: 166
Many biographies of Christ's life have been published through the years, but most have lasted only a short time. This volume, first printed in 1880, continues to be in demand. The Life of Jesus Christ is known in every English-speaking country and has been translated into many foreign languages. The reasons for its continued success are not hard to find. The details of Christ's life are presented in a clear and flowing style and are molded into an easily comprehended whole. Doctrinally sound, vivid in detail, as authentic as study and research can make it, this work will long hold the place it won when first written by this noted Scottish theologian.
James Stalker was a prominent biblical scholar, and wrote extensively on the life of Jesus and the life of Paul.

The Trial and Death of Jesus Christ
Author: James Stalker
Publisher: George H. Doran Company
Publication Date: 1894
Pages: 185
Beginning in Gethsemane, this resource analyzes Jesus' trial and crucifixion. Stalker's work is applicable and enjoyable because it reads more like a novel than a commentary. The author's eloquent style provides a great companion to any Bible study of the events leading to Jesus' death.

The Life of Our Lord upon the Earth
Author: Samuel J. Andrews
Publisher: Charles Scribner's Sons
Publication Date: 1889
Pages: 624
The author states in his preface, "The simple purpose of this book is to arrange the events of the Lord's life, as given us by the Evangelists, so far as possible, in a chronological order." That goal is clearly achieved because of the author's ability to blend historical accuracy and spiritual insight.

The Crises of the Christ
Author: G. Campbell Morgan
Publisher: Fleming H. Revell Company
Publication Date: 1903
Pages: 477
While much Christian literature is devoted to the human work of Christ, Morgan's The Crises of the Christ focuses on the Divine work of Jesus on earth. This resource will aid your understanding of the mystery of Christ's person, the graciousness of His teaching, the beauty of His character and the wonder of His deeds.
English-born George Campbell Morgan (1863-1945), a contemporary of Rodney "Gipsy" Smith, preached his first sermon at age 13. He was the pastor of Westminster Chapel in London from 1904-1919 and then from 1933-1943, pausing for a brief period between those timeframes to work at Biola in Los Angeles. In 1939, he began to mentor Martyn Lloyd-Jones, who would eventually become his successor. Morgan's essay entitled The Purposes of the Incarnation are included in a collection called The Fundamentals, a set of 90 essays that is widely considered to be the foundation of the modern Fundamentalist movement.