Chuck D. Pierce Collection (9 vols.)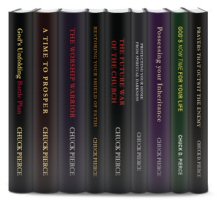 Overview
The Chuck D. Pierce Collection is full of encouragement and rich, fresh insight into God's direction in your life. This collection will help you find your destined place in God's kingdom, build your faith with four keys, arm yourself for spiritual war, and take hold of what God has planned for you.
With Logos Bible Software, Scripture passages appear on mouseover and link to your favorite Bible translation in your library, making these texts more powerful and easier to access than ever before. With Logos' advanced search features, you can perform powerful searches by topic or Scripture reference—finding, for example, every mention of "prayer" or "victory."
Key Features
Explores the biblical model of worship
Provides a step-by-step guide to praying through your home
Includes 50-day prayer guides
Examines keys to building faith
Product Details
Title: Chuck D. Pierce Collection
Publisher: Gospel Light
Volumes: 9
Pages: 2,044
About Chuck D. Pierce
Chuck D. Pierce serves as the president of Global Spheres, Inc., president of Glory of Zion International Ministries, and as watchman of Global Harvest Ministries. He is a well-known prophetic voice, specializing in city transformation and mobilizing prayer throughout the world. He is the author and coauthor of several books, including When God Speaks.