Dutch Sheets Collection (7 vols.)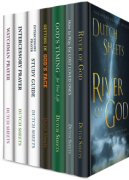 Overview
With an abundance of insights, the Dutch Sheets Collection will empower you for more passionate prayer and guide you in your walk with God. It will equip you with the wisdom of more effective and persistent prayer in your daily life and encourage you to be patient for God's timing. Discover your role as a prayer warrior—it can mean the difference between heaven and hell for someone you know.
With the Logos edition of the Dutch Sheets Collection, you get an abundance of applicable, insightful resources. You can easily research the subject of prayer and access an assortment of useful resources and perspectives from a variety of pastors and theologians.
Key Features
Provides answers to difficult questions
Includes guides for in-depth study of prayer
Offers practical advice
Product Details
Title: Dutch Sheets Collection
Author: Dutch Sheets
Publisher: Gospel Light
Volumes: 7
Pages: 1,280
About Dutch Sheets
Dutch Sheets is an internationally-known conference speaker and author. He has written many bestselling books. For 18 years he pastored Freedom Congregation in Colorado Springs, Colorado. He travels extensively throughout the United States empowering believers for passionate prayer and world-changing revival.