Linguistic Studies in Ancient West Semitic Series (7 vols.)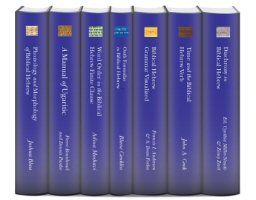 Linguistic Studies in Ancient West Semitic Series (7 vols.)
•
Runs on Windows, Mac and mobile.
Overview
Students and serious scholars will appreciate the detailed linguistic analysis and practical instructions found in this seven-volume collection. The Linguistic Studies in Ancient West Semitic Series gathers expert scholarship on phonology, morphology, and syntax of biblical Hebrew and Ugaritic.
Save time and strengthen your study of ancient languages with Logos Bible Software. The Linguistic Studies in Ancient West Semitic Series integrates into your personal digital library, allowing you to cross-reference with other dictionaries and resources you own. Perform comprehensive searches and compare the opinions of ancient-language experts side by side.
Key Features
Research from top linguistics scholars
Detailed analysis of phonology, morphology, and syntax of ancient languages
Valuable discussions for students at introductory and scholarly levels
Product Details
Title: Linguistic Studies in Ancient West Semitic Series
Publisher: Eisenbrauns
Volumes: 7
Pages: 2,444
Diachrony in Biblical Hebrew is an indispensable publication. Scholars of language will want to read these essays for the latest perspectives on the historical development of biblical Hebrew. Hebraists and linguists interested in the history of the Hebrew language will appreciate the studies that address the language's development during the Iron Age, the Neo-Babylonian and Persian periods, and the early Hellenistic period.
Written for both "text people" and "language people," this is the first book to address established historical-linguistics theory as it applies to the study of Hebrew, and to focus on the methodologies appropriate for biblical Hebrew and Aramaic. Diachrony in Biblical Hebrew provides exemplary case studies of orthography, lexicography, morphology, syntax, language contact, dialectology, and sociolinguistics; because of its depth of coverage, it has broad implications for the linguistic dating of biblical texts. The book finishes with useful histories of linguistic diachrony in Aramaic, Ugaritic, and Akkadian—the three languages related to and considered most crucial for biblical research.
Cynthia L. Miller is an expert in biblical Hebrew linguistics. She was the chair of the Department of Hebrew and Semitic Studies at the University of Wisconsin–Madison and is currently a professor at the University of the Free State in South Africa. She is the author of The Verbless Clause in Biblical Hebrew: Linguistic Approaches.
Dr. Ziony Zevit is distinguished professor of Biblical literature and Northwest Semitic languages at American Jewish University. He taught at the University of Haifa, Ben-Gurion University of the Negev, the Hebrew University of Jerusalem, and the University of California–Berkeley. He is the recipient of several fellowships and awards and the author of over 100 publications, including The Anterior Construction in Classical Hebrew, The Religions of Ancient Israel: A Parallactic Approach, and Matres Lectionis in Ancient Hebrew Epigraphs.