Academic Studies on the New Testament (7 vols.)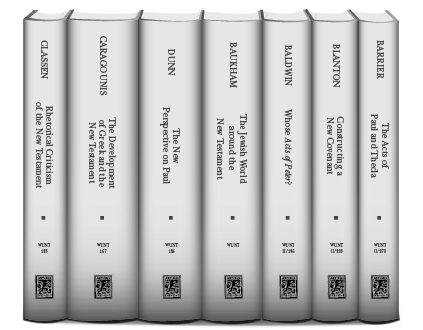 Academic Studies on the New Testament (7 vols.)
•
Runs on Windows, Mac and mobile.
Your Custom Discount
Reg. Price $279.95
Sale Price $139.99
Your Price $139.99
You Save $139.96 49%
Your Price
What's Pre-Pub?
$139.99
Reg.: $279.95
Print: $723.10
Overview
This collection of academic texts on the New Testament provides unique insights into the interpretation and context of the New Testament—especially Pauline literature. With key theologians like James D. G. Dunn, Richard J. Bauckham, and Carl Joachim Classen exploring the methodologies and interpretive approaches to the New Testament, this collection provides trusted scholarship and advanced research for your New Testament studies. This collection is absolutely essential for anyone interested in the discussion on the New Perspective on Paul, Second Temple Judaism, or early Christian apocryphal literature.
The Logos edition of these volumes connects these texts to a world of research. Explore Greek words and meanings using any of your Greek dictionaries, and follow cross-references and citations to their sources. Compile bibliographies for your study using the bibliographies in these texts with just a few clicks, and Logos even imports citations when you copy and paste from Logos to your preferred word processor.
Key Features
Presents new methodologies for interpreting the New Testament
Explores different forms of Greek for a fuller understanding of New Testament interpretation
Studies extrabiblical literature to bring context to biblical literature
Individual Titles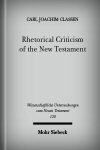 Rhetorical Criticism of the New Testament
Author: Carl Joachim Classen
Publisher: Mohr Siebeck
Publication Date: 2000
Pages: 202
What are the opportunities and the limits of rhetorical criticism applied to biblical texts? C. Joachim Classen illustrates these aspects by examining Paul's epistles, the four Gospels, and Melanchthon's rhetorical interpretation of biblical and non-biblical texts.
In view of the current debate on the application of Greek and Roman rhetoric to biblical texts, C. Joachim Classen aims at determining both the opportunities and the limits of such forms of criticism, stressing the importance of supplementing the ancient categories by modern ones. He emphasizes the difference between letters such as Paul's epistles and other kinds of texts—for example, the Gospels—and the need to select the aspects and criteria of rhetorical criticism accordingly and tries to illustrate how such criticism may be practised. In addition, he explores the extent Paul was familiar with Greek rhetoric by an examination of his vocabulary and an analysis using Melanchthon's early lectures, his handbooks, and his commentaries to show some of the roots of this type of criticism.
Carl Joachim Classen is a German scholar of classics. He studied at Göttingen, Hamburg, and Oxford, and began teaching at the University of Ibadan in 1956. He has held classics chairs at three universities (Berlin Institute of Technology, Würzburg, and Göttingen), and has been invited as a visiting professor to many universities.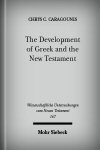 The Development of Greek and the New Testament: Morphology, Syntax, Phonology, and Textual Transmission
Author: Chrys C. Caragounis
Publisher: Mohr Siebeck
Publication Date: 2004
Pages: 739
The introduction of the Erasmian pronunciation in 1528 had two dire consequences: Greek was divided into ancient and modern, and the pronunciation applied made impossible the detection of many communicatory aspects and obscured many critical texts. Based on morphological and syntactical analysis, Chrys C. Caragounis argues for the relevance of later Greek (up to Neohellenic) for the interpretation of the New Testament.
Here we have to do with an impressive work, whereby it is hoped that New Testament scholars will open their eyes to important but neglected aspects of the language of the New Testament and that this will broaden their linguistic horizon.
—Peter van der Horst, professor emeritus, Utrecht University
This highly readable survey is a veritable mine of information and detailed scholarship and is to be highly recommended to all scholars of the Greek New Testament.
—J. Keith Elliott, professor emeritus, University of Leeds
Chrys C. Caragounis received his doctorate of sacred theology from Uppsala University, where he has also taught as professor. He is currently a professor of New Testament at Lund University.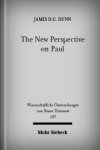 The New Perspective on Paul: Collected Essays
Author: James D. G. Dunn
Publisher: Mohr Siebeck
Publication Date: 2007
Pages: 540
This collection of essays highlights a dimension of Paul's theology of justification which has been rather neglected: that his teaching emerged as an integral part of his understanding of his commission to preach the gospel to non-Jews; and that his dismissal of justification 'by works of the law' was directed not so much against Jewish legalism but rather against his fellow Jews' assumption that the law remained a dividing wall separating Christian Jews from Christian Gentiles. The long opening essay interacts with critiques of this 'New Perspective on Paul' and seeks to carry forward the debate on Jewish soteriology, on the relation of justification by faith to judgment 'according to works,' on Christian fulfillment of the law, and on the crucial role of Christ, his death and resurrection.
James D. G. Dunn is emeritus lightfoot professor of divinity at the University of Durham and is a leading British New Testament scholar.
Dunn studied at the University of Glasgow where he received his MA and BD He also received a PhD and DD from the University of Cambridge. In 2002, Dunn became only the third British scholar to be made the president of the Studiorum Novi Testamenti Societas.
He is the author of, among other books, the two-volumes Romans 1–8 and Romans 9–16 of the Word Biblical Commentary, The Epistles to the Colossians and to Philemon in The New International Greek Testament Commentary (12 Vols.), Unity and Diversity in New Testament Theology, and Christology in the Making.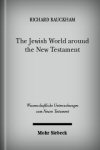 The Jewish World around the New Testament: Collected Essays
Author: Richard J. Bauckham
Publisher: Mohr Siebeck
Publication Date: 2008
Pages: 560
In this volume, Bauckham presents 24 studies that were originally released between 1976 and 2008. Dealing with many aspects of early Judaic literature and thought, this volume contains discussion on the schism between early Judaism and early Christianity and the importance of early Judaic literature for the study of the New Testament. Richard Bauckham shows that New Testament texts can only be understood properly when studied with Second Temple Judaism in mind as context.
Richard J. Bauckham was professor of New Testament studies at St Mary's College, University of St Andrews. He recently retired from this position in order to concentrate on research and writing. He currently is the senior scholar at Ridley Hall in Cambridge and visiting professor at St. Mellitus College.
Bauckham studied at the University of Cambridge and was a fellow of St John's College. He taught theology for one year at the University of Leeds and for 15 years at the University of Manchester before teaching at the University of St. Andrews. He is a fellow of the British Academy and a fellow of the Royal Society of Edinburgh.
Bauckham is known for his commentary on Jude and 2 Peter in the World Biblical Commentary and his book Jude and the Relatives of Jesus in the Early Church.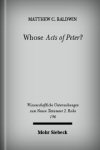 Whose Acts of Peter?: Text and Historical Context of the Actus Vercellenses
Author: Matthew C. Baldwin
Publisher: Mohr Siebeck
Publication Date: 2005
Pages: 344
Matthew C. Baldwin clarifies the place of the ancient Acts of Peter in the history of Christian discourse and shows that its later Latin translation, the Actus Vercellenses, is perhaps best studied as a work in its own right. His book has broad implications for how the apocryphal acts of the apostles ought generally to be treated by biblical scholars and historians of early Christianity.
Matthew Charles Baldwin is an associate professor and chair of the department of religion and philosophy at Mars Hill College.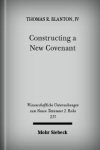 Constructing a New Covenant: Discursive Strategies in the Damascus Document and Second Corinthians
Author: Thomas R. Blanton IV
Publisher: Mohr Siebeck
Publication Date: 2007
Pages: 272
Thomas R. Blanton IV seeks to reconstruct the social contexts in which two discourses that involve the new covenant were written, and to which they responded. He first examines the Damascus Document from among the Dead Sea Scrolls, arguing that this discourse was crafted in order to delegitimate Hasmonean claims to the high priesthood and Pharisaic claims to authority in legal interpretation.
In response to the claims and practices advocated by these rival groups, the Essene sect crafted a discourse which construed the new covenant as one that supported Essene claims that they were the legitimate bearers of high priestly authority and the divinely authorized interpreters of the Torah.
In the second half of the book, Blanton argues that Paul crafted his discourse on the new covenant in opposition to an ideology that was espoused by a rival group of missionaries, according to which, under the conditions of the new covenant, the spirit of God was thought to empower individuals to follow the Torah with perfect obedience. Paul crafted his own discourse in opposition to this view, positing that law and spirit were antithetical terms. By arguing in this way, he attempted to bolster the credibility of his own law-free message.
Thomas R. Blanton IV is a professor of religion at Luther College. He received his PhD in biblical studies from the University of Chicago.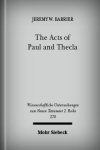 The Acts of Paul and Thecla: A Critical Introduction and Commentary
Author: Jeremy W. Barrier
Editor: Jörg Frey
Publisher: Mohr Siebeck
Publication Date: 2009
Pages: 232
Jeremy W. Barrier provides a thorough introduction and commentary to a second century Christian apocryphal writing: the Acts of Paul and Thecla. In addition to an extensive introduction, the book provides original Greek texts with English translations, commentary, and textual notes.
Jeremy W. Barrier is assistant professor of biblical literature at Heritage Christian University, where he also serves as director of the graduate program. His PhD in biblical interpretation was earned at Texas Christian University. He is also a missions minister for the Madison, Alabama Church of Christ.
Product Details
Title: Academic Studies on the New Testment
Publisher: Mohr Siebeck
Volumes: 7
Pages: 2,880