Meditations for Lent and Advent Collection (2 vols.)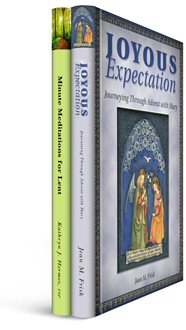 Meditations for Lent and Advent Collection (2 vols.)
•
Runs on Windows, Mac and mobile.
Overview
Journey with Mary during Advent and Christ during Lent with these two devotional volumes! These books provide themes and Scripture for daily reflection as they encourage you into action and prayer. Enrich your celebration of Christmas and Easter by spiritually preparing yourself for the joy and solemnity of each occasion. Add the Meditations for Lent and Advent Collection to your daily devotional practices during these core Christian seasons.
In the Logos digital versions of these works, Scripture references appear on mouseover, connecting you to your preferred translation. These two books are fully searchable, giving you the freedom to explore topics and Scripture verses in and out of linear context.
Key Features
Provides material perfect for people who feel overwhelmed with our fast-paced world
Offers devotions for those who want to deepen their daily prayer life
Enhances these core Christian seasons by infusing everyday with Scripture
Individual Titles

An Advent book for people caught up in the hectic pre-Christmas season. By investing only a few minutes a day, readers can walk with Mary on her journey to Bethlehem. M. Jean Frisk's warm and engaging writing provides an Advent themes to ponder each day, along with a suggestion for action and prayer. This book also contains helpful material on Advent and Christmas customs sure to enrich one's celebration of this joyful season!
M. Jean Frisk, is a member of the secular institute of the Schoenstatt Sisters of Mary. She holds a licentiate in sacred theology from the Marian Library/International Marian Research Institute in Dayton, Ohio, where she helps publish the Mary Page.

Lent is the season to spend time comparing our life journey to Jesus', in order to ready our hearts to celebrate Easter. Filled with personal accounts, approachable spirituality, and meaningful reflections, this Lenten devotional gives you spiritual guidance during the annual 40 day season of fasting.
Through her insightful reflections, Sister Kathryn Hermes offers busy Christians a daily opportunity for deeper contemplation and a chance to experience the healing touch of Jesus.
Kathryn J. Hermes is a member of the Congregation of the Daughters of St. Paul. She works in the acquisitions office for Pauline Books & Media Centers, and is the author of numerous bestselling Pauline Books & Media titles. She has an MTS from Weston Jesuit School of Theology.
More details about these resources