The New Cambridge Paragraph Bible with the Apocrypha, rev. ed. (NCPB)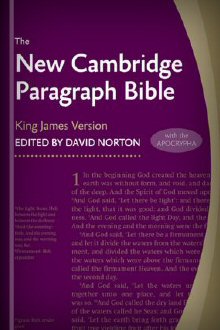 The New Cambridge Paragraph Bible with the Apocrypha, rev. ed. (NCPB)
Runs on Windows, Mac and mobile.
Your Custom Discount
Reg. Price $30.57
Sale Price $24.95
Your Price $24.95
You Save $5.62 18%
Your Price
What's Pre-Pub?
$24.95
Reg.: $30.57
Print: $38.93
Overview
Although it is the most important book in the English-speaking world's religious life and culture, the King James Bible (or Authorized Version of 1611) has never been as perfectly represented in print as the translators intended. Standard editions currently give, with little variation, the text as established by the Blayney edition of 1769. This leaves the reader with a seventeenth-century text in mid-eighteenth-century clothes—clothes neither original nor modern.
Edited by David Norton, The New Cambridge Paragraph Bible is an important scholarly edition that presents a revised KJV text based on a thorough evaluation of the textual variants present in current renderings. It includes the extant notes of the 1611 translators. The text itself is presented in paragraph form, with marginal notes, and it adopts modern spelling and punctuation conventions to make it easy to read and use.
In the Logos edition, The New Cambridge Paragraph Bible is fully integrated with your digital library resources. Verses link to your original language texts, preferred translations, and commentaries, enabling you to perform comprehensive word studies and research.
Key Features
Revised and updated text
Consistent, modern spelling and punctuation
Easy-to-read paragraph format
Old Testament, New Testament, and Apocrypha
Praise for the Print Edition
It is hard to overstate Norton's achievement: it is a work of colossal and magnificent scholarship and devotion to the text of sacred Scripture. Like a conservationist bringing back to life the colours of a faded and damaged painting, Norton has shed new light on an old treasure.
—Baptist Times
Product Details
Title: The New Cambridge Paragraph Bible (NCPB)
Editor: David Norton
Publisher: Cambridge University Press
Publication Date: 2011
Pages: 1,896
About David Norton
David Norton is a professor at Victoria University of Wellington, New Zealand.
Sample Pages from the Print Edition