New Testament: Advanced Gospel Studies Certificate Program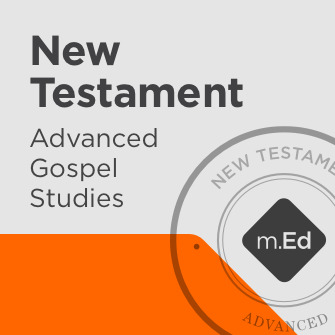 New Testament: Advanced Gospel Studies Certificate Program
•
Runs on Windows, Mac and mobile.
Overview
In the New Testament: Advanced Gospel Studies Certificate Program you'll study the four gospels in detail. You will explore the genre of the gospels as well as their historical reliability. You'll be able to identify the specific audiences for each of the gospels and distinguish the themes emphasized by the different authors. These courses will help you better understand and appreciate the message of the gospels.
How to Apply for a Mobile Ed Certificate of Completion
Complete all Mobile Ed courses in this certificate program. This involves viewing all videos and taking all quizzes.
Write a 750-word response on any topic covered for each course in the certificate program. Post your response to the appropriate Faithlife group in the comments section. Search course code here to find group.
Email certificate@faithlife.com once you have completed all videos and quizzes and have posted responses in the appropriate Faithlife group for each Mobile Ed course in the certificate program. Please include your full name, title of completed certificate program, and links for each Faithlife group post in your email.
Our certificate program team will review the application and email the Certificate of Completion once you have completed all requirements. Please allow 7–10 business days for review.
Product Details
Title: New Testament: Advanced Gospel Studies Certificate Program
Publisher: Lexham Press
Product Type: Logos Mobile Education
Resource Type: Courseware, including transcripts, audio, and video resources
Courses: 11
Video Hours: 70