A Reformation Reader: Primary Texts with Introductions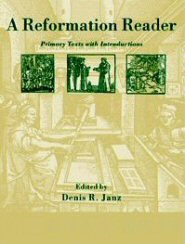 A Reformation Reader: Primary Texts with Introductions
•
Runs on Windows, Mac and mobile.
Overview
Although deeply political, economic, and social, the European Reformations of the sixteenth century were at heart religious disputes over core Christian theological issues. Denis Janz's A Reformation Reader provides a generous selection of key theological and related texts from five distinct Reformation sites. Along with plenty on the late-medieval background, the Lutheran, Calvinist, Radical, English, and Catholic Reformations are all well-represented here.
Janz's selection of more than 100 carefully edited primary documents captures the energy and moment of that tumultuous time. The new edition incorporates a dozen readings by and about women in the Reformation, adds a new chapter on Thomas Müntzer and the Peasants' War, and adds illuminating graphics.
The second edition of this resource is also available here.
Praise for the Print Edition
The best one-volume primary-source collection available for students of the European Reformations. The selections are substantial enough to sustain serious study and discussion, whether the topic is key religious texts or the thoughtful reactions of urban men and women. Ideal for one-semester surveys.
—Mark U. Edwards Jr., Harvard Divinity School
Product Details
Title: A Reformation Reader: Primary Texts with Introductions
Author: Denis R. Janz
Publisher: Fortress Press
Publication Date: 2002
Pages: 472
About Denis R. Janz
Denis R. Janz is Provost Distinguished Professor of the History of Christianity at Loyola University, New Orleans. He is the general editor of A People's History of Christianity series from Fortress Press and author of Luther and Late Medieval Thomism (1983), Luther on Thomas Aquinas (1989), and World Christianity and Marxism (1998).
Sample Pages from the Print Edition
More details about these resources