Mobile Ed: NT251 The Sermon on the Mount (audio)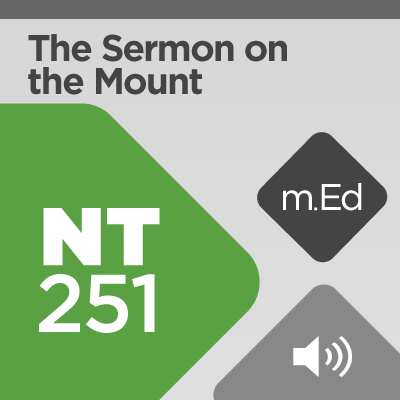 Mobile Ed: NT251 The Sermon on the Mount (audio)
•
Runs on Windows, Mac and mobile.
Overview
Dr. Jonathan Pennington zeroes in on one of the most important texts studied throughout church history: the Sermon on the Mount. He gives a detailed exposition of the biblical text, covers historical interpretations, and provides direction for reading the sermon according to its structure.
This is the audio only version of NT251 The Sermon on the Mount. To purchase the full course, click here.
Course Outline
Introduction
Introducing the Speaker and the Course
Unit 1: Matthew and the History of Interpretation
Matthew: Highly Structured, Literary, and Intentional Work
Discovering the Genre of Matthew 5–7
Matthew: Narrative-Discourse Outline
Matthew: The Sermon and Other Major Discourses
History of Interpretation: Importance of the Sermon on the Mount
History of Interpretation: Evading the Sermon's Ethical Implications
Interpretation: Monastic
Interpretation: Anabaptist
Finding Information on Anabaptists in Dictionaries
Interpretation: Two Kingdoms
Interpretation: Dispensational
Interpretation: Lutheran
Interpretation: Modern Liberal
Interpretation: Fulfillment-Complexity
Taxonomy of Interpretations: Conclusions
Unit 2: Sermon on the Mount: A Virtue-Ethics Reading
Why Is This Important?
Virtue Ethics in the Context of Ethical Theories
Unpacking Virtue Ethics
Virtue Ethics and the Sermon on the Mount: Comparisons
Virtue Ethics and the Sermon on the Mount: Contrasts
Virtue Ethics: Modeling Christian Discipleship
Unit 3: Sermon on the Mount: Exposition
Understanding the Structure of the Sermon on the Mount
Using the Pericope Tool to Examine the Literary Structure of Matthew
Guidelines for Reading the Sermon on the Mount
Adding Notes to Your Bibles
Literary Context of the Sermon
Introducing the Beatitudes (Matt 5:1–12)
Using Interlinear Bibles and the Bible Sense Lexicon
Beatitudes (Matt 5:1–6)
Comparing English Translations with the Text Comparison Tool
Beatitudes (Matt 5:7–12)
Salt and Light (Matt 5:13–16)
Fulfilling Old Testament Righteousness (Matt 5:17–20)
Using Parallel Resources
Unpacking Matthew 5:20, Part 1 (Matt 5:21–48)
Using the Bible Word Study Tool to Study the Greek Word for "Love"
Being Righteous by Being Teleios(Matt 5:48)
Unpacking Matthew 5:20, Part 2 (Matt 6:1–21)
The Lord's Prayer (Matt 6:7–15)
Double-Mindedness and Anxiety (Matt 6:19–34)
Judging Others (Matt 7:1–12)
Inside-Outside Issues (Matt 7:13–23)
Conclusion: Build on Solid Rock (Matt 7:24–27)
Summary and Conclusion
A "Cardiographic" Reading
About Jonathan T. Pennington
Dr. Jonathan T. Pennington is the associate professor of New Testament interpretation at Southern Seminary in Louisville, Kentucky. He also served as a visiting professor at Southeastern Seminary, as well as the Institute of Biblical Studies in Orlando, Florida and Melbourne, Australia.
More details about this resource