Mobile Ed: NT251 The Sermon on the Mount (5 hour course)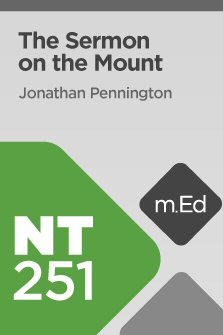 Mobile Ed: NT251 The Sermon on the Mount (5 hour course)
•
Runs on Windows, Mac and mobile.
Overview
Dr. Jonathan Pennington zeroes in on one of the most important texts studied throughout church history: the Sermon on the Mount. He gives a detailed exposition of the biblical text, covers historical interpretations, and provides direction for reading the sermon according to its structure.
Be prepared to serve through Preaching. Earn a Mobile Ed Certificate of Completion when you invest in your education. Learn more about the Preaching Certificate Program.
Learning Objectives
Upon successful completion you should be able to:
Provide a description of the Sermon on the Mount in light of its context in the gospel of Matthew
Explain how Jesus' timeless teaching informs and answers modern ethical dilemmas
Use the hermeneutical tools needed to properly interpret the text
Course Outline
Introduction to Matthew's Gospel
A Brief History of Interpretation of the Sermon
A Virtue-Ethics Reading of the Sermon
Guidelines for Reading the Sermon Well
Exposition of the Sermon
Conclusion
About the Instructor
Dr. Jonathan T. Pennington is the associate professor of New Testament interpretation at Southern Seminary in Louisville, Kentucky. He also served as a visiting professor at Southeastern Seminary, as well as the Institute of Biblical Studies in Orlando, Florida and Melbourne, Australia.
Getting the most out of Mobile Ed
Logos Mobile Education is a highly effective cross-platform learning environment that integrates world class teaching with the powerful study tools and theological libraries available in Logos Bible Software. Every course provides links to additional resources and suggested readings that supplement the lecture material at the end of every transcript segment.
This course was produced with screencast videos. These videos provide tutorials showing you how to use Logos Bible Software in ways that are tied directly into the content of the course. We are now producing Activities resources as a replacement for screencast videos. We plan on updating this course to include this additional Activities resource in the future for no extra charge.
More details about these resources