Mobile Ed: CO131 Integrative Counseling (10 hour course)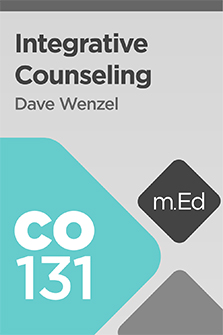 Mobile Ed: CO131 Integrative Counseling (10 hour course)
•
Runs on Windows, Mac and mobile.
Your Custom Discount
Reg. Price $379.99
Sale Price $229.99
Your Price $229.99
You Save $150.00 39%
Your Price
What's Pre-Pub?
$229.99
Overview
In Introduction to Integrative Counseling, Dr. Dave Wenzel provides students with a comprehensive overview of a counseling technique that combines psychology, science, and physiology with theology, spirituality, and faith. Dr. Wenzel, a teacher and a practicing counselor, begins by looking at the historical phases of integration relative to the development of the fields of psychology and psychiatry, as well as a survey of major integration models. From there, he explores the role Scripture, faith, and spirituality can play in counseling and provides practical guidance on how to bring faith into the counseling session. The course covers foundational concepts such as sin, psychopathology, and the self, and concludes with some specific tips on how to counsel suffering people.
Learning Objectives
Upon successful completion you should be able to:
Describe a model of mental health based on a Christian worldview
Explain what integrative counseling has to offer that secular psychology and psychiatry do not
Develop a strategy for leading an integrated life so as to be an effective integrative counselor
Discern the best ways to use Scripture to help clients
Use concepts such as identity in Christ, self-efficacy, self-worth, and self-control to address self-esteem issues
Course Outline
Introduction
Introducing the Speaker and the Course
Unit 1: Introduction to Integrative Counseling
Key Questions in Integrative Counseling
Common Errors in Integrative Counseling
Foundational Components of Integrative Counseling: Four Main Areas of Study
Goals in Integrative Counseling
Unit 2: Historical Phases of Integration
Historical Phase 1 (Indifference) and Phase 2 (Rejection)
Historical Phase 3 (Critical Examination)
Historical Phase 4 (An Uneasy Union)
Historical Phase 5 (Establishment) and Phase 6 (Marketing and Professionalism)
Historical Phase 7 (How Do We Then Care?) and Phase 8 (Multidisciplinary Integration)
Unit 3: Models of Integration
Models of Integration Introduction
Collins and the Credibility Models
Convertability and Conformability Models
Compatibility Model
Complementary Model and the Transformational Approach
Objections to Integration
Unit 4: The Sufficiency of Scripture
Why the Problem? Components of the Integrative Task
Presuppositions in Sufficiency: Worldview and Information
Presuppositions in Sufficiency: Theology, Humility, and Science
Is Scripture Sufficient? Part 1
Is Scripture Sufficient? Part 2
Is Scripture Sufficient for Comfort?
Is Scripture Sufficient for Forgiving?
Is Scripture Sufficient for Confession?
Is Scripture Sufficient for Teaching and Transformation?
Is Scripture Sufficient for Reconciliation?
Unit 5: A Model of Mental Health Based in a Christian Worldview
Introduction to Mental Health from a Christian Perspective
Personality Theory: Unhealthy Behavior
Unhealthy Behavior: Key Factors
Unhealthy Behavior: How Do We Respond?
Personality Theory and Scriptural Integration
Common Models of Personality
Mental Health in Proverbs
Mental Health Characteristics: Relationships
Mental Health Characteristics: Work
Mental Health Characteristics: Conduct
Mental Health Characteristics: Sexuality
Mental Health Characteristics: Self-Control
Mental Health Characteristics Conclusion
Unit 6: Healthy and Unhealthy Spirituality
Knowability
Relationship and Initiative
Freedom and Fear/Faith
Conformity/Rebellion and Death/Rebirth and Risk/Redemption
Unit 7: The Role of the Holy Spirit in Counseling
Holy Spirit in Counseling Introduction
What the Holy Spirit Is Not in the Counseling Office
What the Holy Spirit Is in the Counseling Office: Part 1
What the Holy Spirit Is in the Counseling Office: Part 2
Unit 8: Developing a Concept of the Self
Introduction to Self-Esteem
Key Questions in Self-Esteem
Untangling Self
Image of God and Identity in Christ
Theological Truths, Self-Worth, and Self Efficacy
Self-Image, Self-Control, and Community
Storms of Life and the Illumination of the Holy Spirit
Self-Esteem and Scripture: Part 1
Self-Esteem and Scripture: Part 2
Self-Esteem and Scripture: Part 3
Jonathon Case Study: Introduction
Jonathon Case Study: Naturalistic Worldview Response: Part 1
Jonathon Case Study: Naturalistic Worldview Response: Part 2
Jonathon Case Study: Integrative Response: Part 1
Jonathon Case Study: Integrative Response: Part 2
Unit 9: God Needs to Be in Therapy
Another Night of Trouble: Renee
Introduction to God and Counseling
The Interpretation of the Counseling
Framework for Thinking about Spirituality and Its Role in Everyday Life
Approaching Spirituality in Counseling
Themes for Recognizing God in Therapy
Interventions and Questions
Death
Suffering: Part 1
Suffering: Part 2
Relationship and Purpose
Categories for Helping Explore Spiritual Topics in Counseling
Unit 10: Working with the Christian and the Non-Christian
Inherent Belief
Secular vs. Sacred
Negative Religious Coping
Positive Religious Coping Skills
Marking Religious Boundaries
Unit 11: Finding Self vs. Finding God
Characteristics of the Religious Experience
Characteristics of the Psychological Experience: Part 1
Characteristics of the Psychological Experience: Part 2
Differentiating What You Are Doing
The Pursuit of Happiness
What Role Am I Playing?
Unit 12: Sin and Psychopathology
The Neurotic Cycle
Example of the Neurotic Cycle
The Growth Cycle
Example of the Growth Cycle
The Cycle and Common Therapeutic Mistakes
Unit 13: Is the Problem Spiritual or Organic?
The Placebo Effect
Principles to Keep in Mind when Dealing with the Organic and the Body
Is the Problem Organic or Spiritual?
Indicators of Underlying Organic Issues: Part 1
Indicators of Underlying Organic Issues: Part 2
Indicators of Underlying Organic Issues: Treatment Checklist
If the Problem Is Spiritual: Part 1
If the Problem Is Spiritual: Part 2
If the Problem Is Spiritual: Part 3
Unit 14: Counseling Suffering People
When Suffering Comes
Common Frameworks for Suffering: Reward, Retribution, and Randomness
Common Frameworks for Suffering: Tapestry
Common Frameworks for Suffering: God's Active Working Toward an End and Free Will Providence
Principles of Suffering
Responding to Suffering
Unit 15: Concluding Thoughts
An Introduction to the Congruence Model
Application of Integrative Counseling
Conclusion
Product Details
Title: CO131 Integrative Counseling
Instructor: Dave Wenzel
Publisher: Lexham Press
Publication Date: 2017
Product Type: Logos Mobile Education
Resource Type: Courseware, including transcripts, audio, and video resources
Courses: 1
Video Hours: 10
About the Instructor
Dr. Dave Wenzel earned his PhD in counseling from Loyola University Maryland. He also has master's degrees in both divinity and theology from Western Seminary in Portland, Oregon. He is a licensed professional counselor and a nationally certified counselor. He has been a professor of counseling for 19 years. His clinical experience includes the Veterans Administration, outpatient drug and alcohol, inpatient psychiatric, and outpatient community mental health. He also trained for two years in the Isaac Taylor Institute of Psychiatry and Religion in Columbia, Maryland.
Formerly, he served as the clinical director of the Sandy Family Services DUII program, clinical director at Sunnyside Counseling Center from 1994–2007, and director of the counseling program at Western Seminary from 1994–2010. His professional interests include child development, parenting, clinical supervision, and the role of spirituality in mental health. In addition to his teaching and presentation of professional continuing education, he frequently speaks to community groups on parenting, family communication, marriage, and relationships.
Getting the most out of Mobile Ed
Logos Mobile Education is a highly effective cross-platform learning environment that integrates world class teaching with the powerful study tools and theological libraries available in Logos Bible Software. Every course provides links to additional resources and suggested readings that supplement the lecture material at the end of every transcript segment.
This course comes with an Activities resource that functions as a type of "workbook" for the course. This resource includes learning activities such as: places for you to respond to reflection questions, exercises that will challenge and show you how deepen your understanding of this course by using specific Logos tools and resources, tutorial videos on different features of Logos Bible Software, and links to relevant Logos guides and tools. A link to open the Activities resource is conveniently placed at the end of every segment.