Mobile Ed: Darrell Bock Bundle (4 courses)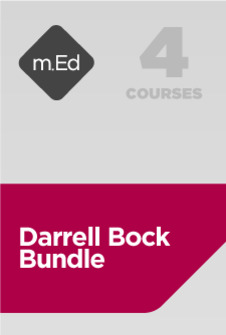 Overview
In this four-course bundle, you'll learn how to study the Bible, how the early Church got its start, and how you fit into God's plan for the world. Leading biblical scholar Darrell Bock has distilled decades of research into BI100 Learn to Study the Bible—the ideal companion to your Logos base package. In NT211 Introducing the Gospels and Acts, Dr. Bock walks you through pivotal events that shaped the social, religious, and political environment of Jesus and the early church. In NT217 Key Events and Speeches in Acts, Dr. Bock explains milestones such as Pentecost, the expansion of the gospel, and the Jerusalem council that decided how Jews and Gentiles would relate. And in CS121 Cultural Engagement and Scripture, Dr. Bock helps believers understand our culture and live out the gospel.
Getting the most out of Mobile Ed
Logos Mobile Education is a highly effective cross-platform learning environment that integrates world class teaching with the powerful study tools and theological libraries available in Logos Bible Software. Every course provides links to additional resources and suggested readings that supplement the lecture material at the end of every transcript segment.
All courses in this bundle come with an Activities resource that functions as a type of "workbook" for the courses. This resource includes learning activities such as: places for you to respond to reflection questions, exercises that will challenge and show you how deepen your understanding of this course by using specific Logos tools and resources, tutorial videos on different features of Logos Bible Software, and links to relevant Logos guides and tools. A link to open the Activities resource is conveniently placed at the end of every segment.
About the Instructor
Dr. Darrell L. Bock, research professor of New Testament studies and professor of spiritual development and culture at Dallas Theological Seminary, serves as editor-at-large for Christianity Today, and is on the board of Chosen People Ministries and Wheaton College. From 2000 to 2001, Dr. Bock served as president of the Evangelical Theological Society.
He has earned international recognition as a Humboldt Scholar for his work in Luke-Acts, historical Jesus study, biblical theology, as well as with messianic Jewish ministries. He has published articles in the Los Angeles Times and The Dallas Morning News and is a well-known author of over 30 books. His publications include Studying the Historical Jesus: A Guide to Sources and Methods, Jesus according to Scripture, an NIV Application Commentary on Luke, Breaking the Da Vinci Code, and commentaries on Acts and Luke in the Baker Exegetical Commentary on the New Testament (BECNT) series.