Learning Biblical Hebrew: Reading for Comprehension: An Introductory Grammar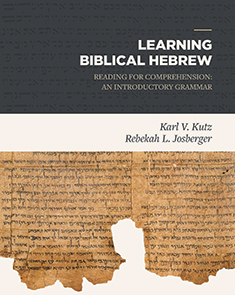 Learning Biblical Hebrew: Reading for Comprehension: An Introductory Grammar
•
Runs on Windows, Mac and mobile.
Learning Biblical Hebrew
What's the best way to learn a new language? By approaching it not as a series of facts to memorize but as something alive, with a personality you can get to know and tendencies you can begin to predict.
Designed for long-term retention, Learning Biblical Hebrew focuses on helping students understand how the language works and providing a solid grounding in Hebrew through extensive reading in the biblical text.
Introduces advanced concepts in a form accessible to beginning students.
Focuses on historic patterns and changes that minimize memorization.
Focuses on how the language works for long-term retention.
Encourages mastery of paradigms from a handful of representative forms.
Includes extensive translation from the third week of class.
Prepares students for translation of unedited biblical texts by the end of first semester.
Emphasizes reading comprehension rather than decoding.
Promotes a strong oral component to enhance language competence.
Written for first-year and second-year Hebrew students, this grammar is laid out to present comprehensive concepts to first-year students and then to aid in review and deeper understanding for second-year students. Though written for Hebrew competency, Learning Biblical Hebrew is well suited for students with different learning styles and objectives.
The companion Learning Biblical Hebrew Workbook is forthcoming in August.
Praise for Learning Biblical Hebrew
Before trying this Hebrew grammar, I'd taught Biblical Hebrew from eight different grammars—none of which had won out as the obvious choice for future classes. Kutz and Josberger's grammar makes up for the main weaknesses of the other grammars like insufficient explanation of new concepts, limited translation exercises, and not getting into the biblical text itself quickly enough. This grammar was clearly written by instructors who had struggled with and sought to remedy these same deficiencies. My students found the approach and tools "user-friendly" and the rigorous methodology helpful for day-to-day accountability. The grammar's clear explanations free the instructor up to concentrate on helping students apply the information.
—Kenneth Turner, Associate Professor of Old Testament, Toccoa Falls College
Learning Biblical Hebrew helps students sidestep pitfalls by providing clear explanations of perennially perplexing issues. Students are led to predict patterns (e.g. vowel changes or irregular verbs) with minimal memorization. Translation exercises in the workbook complement the grammar, quickly familiarizing students with Hebrew syntax and demonstrating the clear upshot of tackling larger sections of Hebrew narrative early on in the learning process. Having adopted this text in both graduate and undergraduate introductory Biblical Hebrew courses I can gladly attest – Learning Biblical Hebrew is appropriately entitled! I'm very excited to see it reach a wider audience.
—Richard Rohlfing Jr., Fuller Theological Seminary
Contents
Hebrew Alphabet
Hebrew Vowels
Syllables and Reading Hebrew
Gender and Number, Definite Article and Conjunction
Vowel Changes in Hebrew Nouns
Noun and Adjective Function
Constructs, Directional Ending, Prepositions, and Interrogatives
Pronominal Suffixes and Review of Definiteness
Learning to Read Intuitively: Common Patterns in Hebrew Nouns
Numbers
Introduction to Hebrew Verbs
Vowel Changes in Verbs
Qal Perfects
Qal Imperfects
Qal Volitionals
Qal Participles and Infinitives
Qal Waw Consecutives
Niphal
Piel, Pual, and Hithpael
Hiphil and Hophal
Rare Verb Stems
Verbs with Object Suffixes
Irregular Features in Object Suffixes
Hebrew Weak Verbs
III-Waw/Yod Verbs
I-Waw/Yod Verbs
II-Waw/Yod Verbs: Introduction and Qal Stem
II-Waw/Yod Verbs: Niphal–Hophal Stems
Geminate Verbs
I-Nun Verbs
I-Guttural Verbs
II-Guttural Verbs
III-Guttural and III-Aleph Verbs
Product Details
Title: Learning Biblical Hebrew: Reading for Comprehension: An Introductory Grammar
Author: Karl Kutz and Rebekah Josberger
Publisher: Lexham Press
Publication Date: 2018
Pages: 528
Format: Logos Digital, Hardcover
Trim Size: 7x9
ISBN: 9781683590842
About the Authors
Karl V. Kutz (Ph.D., University of Wisconsin–Madison) is professor of biblical languages at Multnomah University in Portland, OR. For over two decades his teaching and mentoring of students in the language and literature of the Hebrew Bible has cultivated students' passion for the biblical text, shaped and transformed their lives, and led to the establishment of an outstanding program for the study of the Hebrew Bible.
Rebekah L. Josberger (Ph.D., Southern Seminary) is associate professor of Hebrew and Old Testament at Multnomah Biblical Seminary in Portland, OR. Since coming to Multnomah in 2009, she has focused on developing a solid Hebrew program that enables and encourages students to learn Hebrew well enough to use it for personal growth and ministry long after they leave seminary. She teaches Old Testament with a focus towards biblical theology and continues research related to Torah.
Sample Pages from Learning Biblical Hebrew
More details about this resource