Mobile Ed: CH111 Understanding the Protestant Reformation: Precursors and Legacy (2 hour course)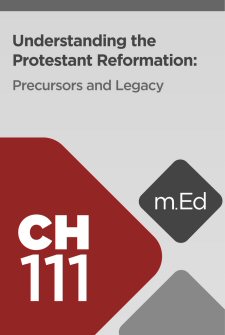 Mobile Ed: CH111 Understanding the Protestant Reformation: Precursors and Legacy (2 hour course)
•
Runs on Windows, Mac and mobile.
Overview
Understanding the Protestant Reformation: Precursors and Legacy (CH111) is presented by a team of respected Christian scholars: Jennifer Powell McNutt, Roger E. Olson, Frank A. James III, Gerald L. Bray, Chris Armstrong, and Frederick Cardoza. These scholars are well published in church history, theology, and Christian education, and their combined expertise facilitates students gaining clear insight into the Reformation. This course covers the precursors to the Protestant Reformation, the prominent Reformers Martin Luther and John Calvin, and the Reformation's impact on the reading of Scripture, the church, and Christian discipleship.
Learning Objectives
Upon successful completion you should be able to:
Connect Renaissance humanism to the emergence of the Protestant Reformation
Understand the life, beliefs, and impact of pre-Reformers
Trace the development of Protestantism alongside the work of Martin Luther and John Calvin
Discuss how the Reformation influenced biblical interpretation
Identify teachings of Martin Luther that influenced Christian education
Course Outline
Introduction
Introducing the Speaker and Course
Conceptualizing the Protestant Reformation (from CH221)
Unit 1: Precursors of the Reformation
No Humanism, No Reformation (from CH221)
Humanism and the Printing Press (from CH221)
Peter Waldo and the First Protestants (from CH151)
John Wycliffe: The Morning Star of the Reformation (from CH151)
Jan Hus: Forerunner to Martin Luther (from CH151)
The Catholic Church on the Eve of the Reformation (from CH151)
Unit 2: Martin Luther
Martin Luther: Peasant to Monk (from CH102)
Sola Fide (from CH102)
First Crisis of the Reformation (from CH102)
The Last Voice (from CH221)
The Doctrinal Views of Luther (from CH152)
Unit 3: John Calvin
John Calvin (1509-1564): Part 1 (from BI351)
John Calvin (1509-1564): Part 2 (from BI351)
The Institutes of the Christian Religion (from CH221)
Unit 4: Scripture and the Reformation
The Supremacy of Scripture (from BI351)
The Word and the Reformed Tradition (from CH241)
Application of Orthodox Protestant Hermeneutics (from BI351)
Conclusion
The Legacy of Martin Luther and Christian Discipleship (from ED205)
Getting the most out of Mobile Ed
Logos Mobile Education is a highly effective cross-platform learning environment that integrates world class teaching with the powerful study tools and theological libraries available in Logos Bible Software. Every course provides links to additional resources and suggested readings that supplement the lecture material at the end of every transcript segment.
This course comes with an Activities resource that functions as a type of "workbook" for the course. This resource includes learning activities such as: places for you to respond to reflection questions, exercises that will challenge and show you how deepen your understanding of this course by using specific Logos tools and resources, tutorial videos on different features of Logos Bible Software, and links to relevant Logos guides and tools. A link to open the Activities resource is conveniently placed at the end of every segment.
More details about these resources