How to Choose the Right Bible Translation for the Task (0.75 hour course)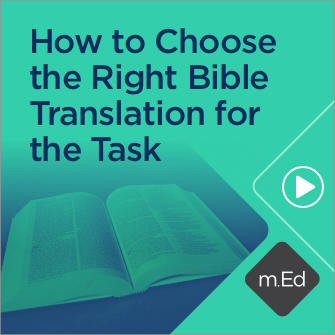 How to Choose the Right Bible Translation for the Task (0.75 hour course)
•
Runs on Windows, Mac and mobile.
Overview
Which Bible translation is the best? Christians love to argue about this. But it's always the wrong question, because it's incomplete. We should ask, "Which Bible translation is best for a given purpose?" Which translations are best for close study, for evangelism, for preaching, for reading big chunks quickly? This brief course teaches students how to choose the right translation for the right task.
Learning Objectives
Upon successful completion you should be able to:
Recognize the defining characteristics of multiple major evangelical Bible translations
Understand why various Bible translations exist
Choose the right Bible translation for whatever study or ministry task you encounter
Course Outline
Intro: Making the Best of a Good Situation
The Value of the New International Version and Christian Standard Bible
The Value of the New International Reader's Version
The Value of the English Standard Version and New American Standard Bible
The Value of the NET Bible and the Lexham English Bible
The Value of the New Living Translation, God's Word, and the Message
Conclusion: The Best Translation Is the One You Have with You.
Product Details
Title: How to Choose the Right Bible Translation for the Task
Instructor: Mark L. Ward, Jr.
Publisher: Lexham Press
Publication Date: 2017
Product Type: Logos Mobile Education
Resource Type: Courseware, including transcripts, audio, and video resources
Courses: 1
Video Hours: 0.75
About the Instructor
Mark L. Ward, Jr. received his PhD from Bob Jones University in 2012; he now serves the church as a Logos Pro. He is the author of multiple high school Bible textbooks, including The Story of the Old Testament and Patterns for Christian Living. His dissertation focused on the "religious affections" of Paul.
Getting the most out of Mobile Ed
Logos Mobile Education is a highly effective cross-platform learning environment that integrates world class teaching with the powerful study tools and theological libraries available in Logos Bible Software. Every course provides links to additional resources and suggested readings that supplement the lecture material at the end of every transcript segment.
This course comes with an Activities resource that functions as a type of "workbook" for the course. This resource includes learning activities such as: places for you to respond to reflection questions, exercises that will challenge and show you how deepen your understanding of this course by using specific Logos tools and resources, tutorial videos on different features of Logos Bible Software, and links to relevant Logos guides and tools. A link to open the Activities resource is conveniently placed at the end of every segment.
More details about these resources