The Scriptures, 2009 Edition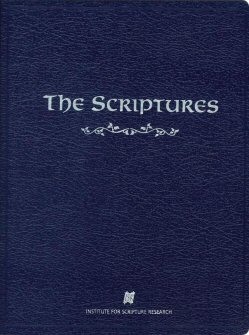 The Scriptures, 2009 Edition
•
Runs on Windows, Mac and mobile.
Your Custom Discount
Reg. Price $9.99
Sale Price $7.99
Your Price $7.99
You Save $2.00 20%
Your Price
What's Pre-Pub?
$7.99
Overview
The Scriptures is a literal translation of the Bible. There are many stylistic features that set it apart from other Bible translations. For the Old Covenant Scriptures, this translation maintains the original book order of the Tanakh: Torah (Law), Nebi'im (Prophets), and Kethubim (Writings). The table of contents clearly outlines the order of the books for those unfamiliar with the Tanakh. Original Hebrew is used for the name of the Father and Son and other Hebrew names and places are transliterated. The footnotes and explanatory notes bring further clarity to the text.
Key Features
Old Covenant Scriptures follow the Tanakh order
Includes a pronunciation table, footnotes, and explanatory notes
What's New in the 2009 Edition?
Improvements to the text—seeking a yet closer equivalent to the literal meaning of the original language
Removal of doctrinal comments from footnotes, explanatory notes etc., (including deletion of prophecy hairlines) in favour of more useful notes—thus clearing away obstacles to your unbiased study of Scripture
Maps, timelines, and illustrations have been added
Quotations / allusions from the Tanakh (O.T.) are in bold type in the Second Writings (N.T.), and are accompanied by the text references—aiding your understanding of the original contexts, and how they influence the writers drawing upon them
Product Details
Title: The Scriptures
Edition: 3rd
Publisher: Institute for Scripture Research
Publication Date: 2009
Sample Pages from the Print Edition